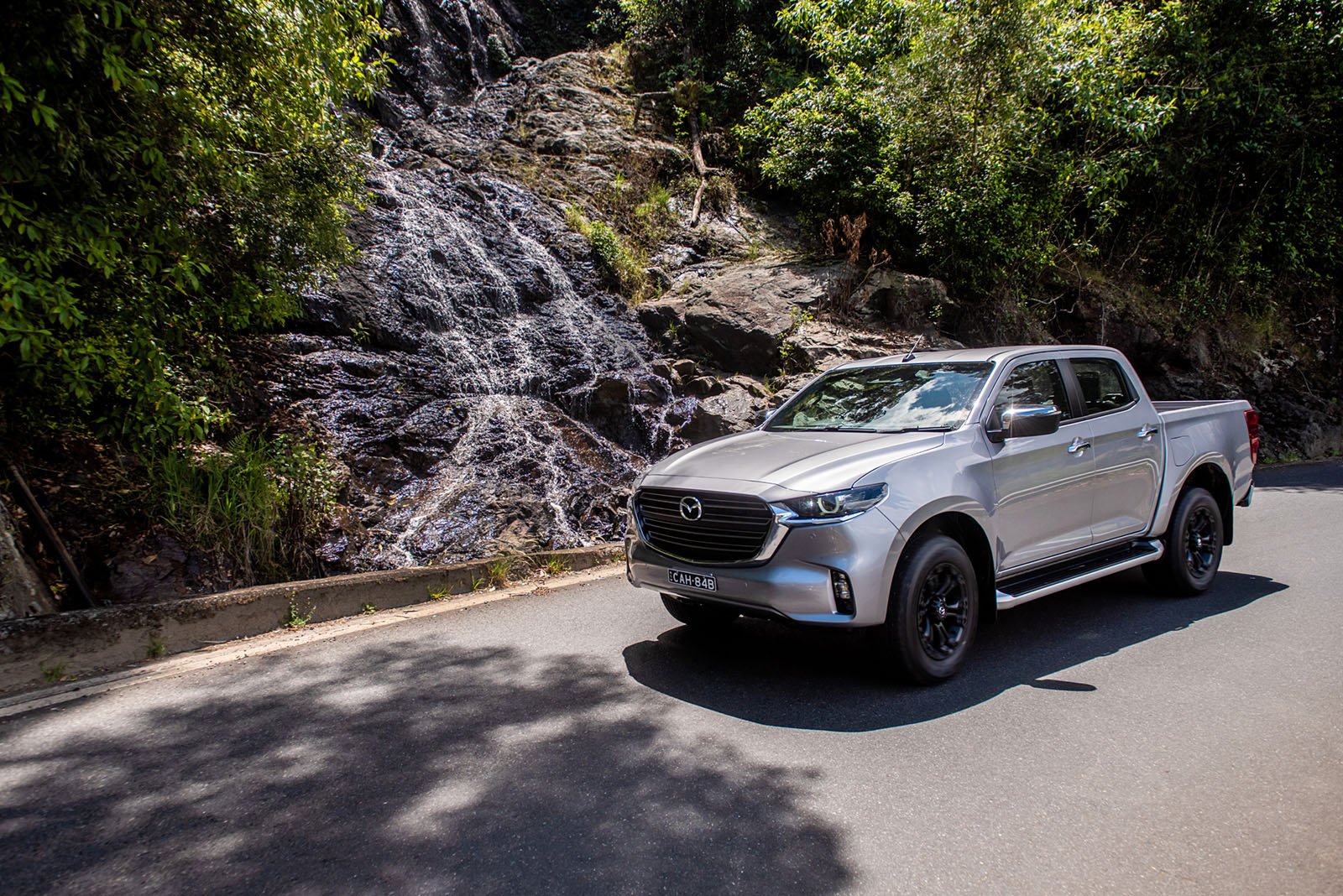 KICKING BACK
THE ULTIMATE RURAL RETREAT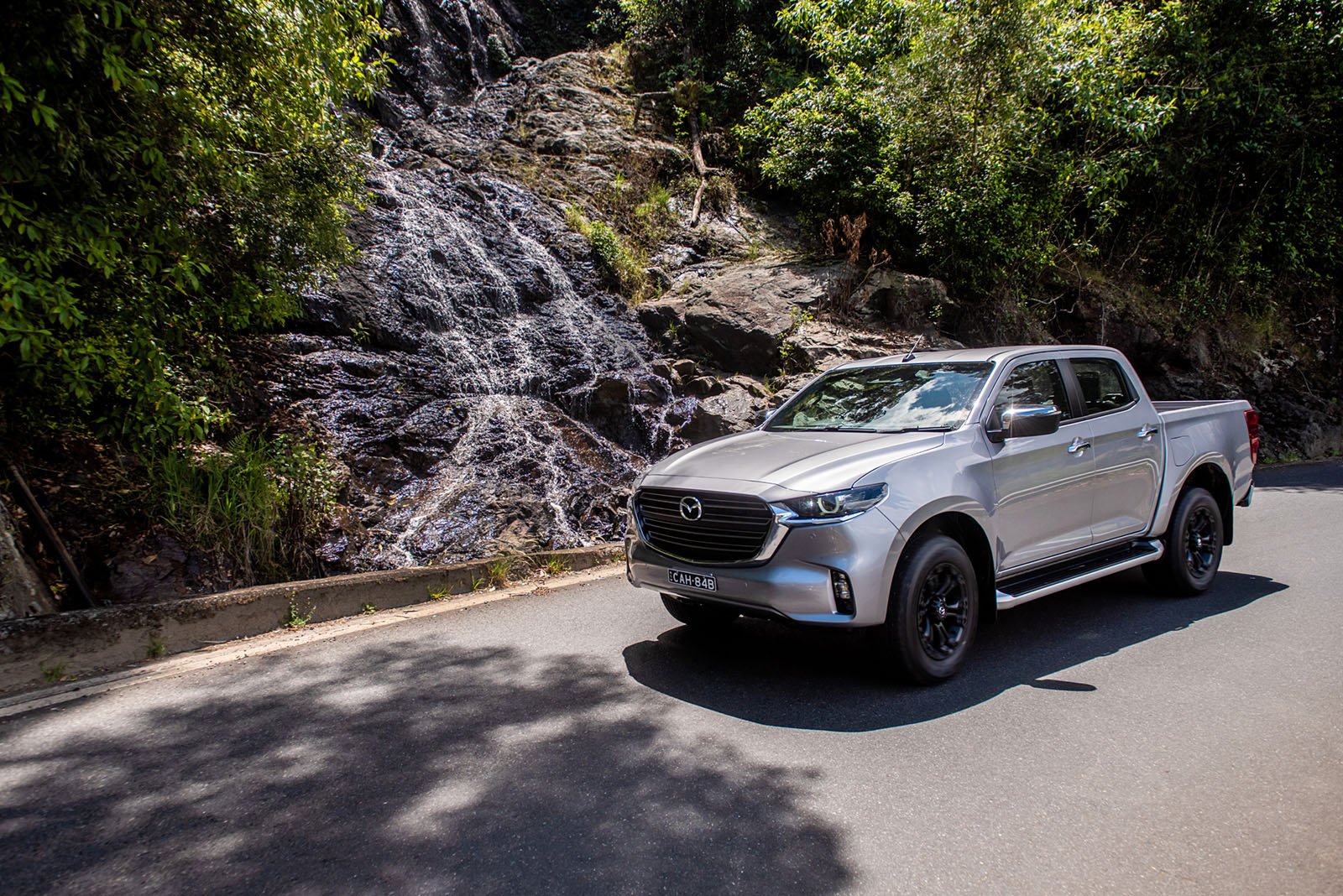 KICKING BACK
THE ULTIMATE RURAL RETREAT
Zoom-Zoom puts the Brand-New Mazda BT-50 to the test with some stunning scenery, good food and a trip through Waterfall Way.
Story Chloe Sachdev / Images Tim Swallow
Driving through Australia is no hard sell. From its epic, endless beaches to its glowing, flame-coloured heartland, it's unfathomably vast, magnificently varied and sparsely populated, where adventures are only limited by your timeframe and imagination. As a teenager though, I had no desire to travel within my country. A victim of being the youngest child, family road trips meant long hours in an overstuffed rattly station wagon, always squashed in the middle seat on a never-ending drive.
Yet recently something has shifted within me, and not just because of the cards dealt in 2020 with international travel restrictions. It's a deeper yearning to connect to this sprawling continent and see its postcard beauty, something I have always taken for granted. Over the past couple of years, I have been slowly filling my bucket list, from dusty trails of the outback to technicolour reefs glimmering in the ocean. But for some reason one of Australia's most scenic drives, Waterfall Way, has eluded me. A challenging 185km drive that winds past five national parks, it has the kind of landscape more associated with far-flung tropical climates like gushing waterfalls, dense forests and craggy river valleys. Technically the road trip is between Coffs Harbour and Armidale. But for photographer Tim Swallow and me, our road trip starts in Sydney where we pick up our slick and sturdy BT-50 Dual cab 4X4 3L Diesel, a far-cry from the old, beat-up car of my childhood.
---
"It has the kind of landscape more associated with far-flung tropical climates like gushing waterfalls, forests and craggy river valleys."
---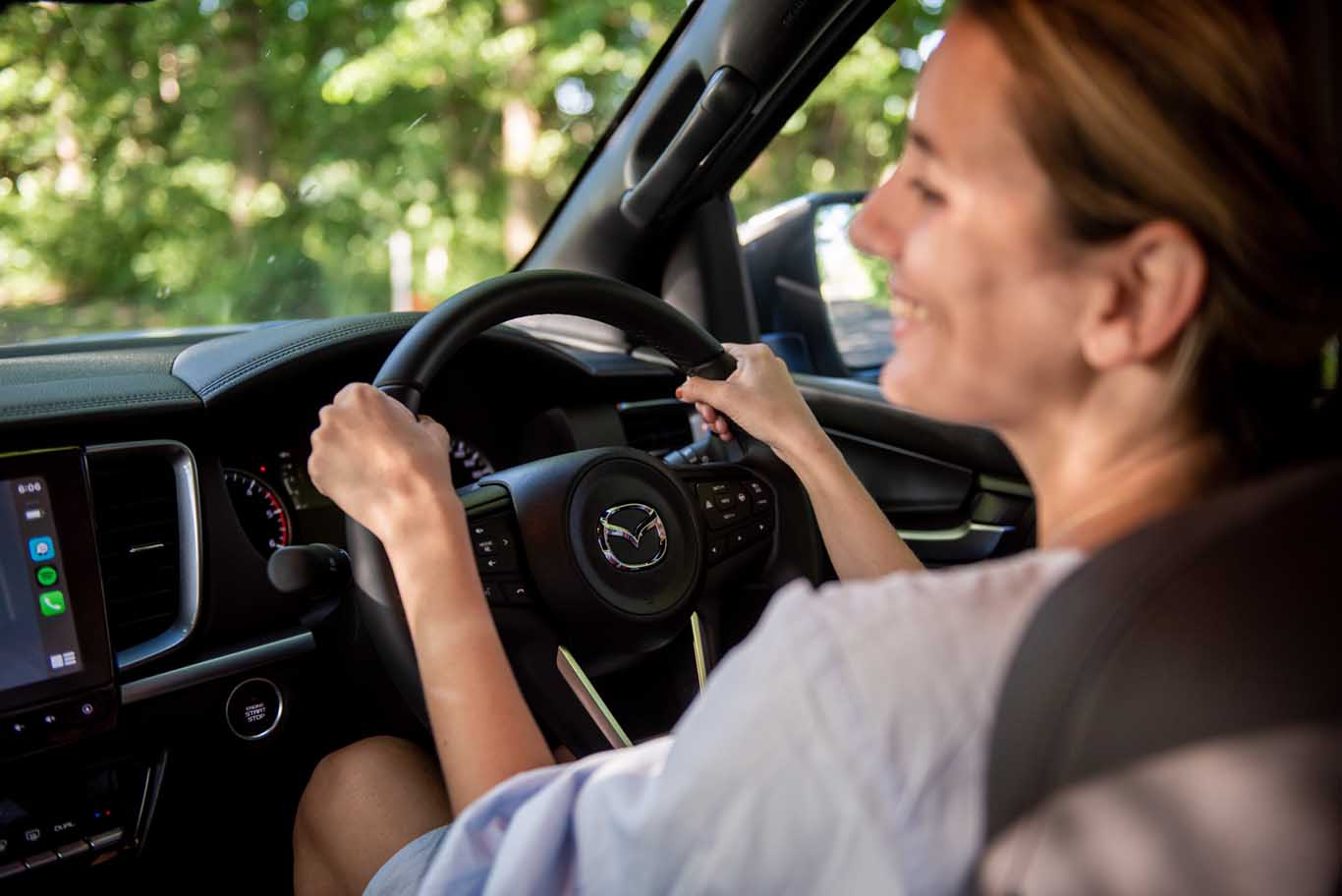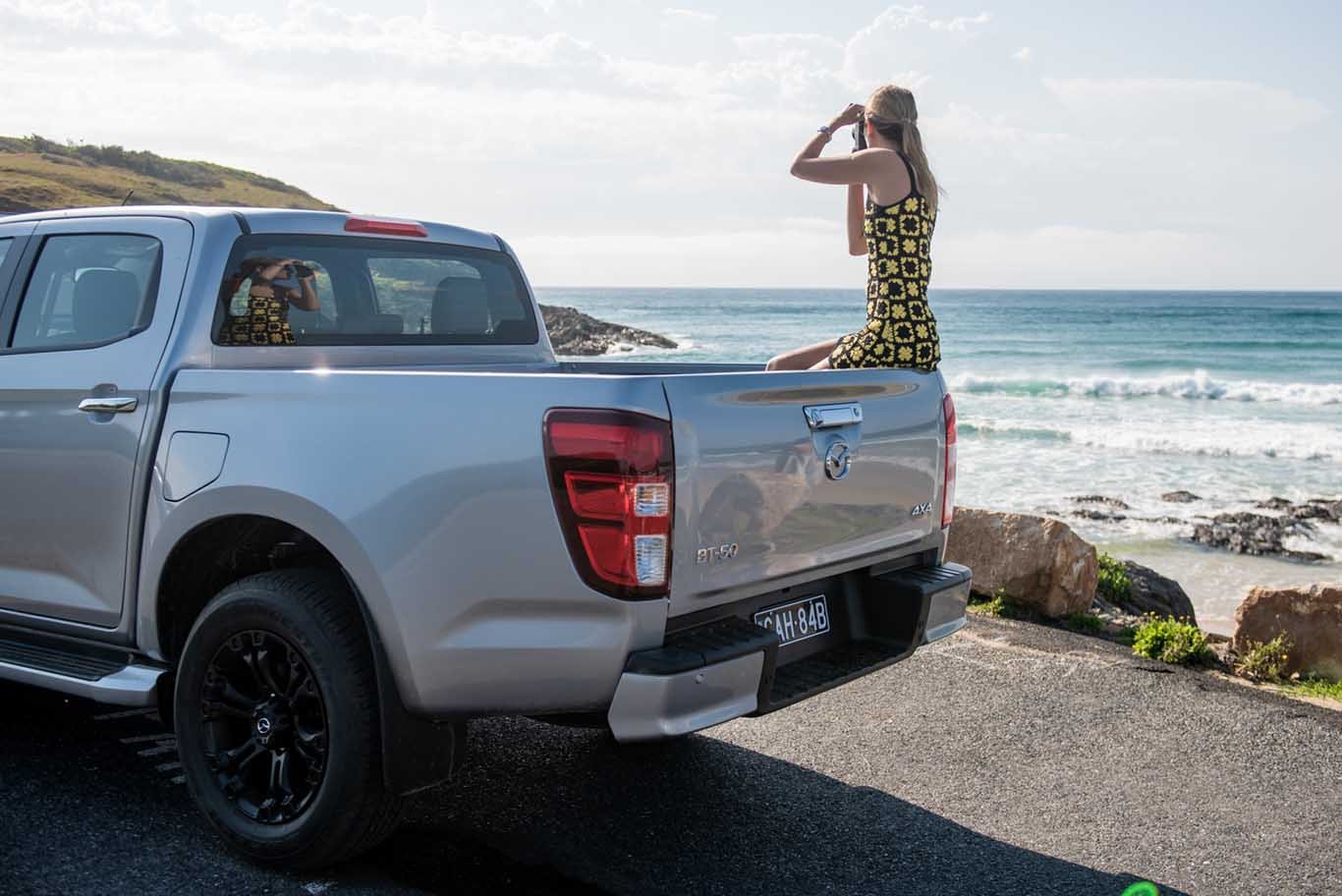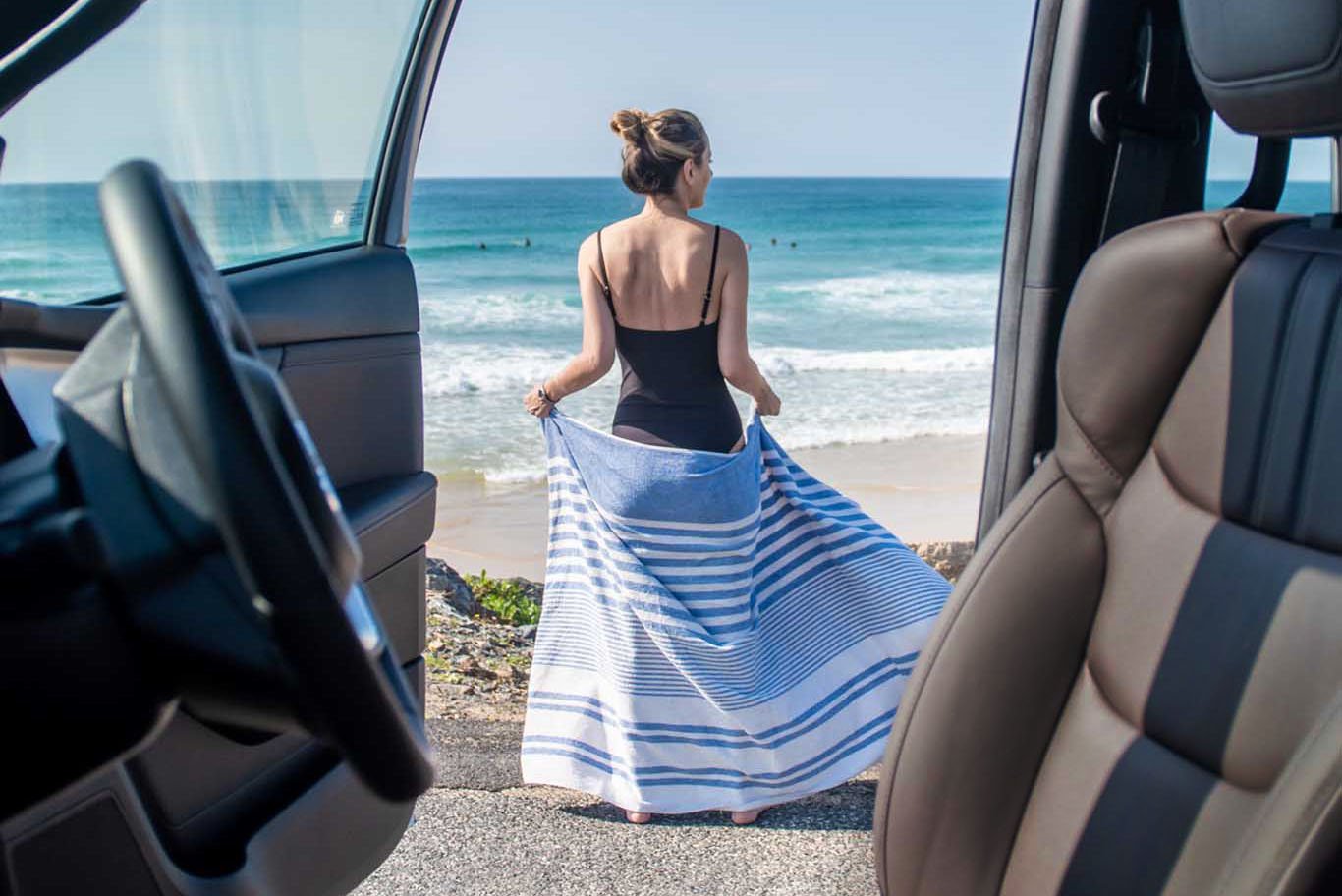 It takes about six hours on the uninterrupted and unremarkable Pacific Highway to reach Coffs Harbour. It's not really off the radar, but often bypassed by travellers keen to reach better-known towns like Byron Bay and Brisbane. But slip off the freeway and you'll find a sleepy town dotted with so many vintage motels it almost feels like a forgotten Palm Springs. The wide-open, empty beaches are the kind that you dream of stumbling across. There are couples walking dogs, girls on horseback gently wading in the water and further in the swell, pods of playful dolphins compete with serious surfers for the best waves.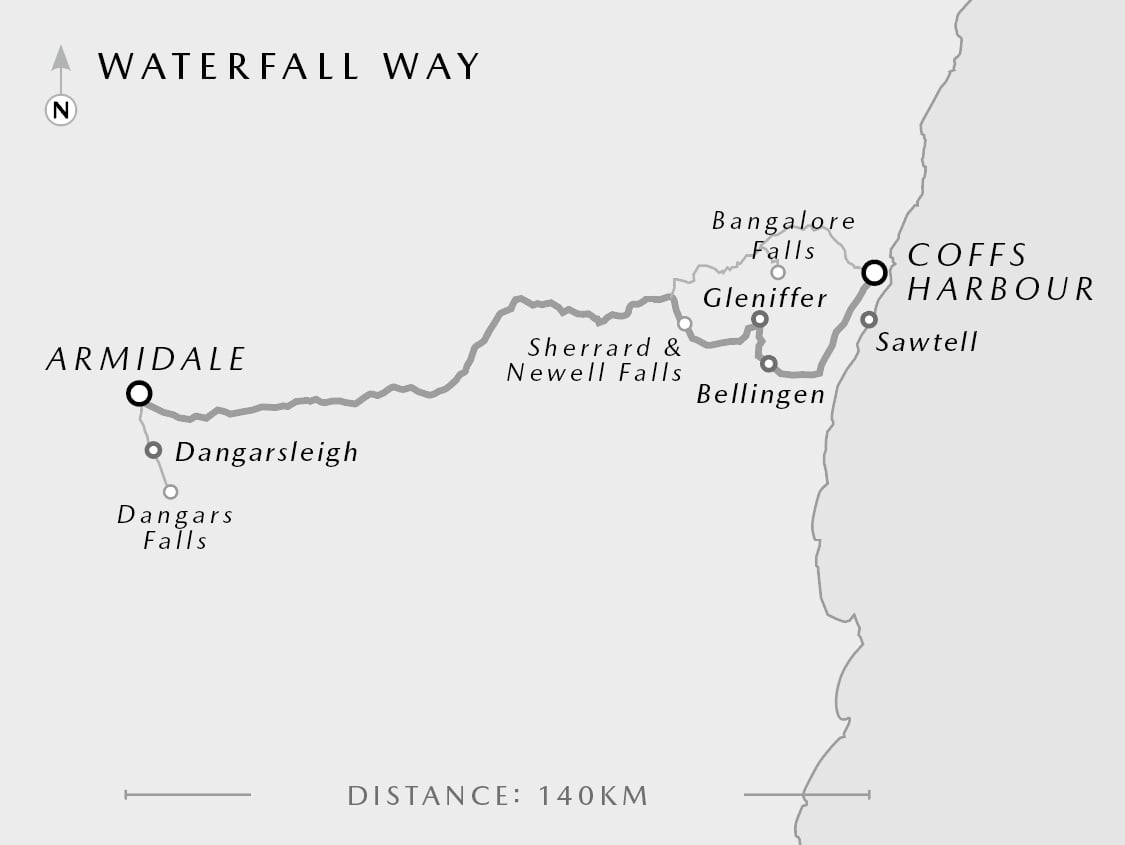 As night falls, this sleepy surf town hums with a gentle buzz. The Twilight Food Market by Coffs Creek is filled with happy-go-lucky sorts sprawled in the park with their own picnic set ups of pizzas, plates of curries, paella and souvlaki. Happily among the hubbub we drink in the perfectly pitched sounds of Bob Dylan and Jimi Hendrix that waft through the air, courtesy of local act Simon & Angus, a salty-surfy duo from the Mid North Coast. The sky turns black as a flash storm approaches and with the forks of lightning plunging down, we take off south ten minutes into the pretty village of Sawtell to The Spare Room. Owned by mum and son, this little wine and pizza bar is packed by 8pm and it's here we perch and make our plan for the next day. "You have to visit Heathfire Bakery, down the road", our bartender and local boy Toby chimes in. The all-sourdough bakery is famous in this part of the world, where we quickly learn that their sausage rolls and bacon quiches alone would be a good enough reason to mark this small village on your map.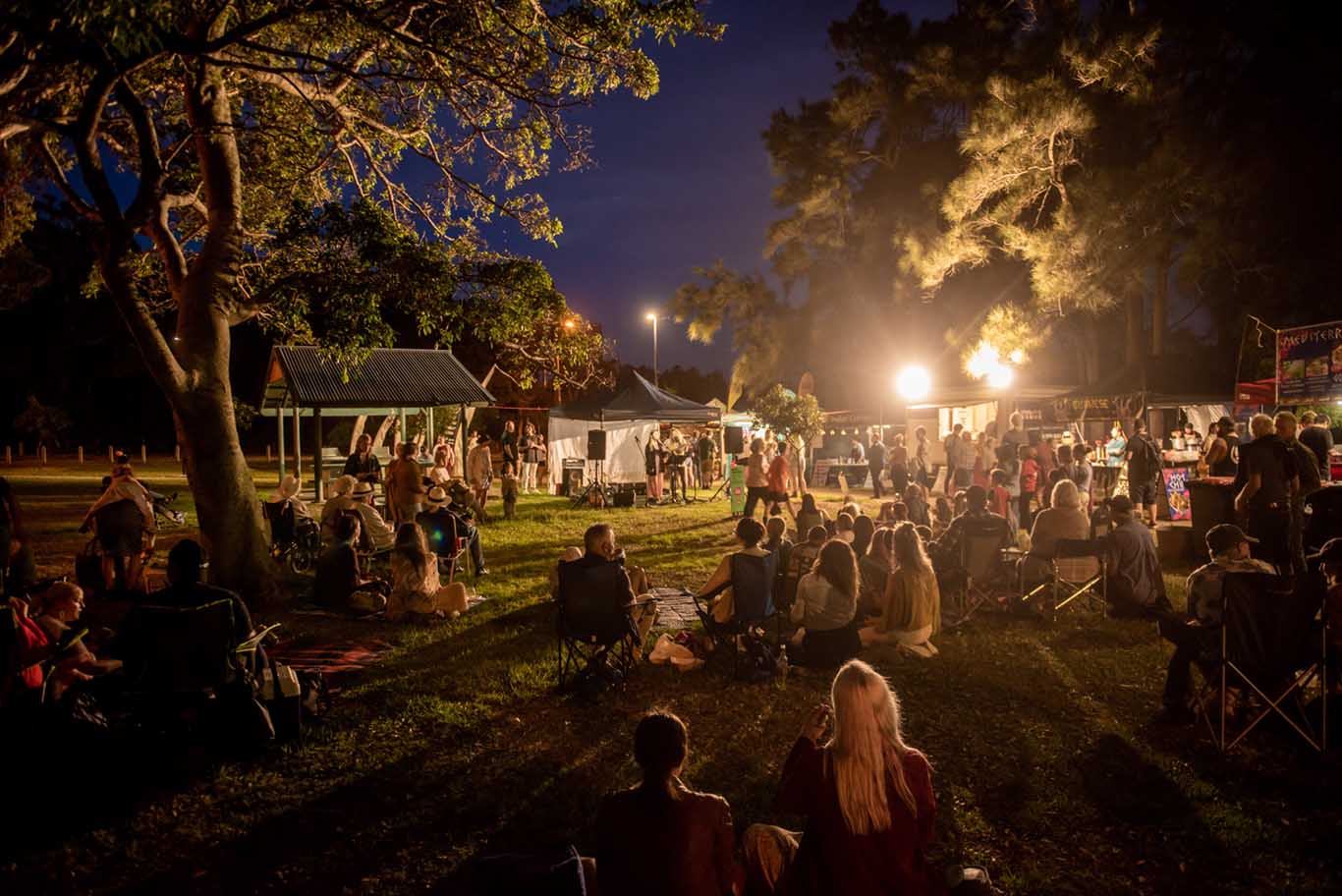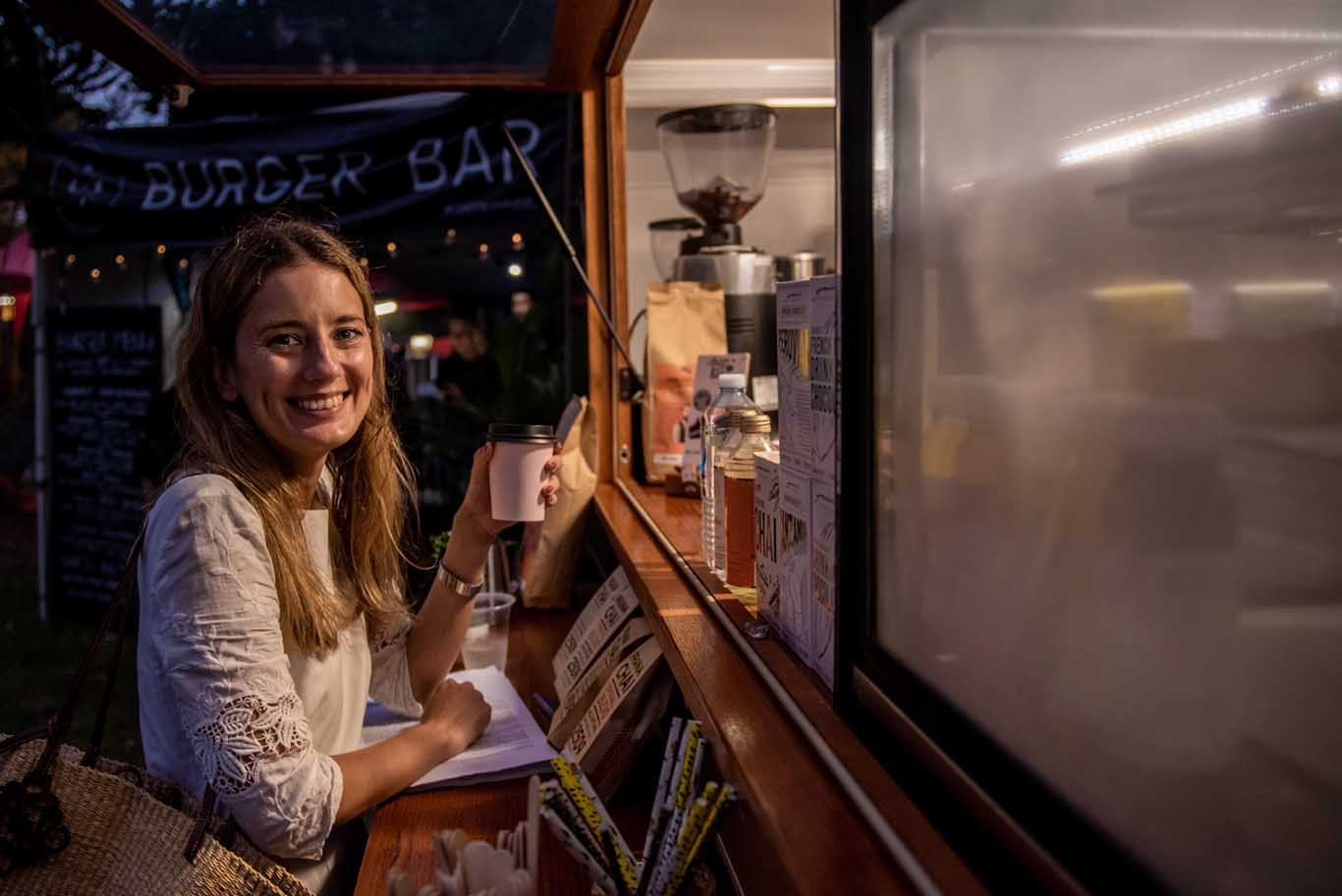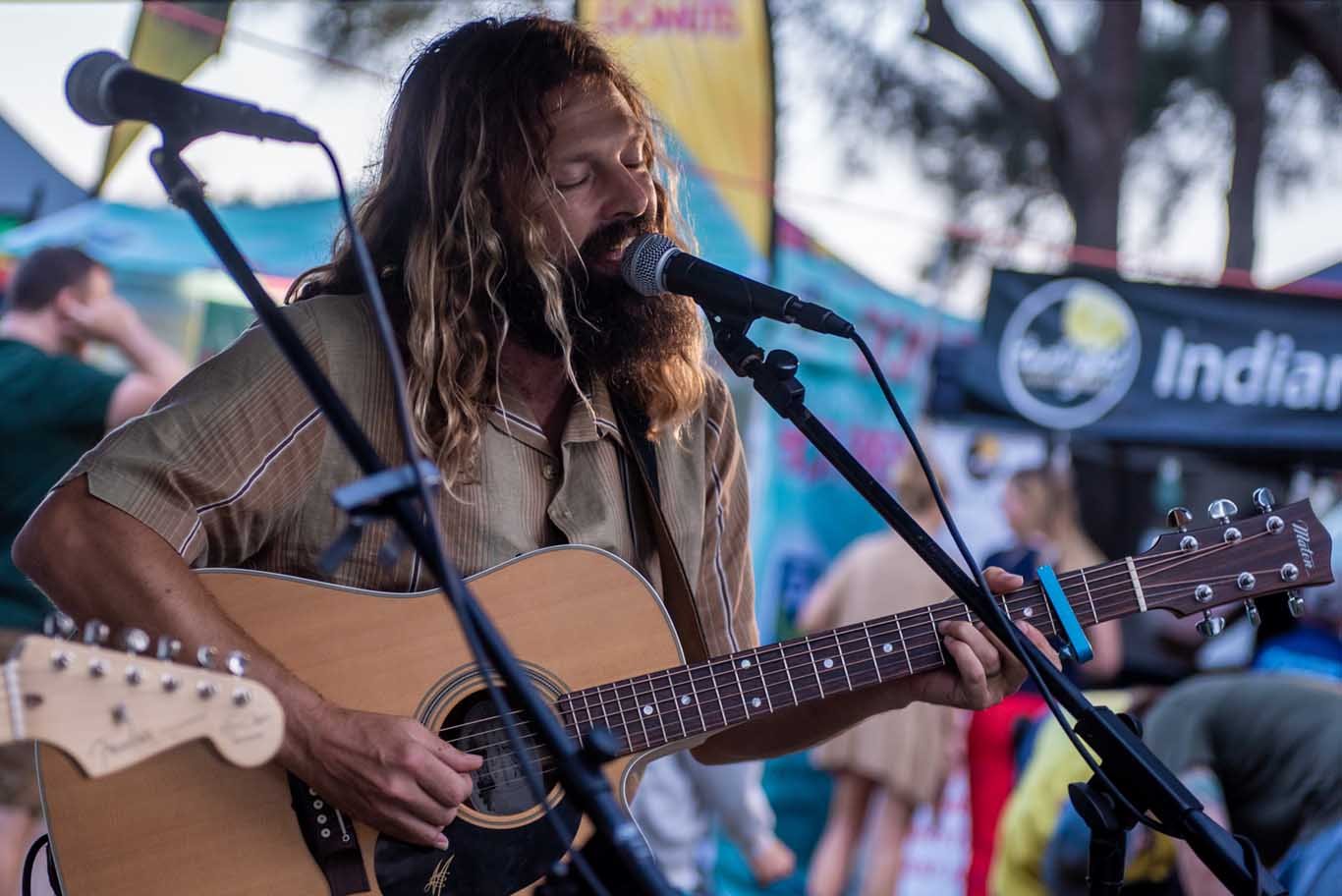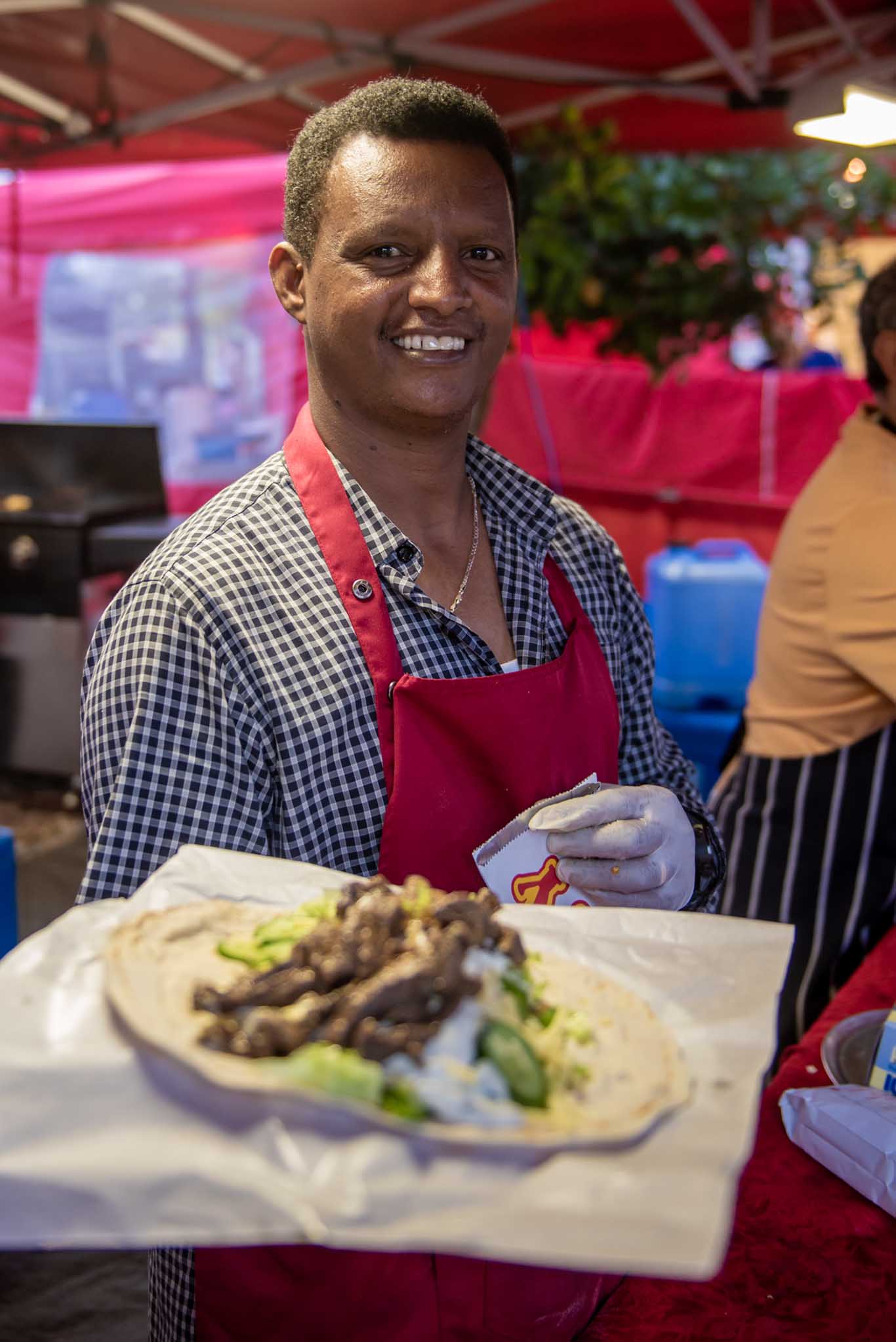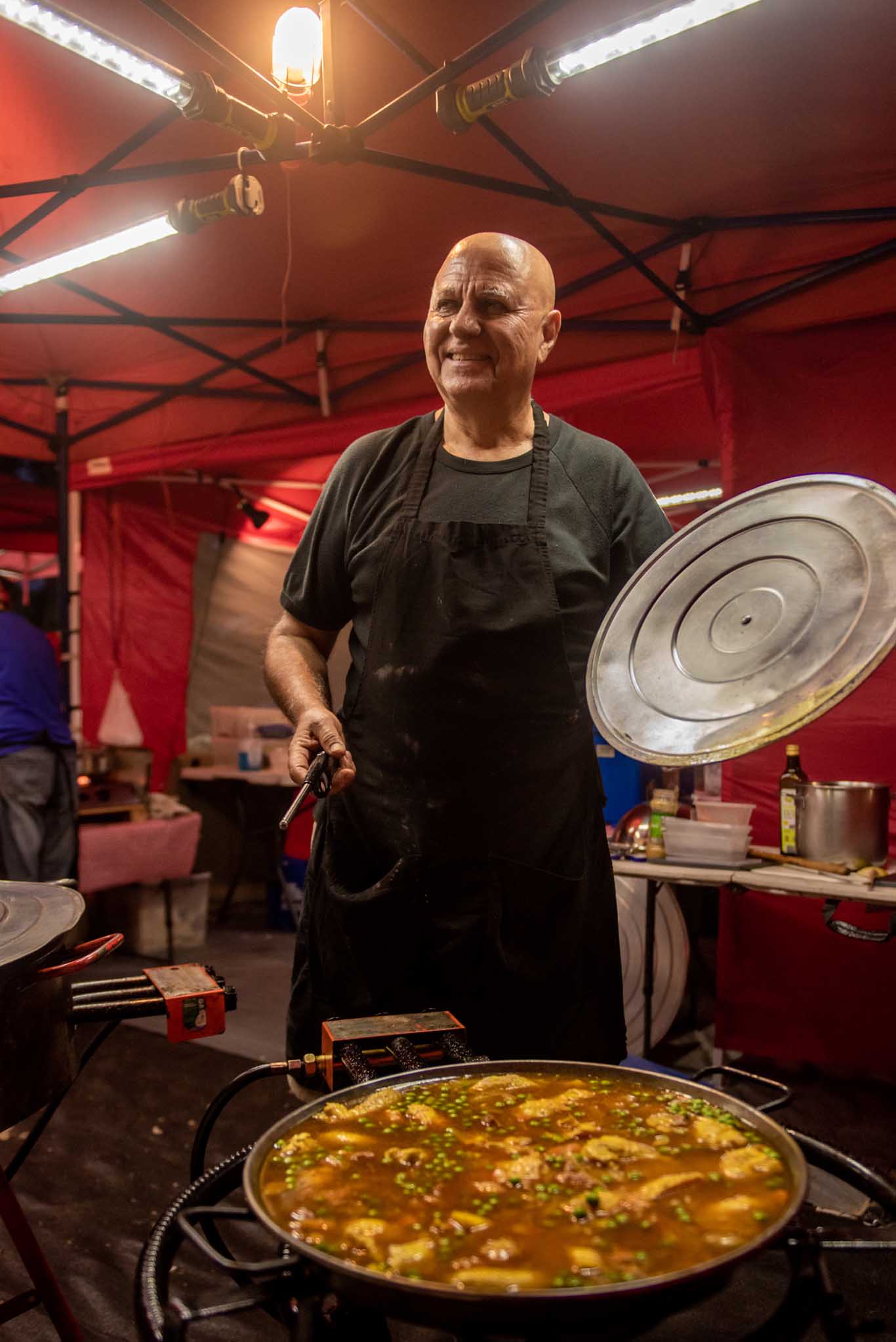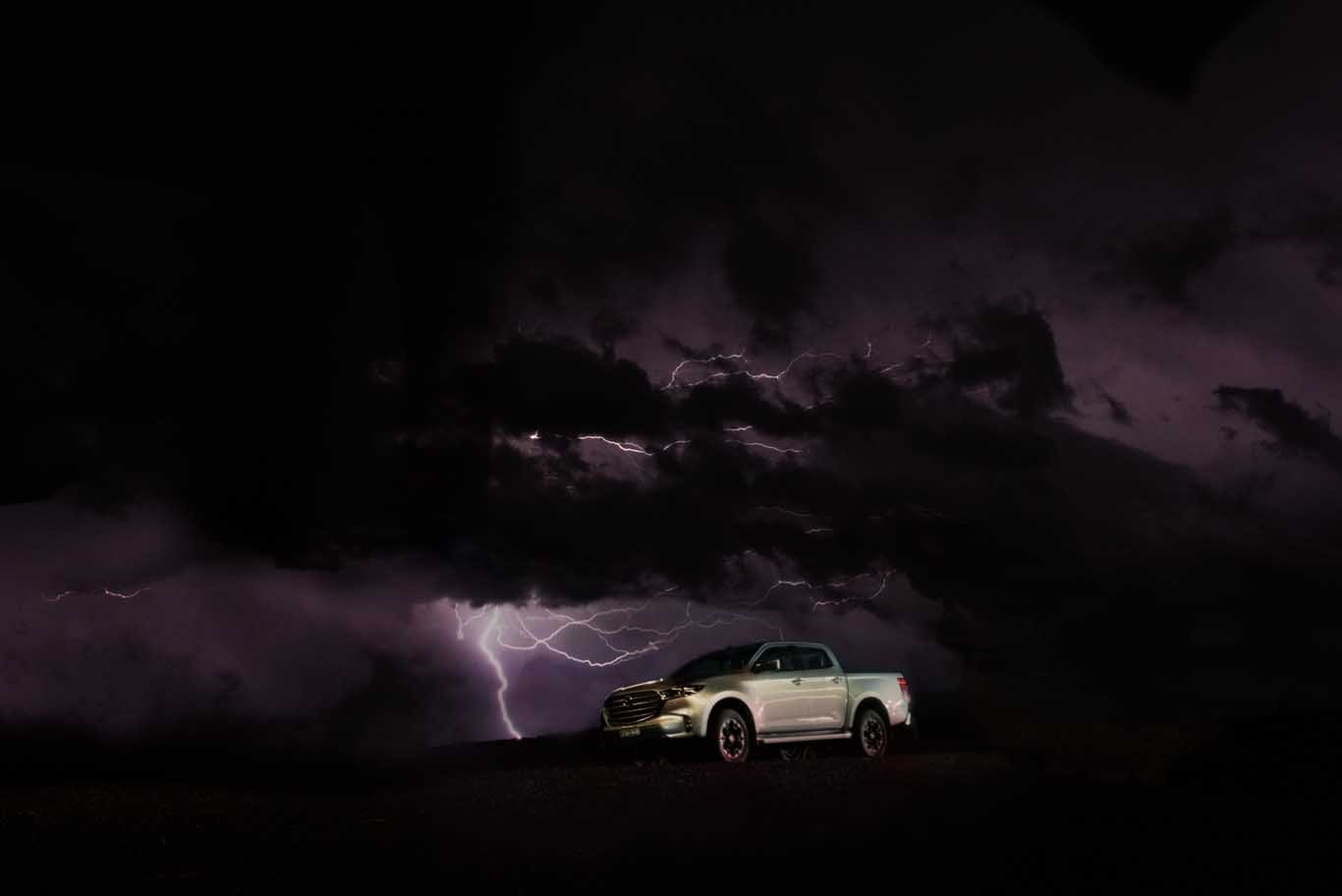 +2
+3
The next day, we drive forty minutes west up to the hinterland, an easy scenic drive through tame countryside over rickety one-way bridges and narrow sweeping curves before shifting into 4WD mode. We gingerly white-knuckle it in the subtropical Orara Escarpment 4WD Touring Route, a playground for off-road driving and part of the wider Bindarri National Park, with a goal to charge up the steep 600 metres to the Bangalore Falls. Bouncing along rutted soggy tracks and whipping though dense eucalypt bush and tangled branches, everything is still damp from the lightning storm the night before. Although we're confident in our BT-50, there are muddy bogholes to watch out for and wet leaves warning us to take it easy and not venture any further down the clay bush track.
We decide to double back and continue our journey along the Waterfall Way to Armidale. My shoulders finally drop when we hit the preposterously pretty town of Bellingen. Driving under a purple fuzz of jacarandas, the go-slow hippy town of federation buildings feels more like a movie set and it's clear that this lofi town with its linen-clad locals eating colourful acai bowls and vegan tacos is the new Byron Bay. The streets are lined with cute stores that are part shop, part café and filled with digital nomads typing on industrial-cool benches.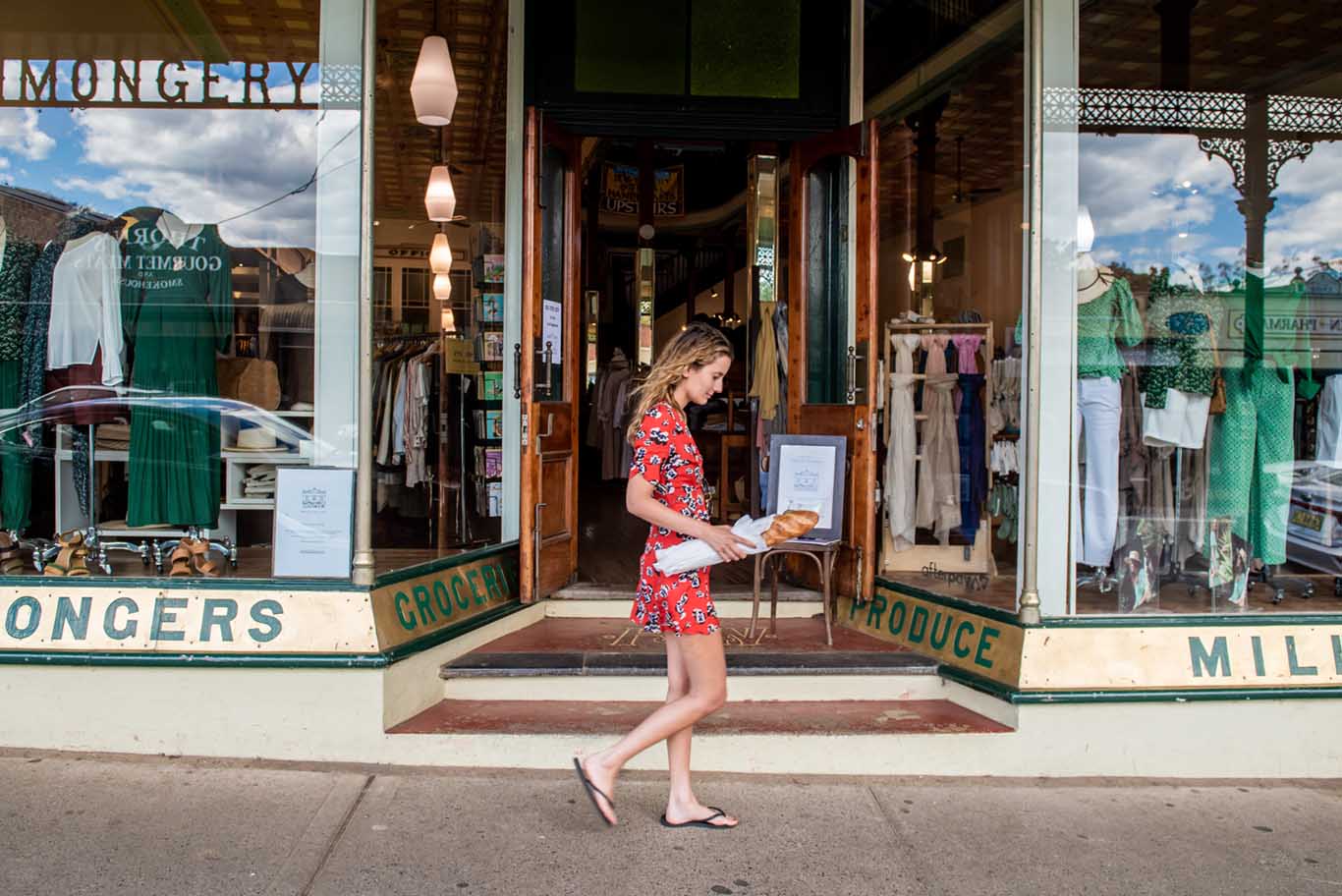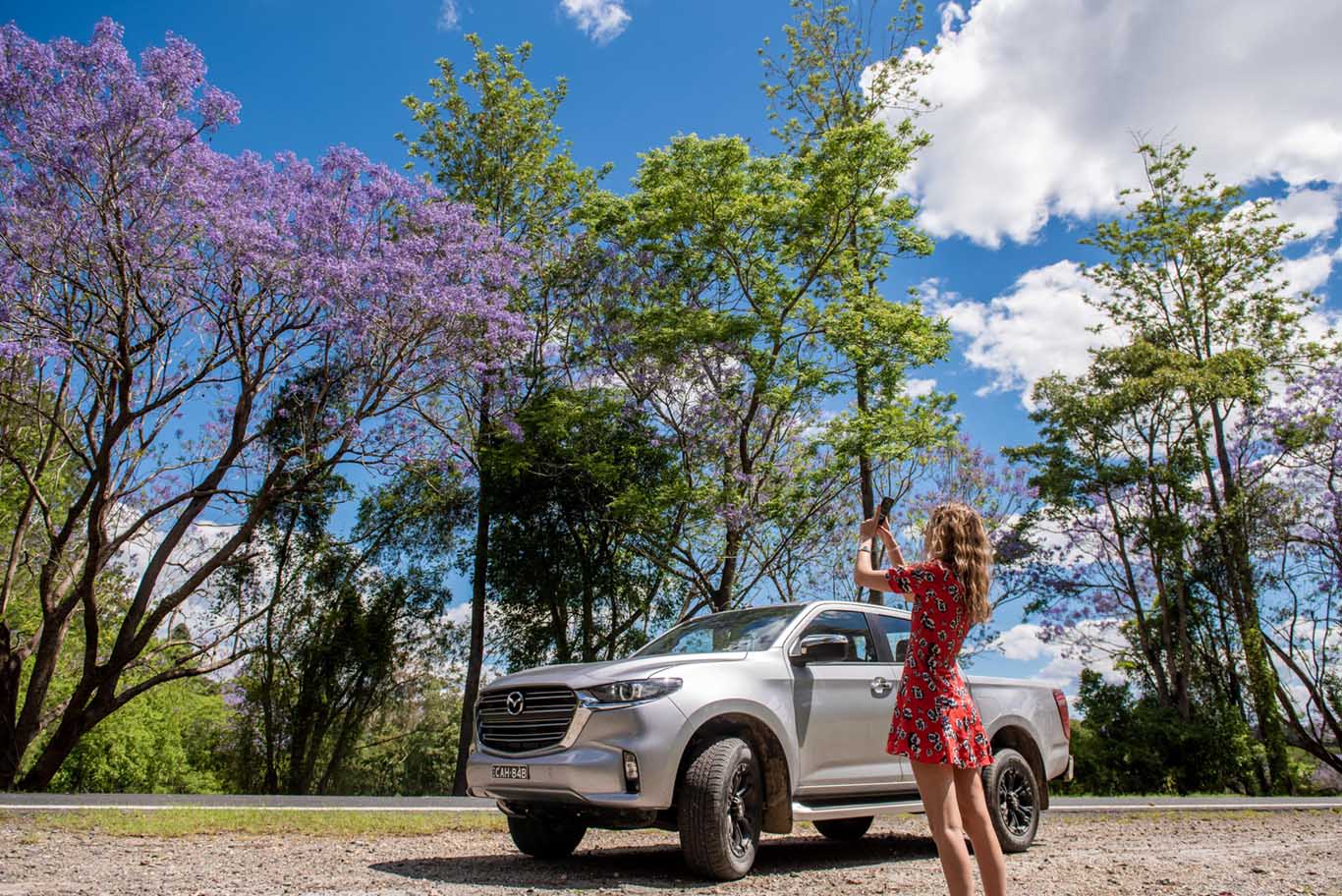 Desperate for a swim, we redirect and navigate ten minutes to Gleniffer Valley, known commonly as The Promised Land, a sweet little town 12 kilometres north-west of Bellingen, punctuated with rivers, natural swimming holes and hidden freshwater creeks. We smoothly drive across wooden trestle bridges and narrow and pot-holed unsealed roads, before reaching Never Never Creek. Here, everything seems washed in a soft-focus filter: all honey shades and blown-out golden light as we swim in the clear-as-gin creek. It's pure magic. We'd stay on for longer but dusk is looming so we get back into our (now dust-covered) Ingot Silver Metallic BT-50, and continue our journey through the New England Tableland to Armidale.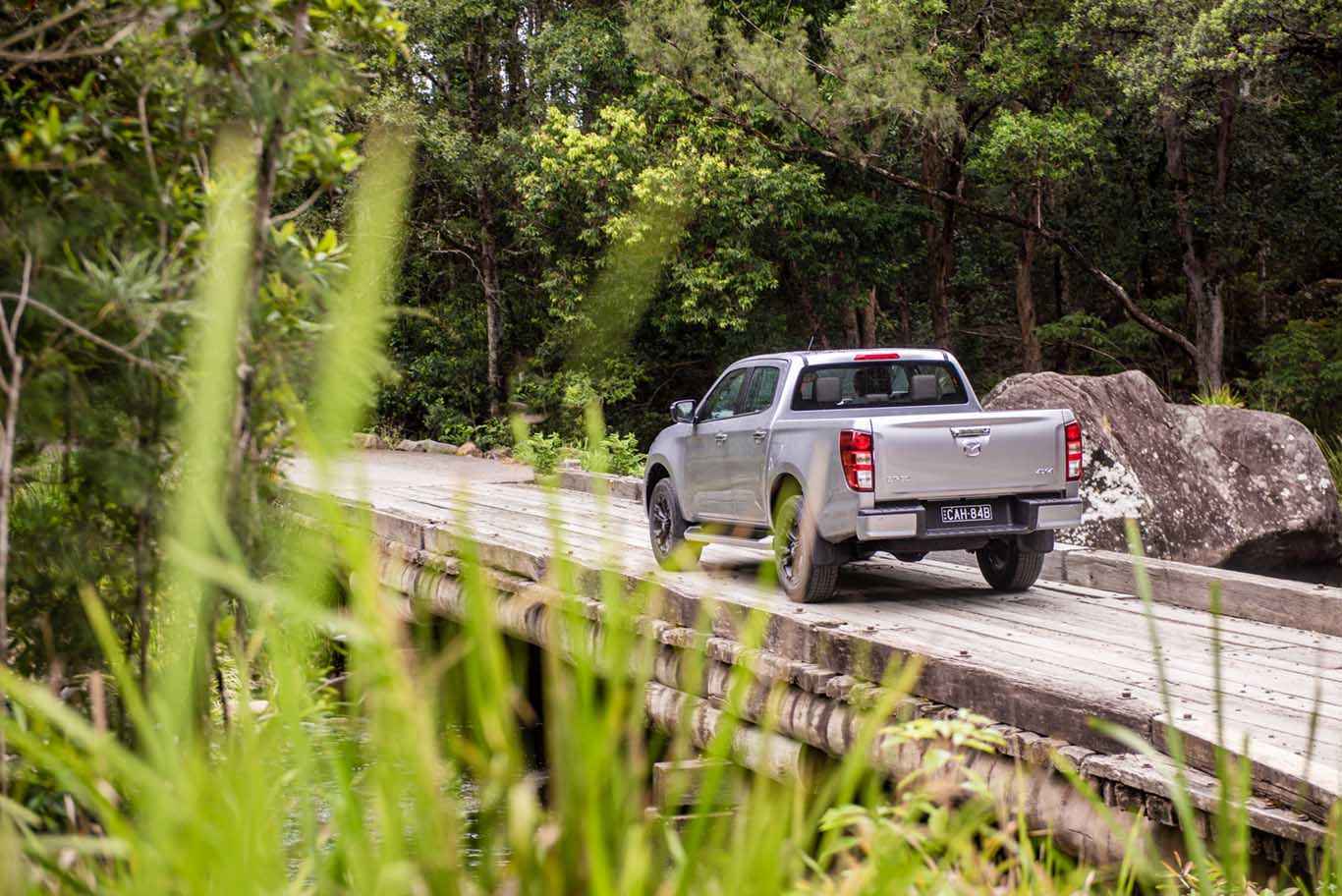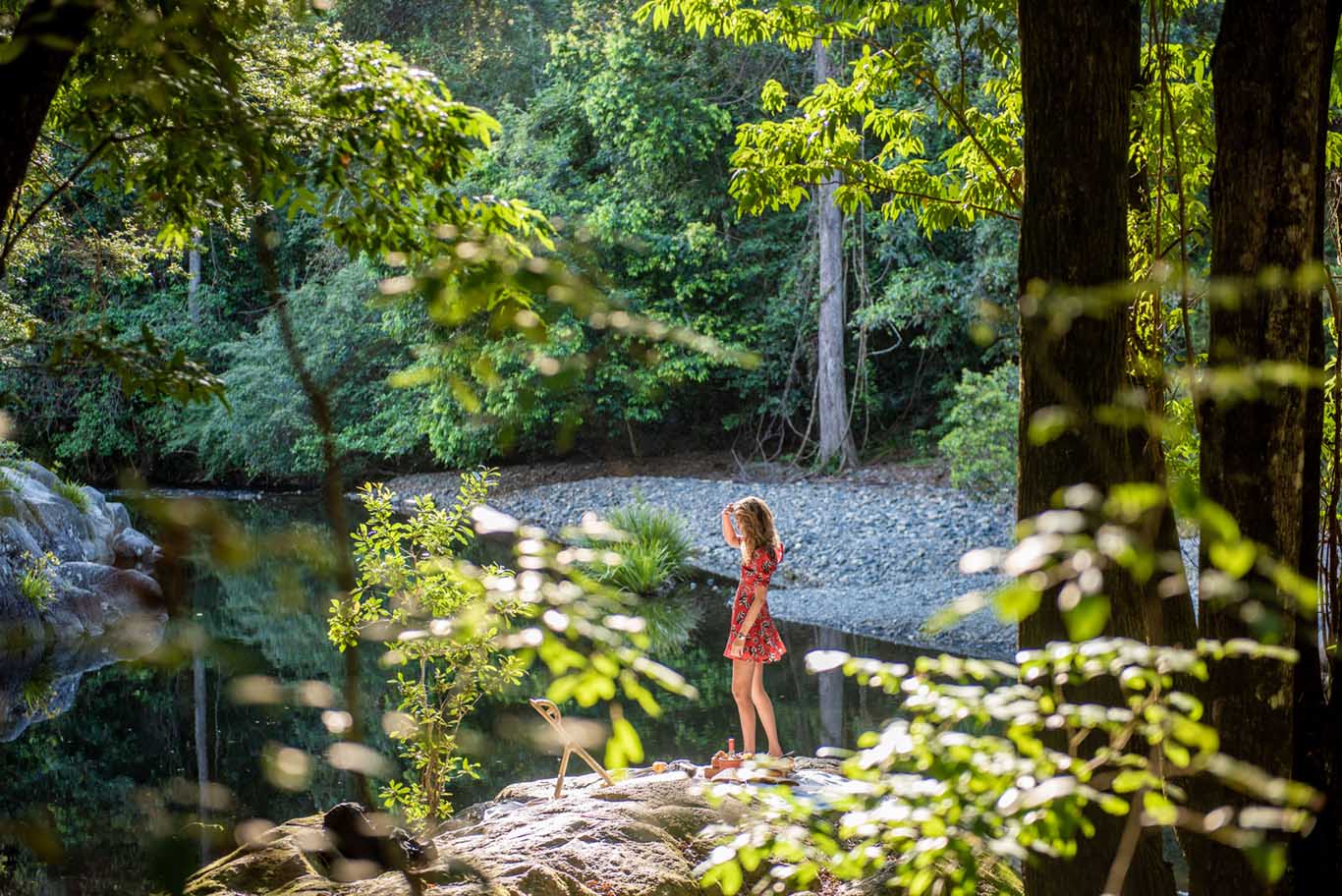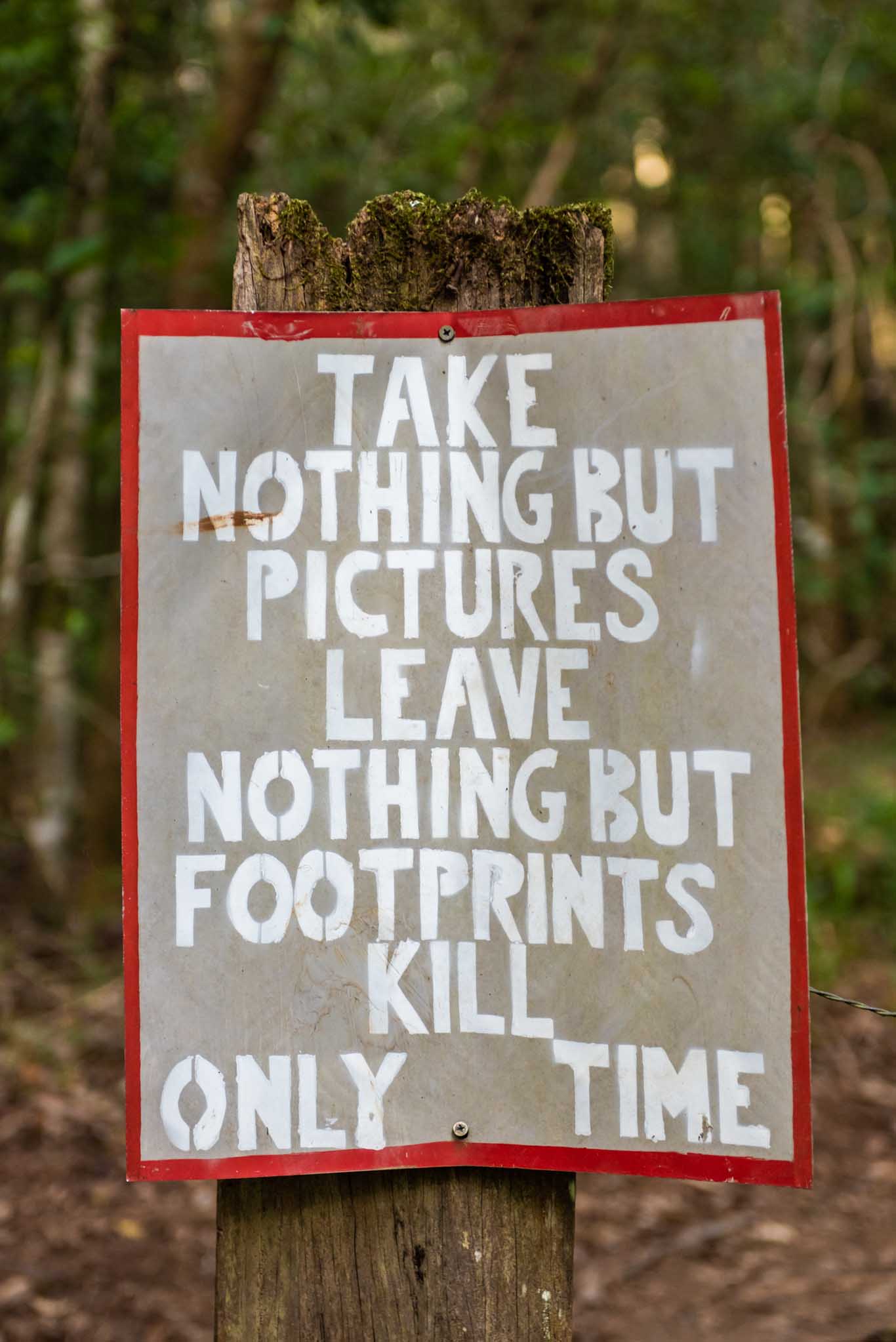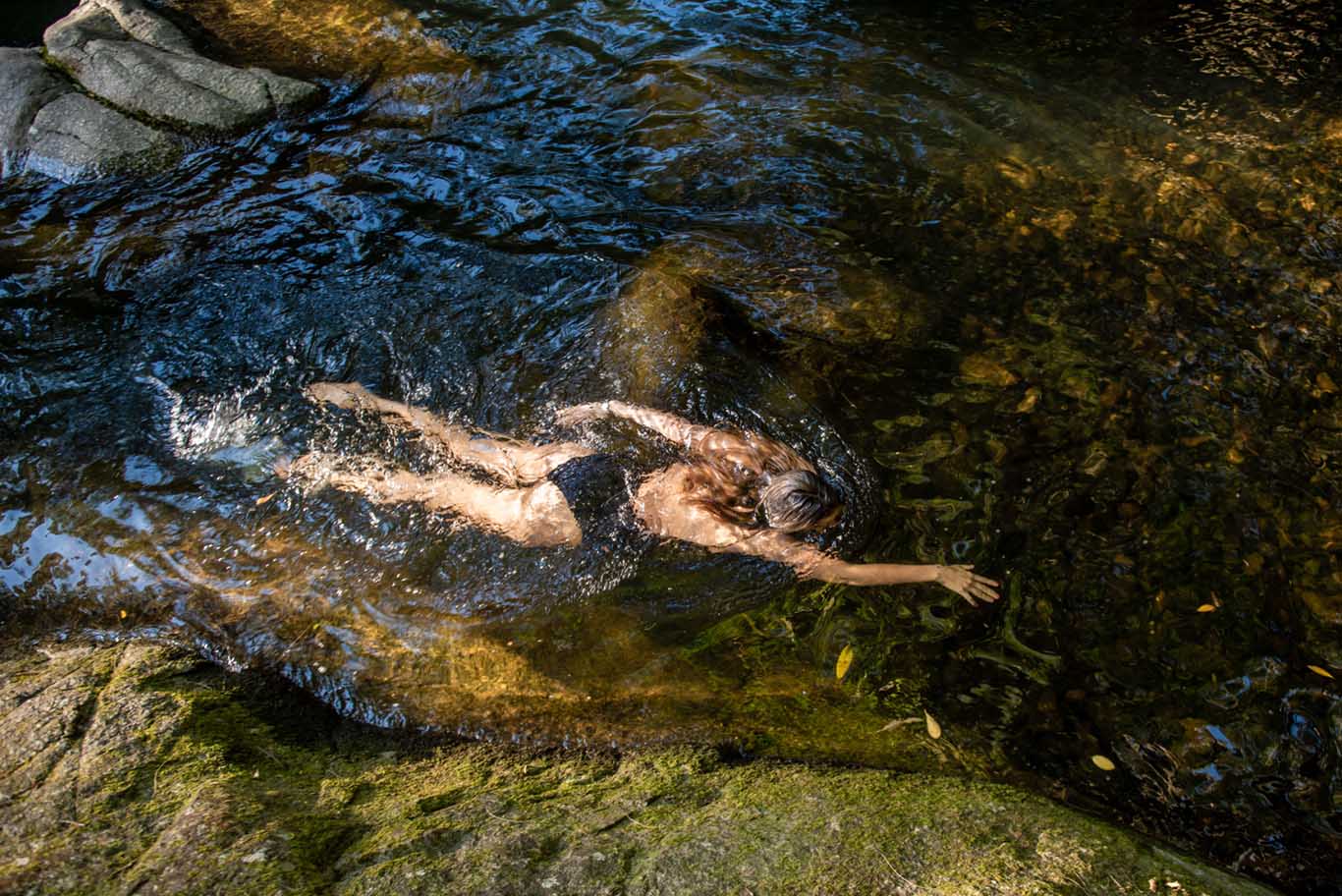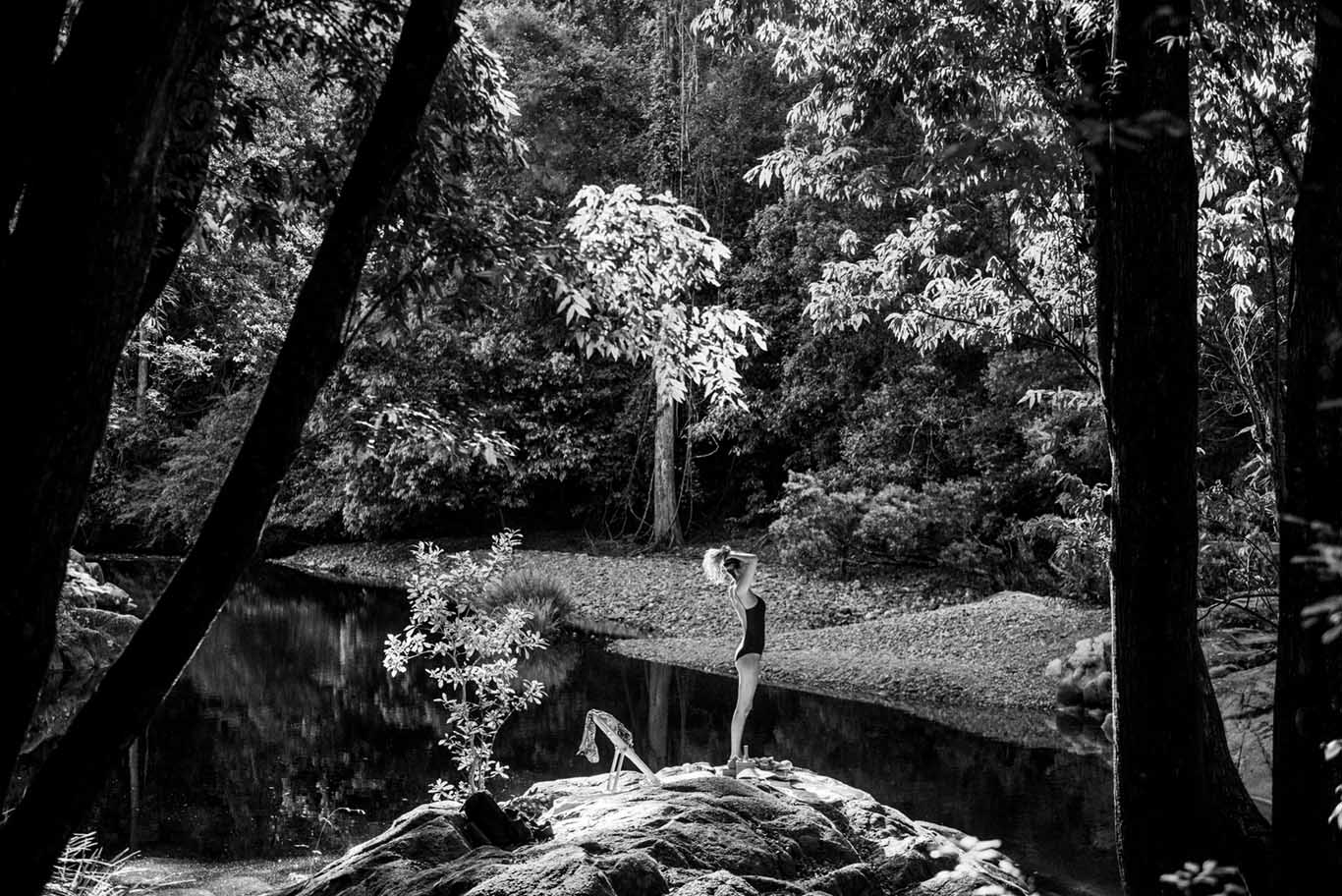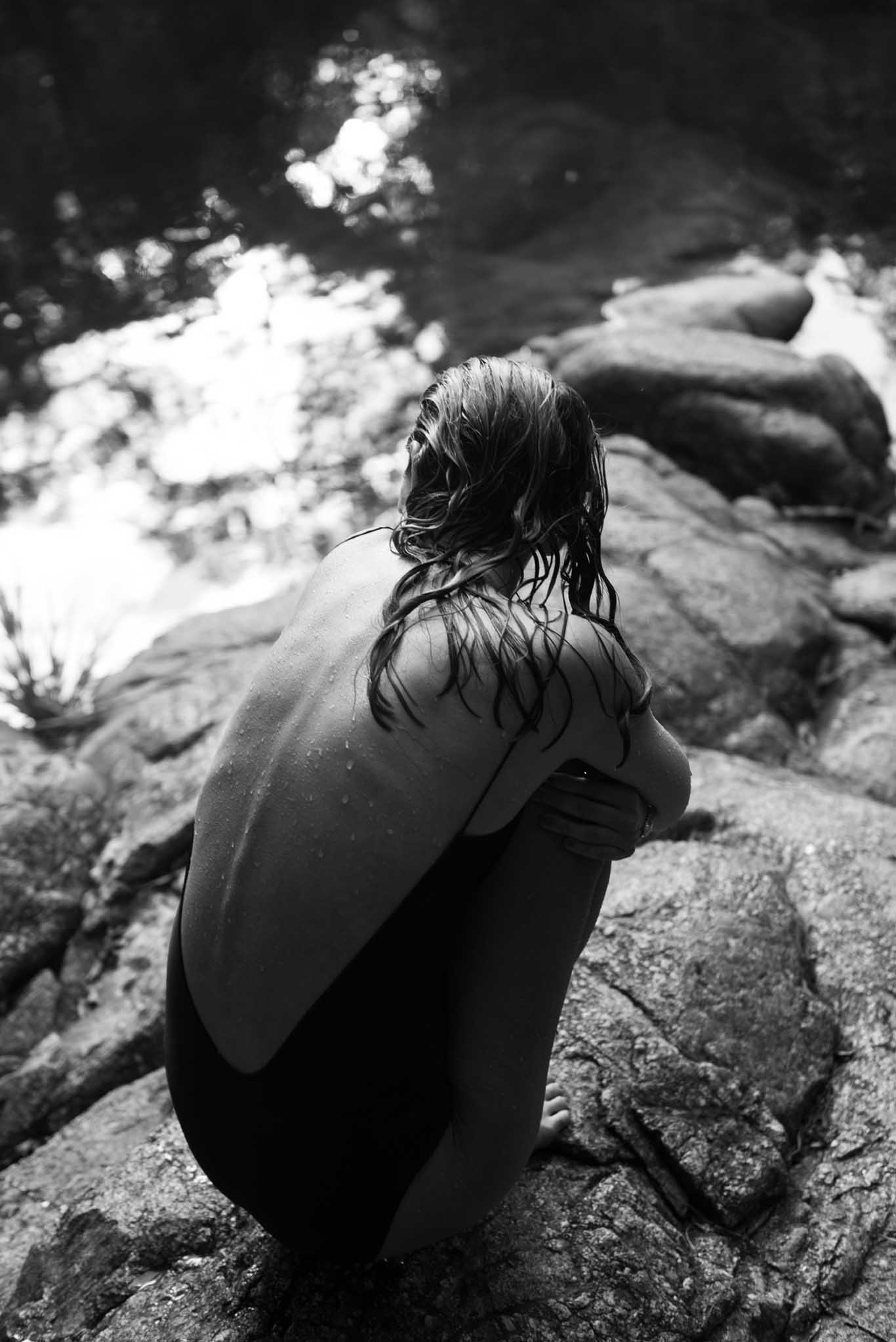 +2
+3
---
"Everything seems washed in a soft-focus filter: all honey shades and blown-out golden light as we swim in the clear-as-gin creek. It's pure magic."
---
The road narrows and quickly winds as we drive up Dorrigo Mountain. The immensity and composure of the highlands' view is hard to take in as I hug the craggy mountain overlooking the Great Dividing Range, on the spindly two-lane S bends whooshing past the gushing Newell and Sherrard Falls.
A couple of hours later as twilight descends, we finally make it to Armidale and check into The Tattersalls Hotel, a striking art-deco hotel that feels like we've wandered into The Great Gatsby, and spend the evening recharging on a grand and greedy steak dinner in the handsome dining room. The next morning, we explore this quaint well-heeled town with its antique shops and New England Regional Art Museum (NERAM) before heading to the Oxley Wild Rivers National Park, one of the great national parks in NSW, to visit the Dangarsleigh Falls. Hoping for gushing 120m torrential falls, we foot it across the gorge and bald rocks to find instead a steep but very light stream drizzling down charred rock cliffs. A bleak reminder of the severe drought that Australia has suffered the past five years, and the catastrophic bushfires in late 2019 which engulfed the continent and this patch of bush.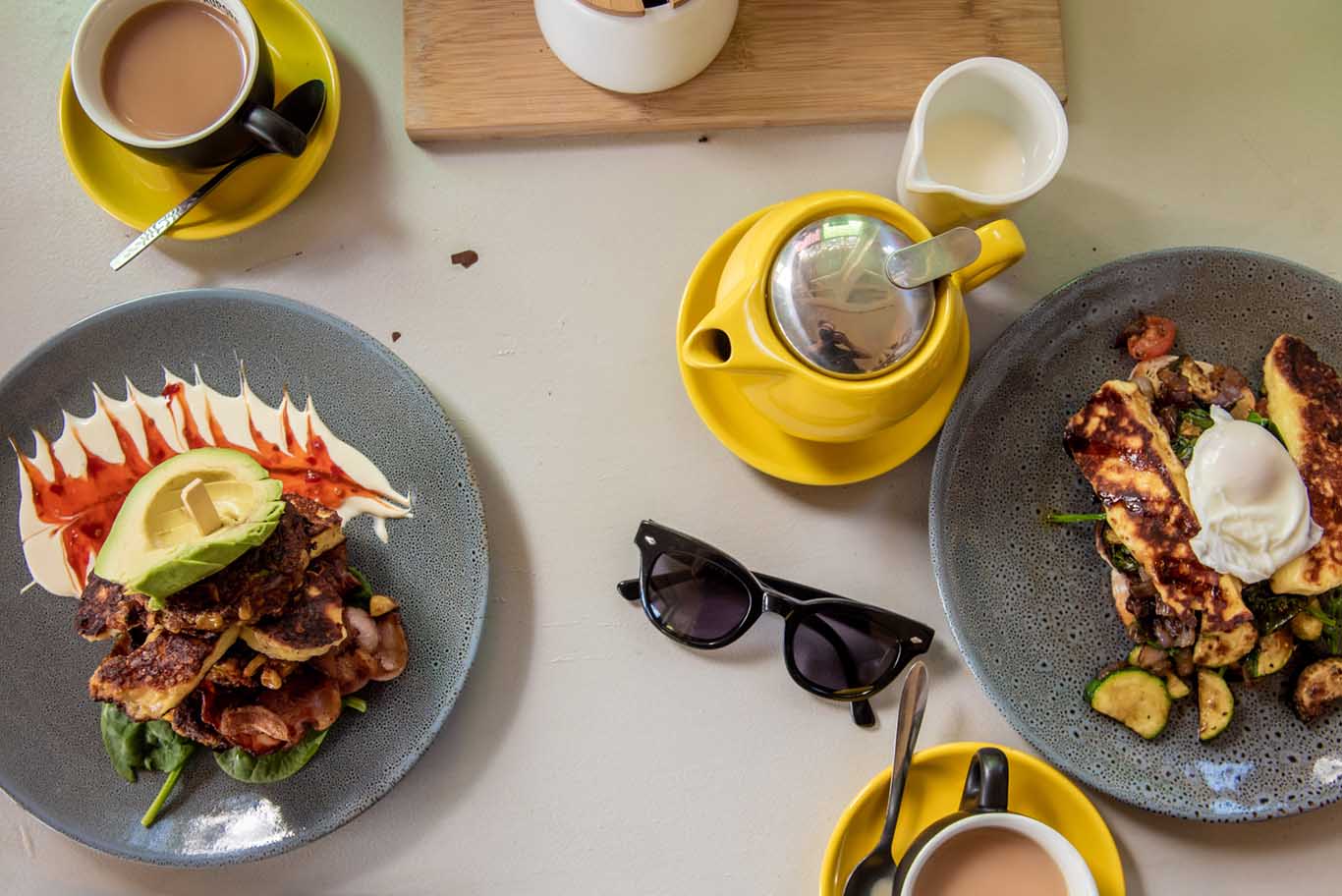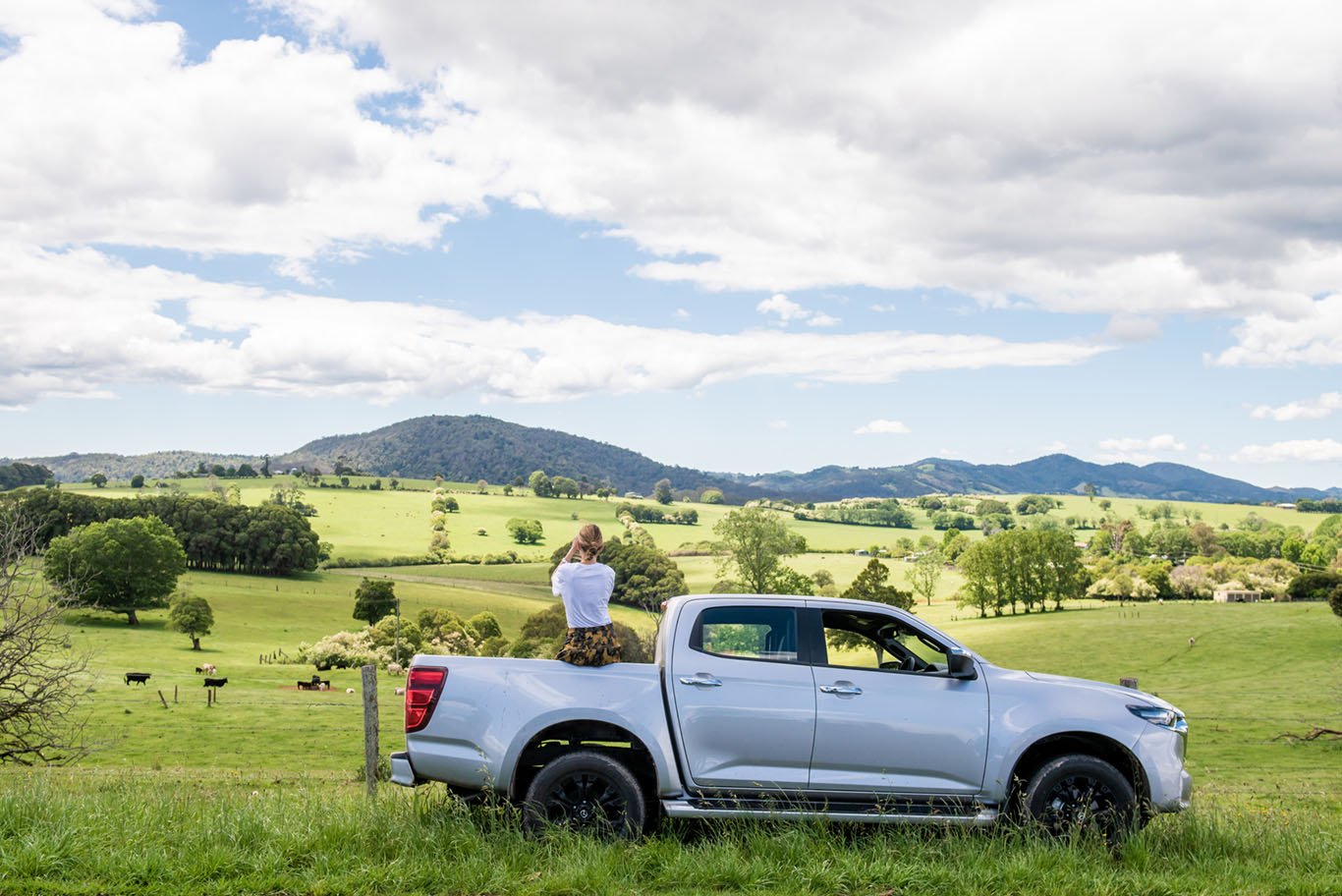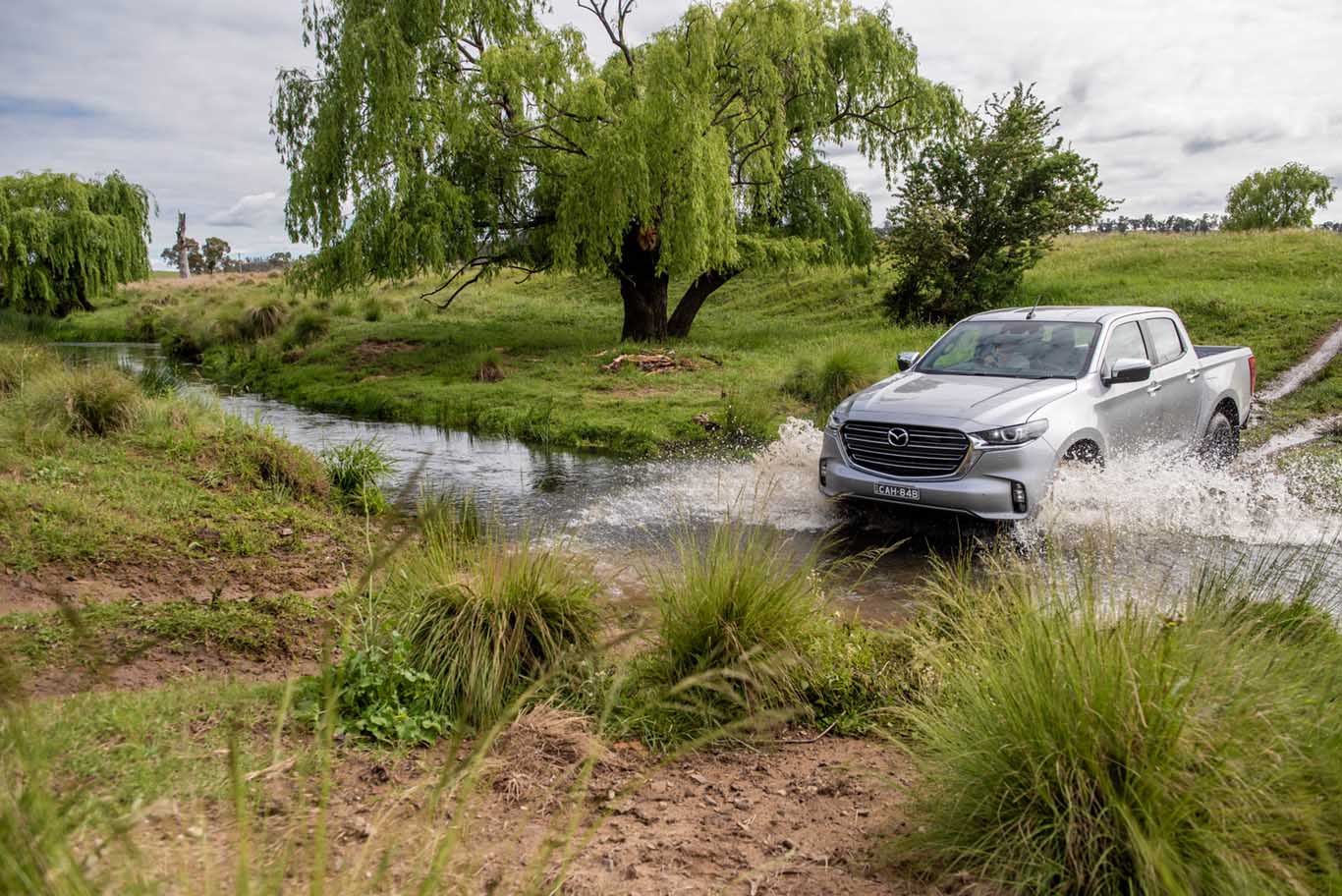 Leaving Armidale, with its maze of back country roads, we can't help but do one final bushwhack in the BT-50 and we go off-road onto a deserted plot of land. We gleefully dip down small mounds and cross shallow, rocky river beds, something we could never do in an ordinary car, before heading back through the manicured New England bucolic countryside, which is a bit like zooming through an oil painting populated by perfectly plump cattle and bouncing lambs.
We break journey in Dorrigo at a cute country café Component, where between bites of chickpea pancakes and grilled haloumi, the owner Harry Buchanan tells us of a waterfall just 2km away. And suddenly, you could practically hear our tyres whirring as we hit the road in search of Dangar Falls. A few twists and turns later and there it was, between cliff faces, a gushing 30m waterfall. Pushing through scrub we descend to the bottom and for the next hour we swim by the cascading water taking in the past couple of days, a dreamscape of diverse landscapes from the coast and dense damp forests to waterfalls, stripped bushfire land and manicured countryside. Proof positive that the best way to see Australia and witness its topographical drama unfurl is by road, and preferably, in a Mazda BT-50.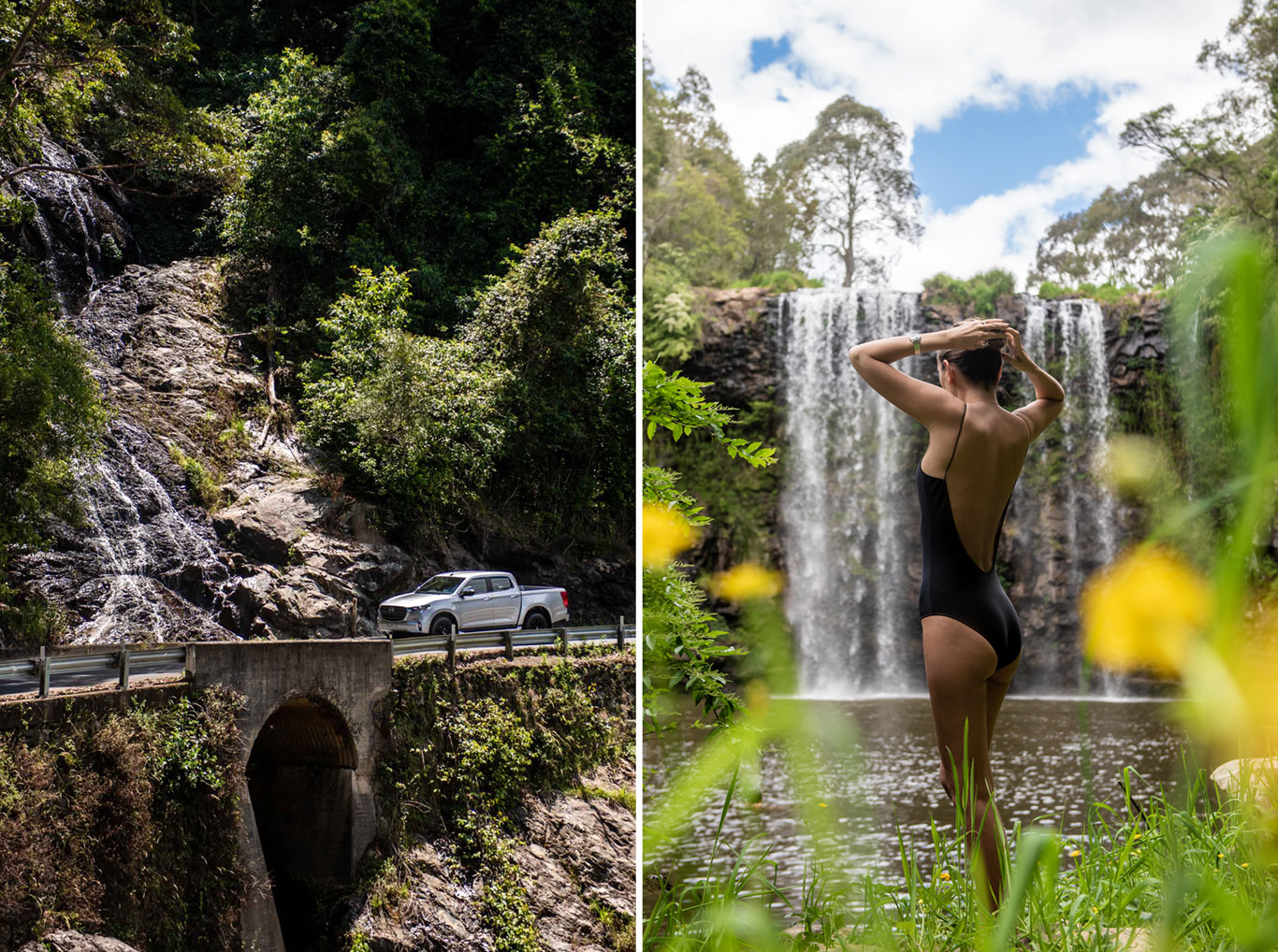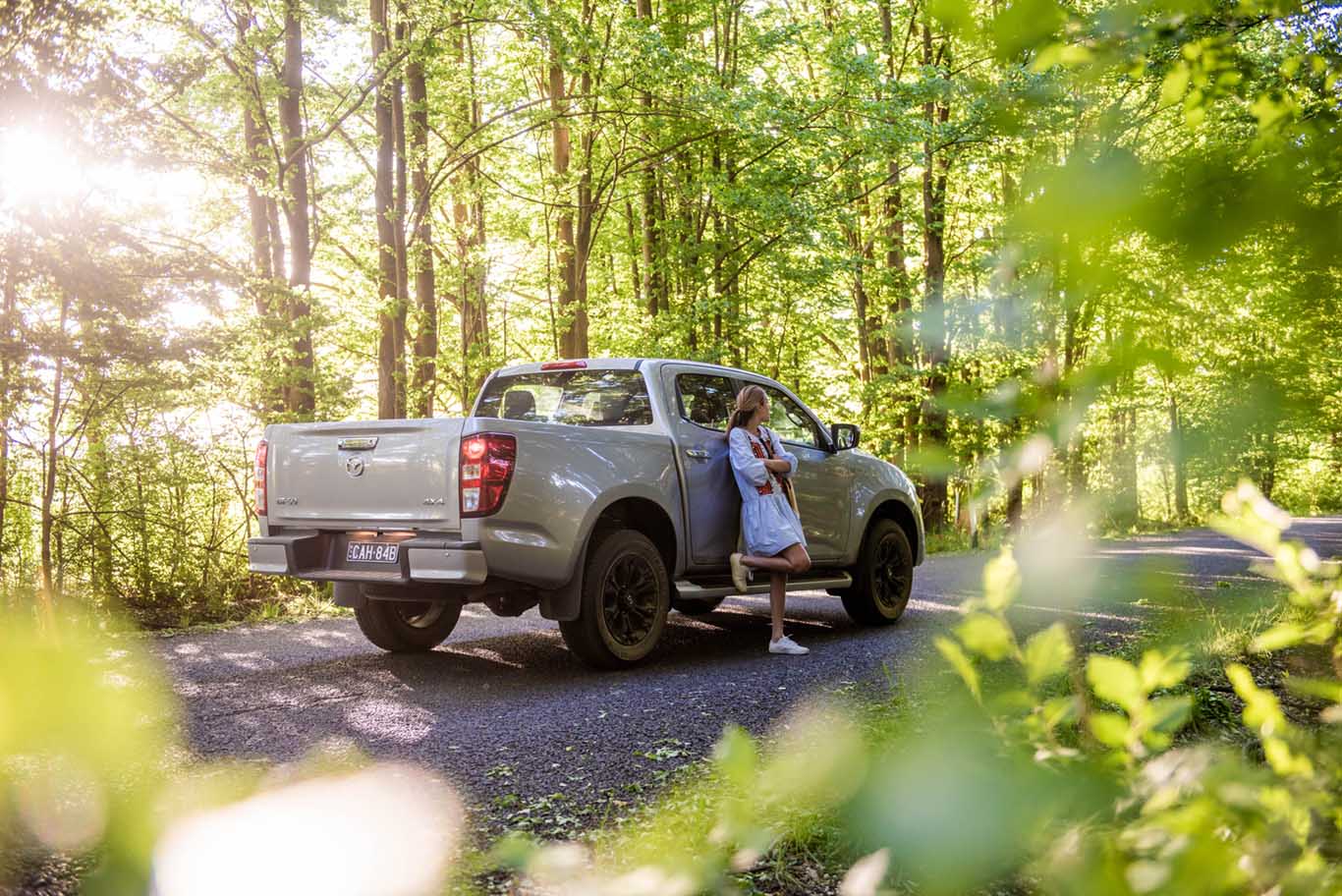 To find out more about the Brand-New Mazda BT-50 click on the link below.