EXPLORE
A dream of Japan in the Mazda CX-3
EXPLORE
A dream of Japan in the Mazda CX-3
The Blue Mountains west of Sydney offer an unexpected glimpse of Japan. The Mazda CX-3 100th Anniversary Edition makes a smooth experience of traversing some of the most beautiful peaks on the planet.
Words Chloe Sachdev / Images Tim Swallow

From my first coffee in the morning to my last whisky at night, I'm constantly plugged in. Smartphone, emails, social media – my day, like most people's, begins and ends with technology. Perhaps it's no coincidence, then, that over the past few years I've adopted buzzwords like mindfulness and self-care into my everyday vocabulary and become deeply fascinated by Japan, where slowing down has been elevated into various art forms, from traditional bathing rituals, which take on a social and spiritual meaning, to the beauty of Zen gardens and the tranquillity of forest bathing.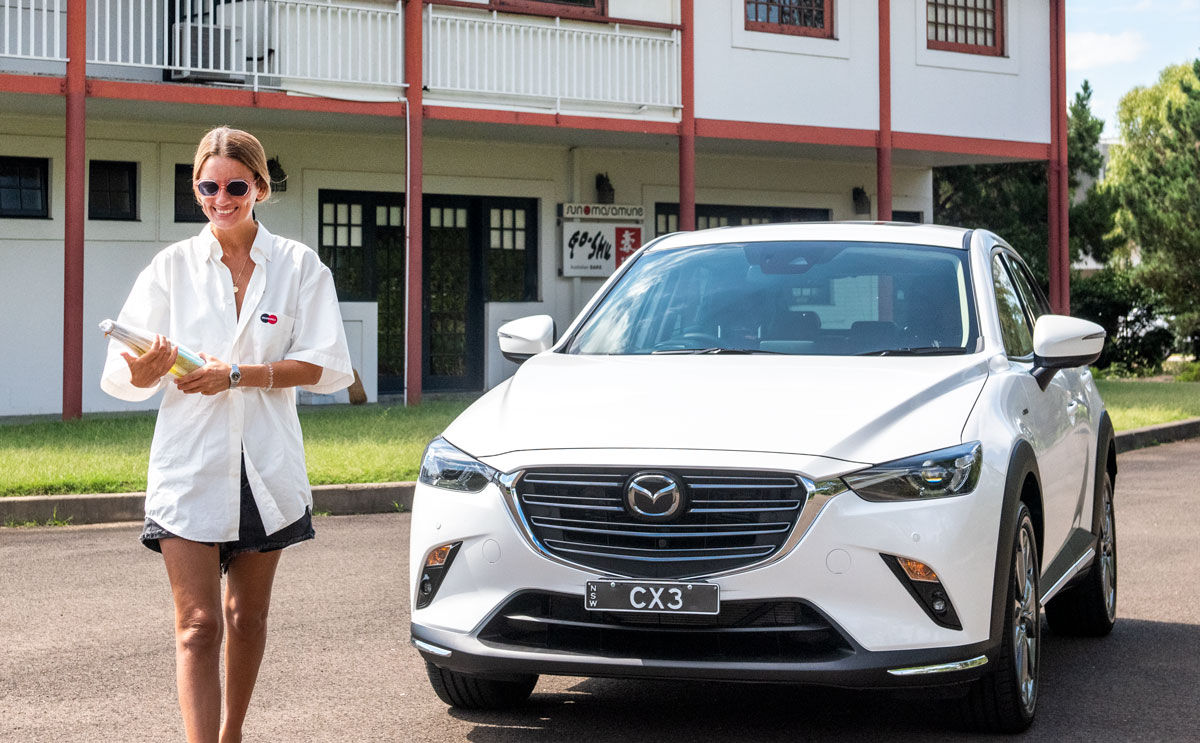 The Sun Masamune brewery is the only sake distillery in Australia.

Which is why I leapt at the chance of driving the Mazda CX-3 100th Anniversary Edition to the Blue Mountains. This lush region, with over one million hectares of tall forests, epic escarpments, grand rock formations and waterfalls, offers an abundance of slow, back-to-nature pilgrimages inspired by Japan, where mountain worship is part of the country's DNA.
Photographer Tim Swallow and I embark on the road trip, which is a leisurely drive west from Sydney on the M4 motorway. Our Japanese ascent begins at the Sun Masamune sake brewery in Penrith before the highway climbs into the mountains.
I'm not used to my wheels drawing attention, but our two-tone machine, with its signature snowflake-white pearl exterior and deep burgundy leather interior, is the first thing the owner of the brewery notices. Turns out he too is from Mazda's hometown of Hiroshima and says he "knows Mazda very well". We stay just long enough to learn that this modest little distillery is the only one in Australia brewing this ancient beverage, and doing it with Australian rice and water. Sake was once part of sacred rituals – offered to the gods, and drunk to cleanse the soul.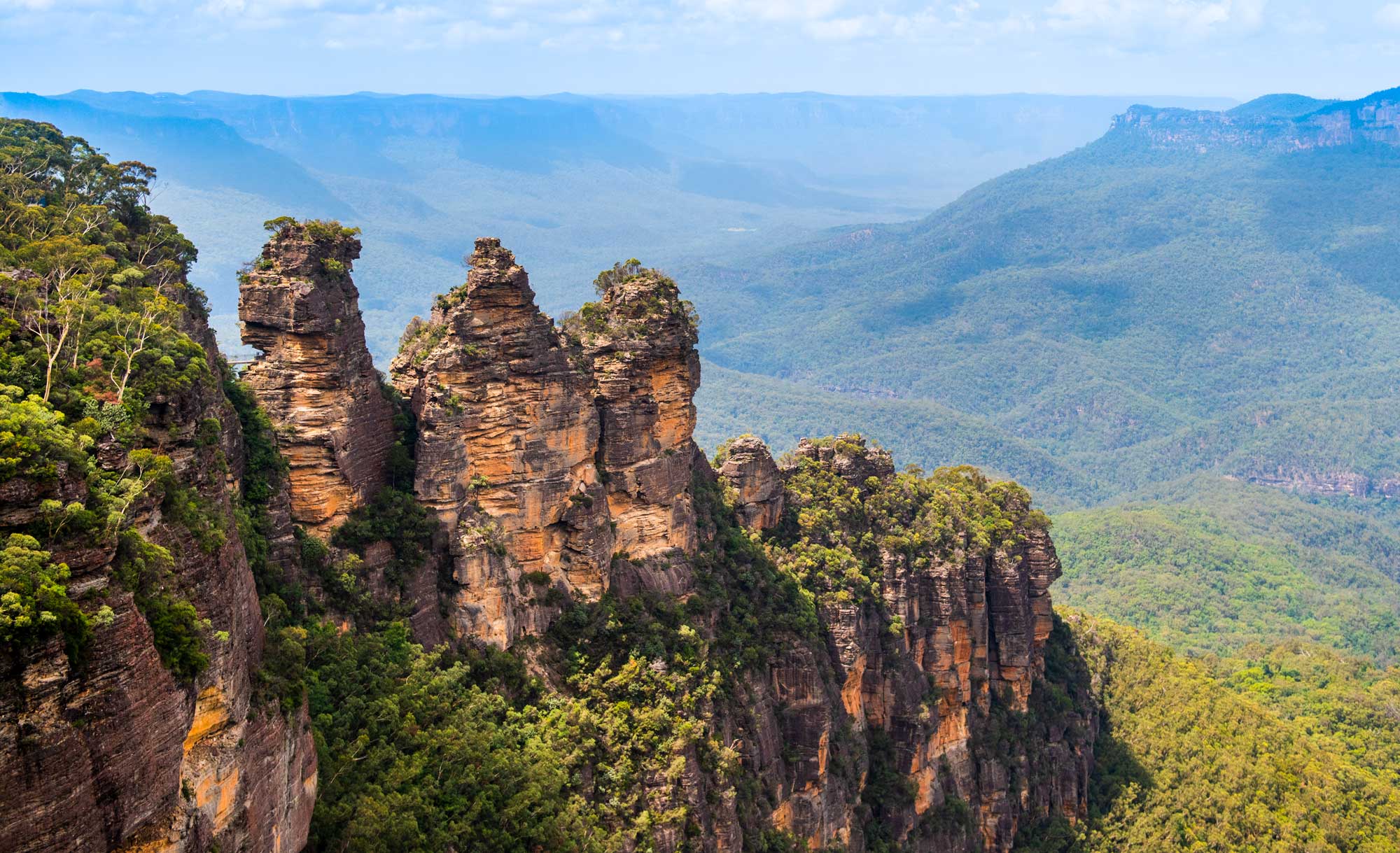 The Three Sisters rock formation, eroded from the cliffs by wind and weather.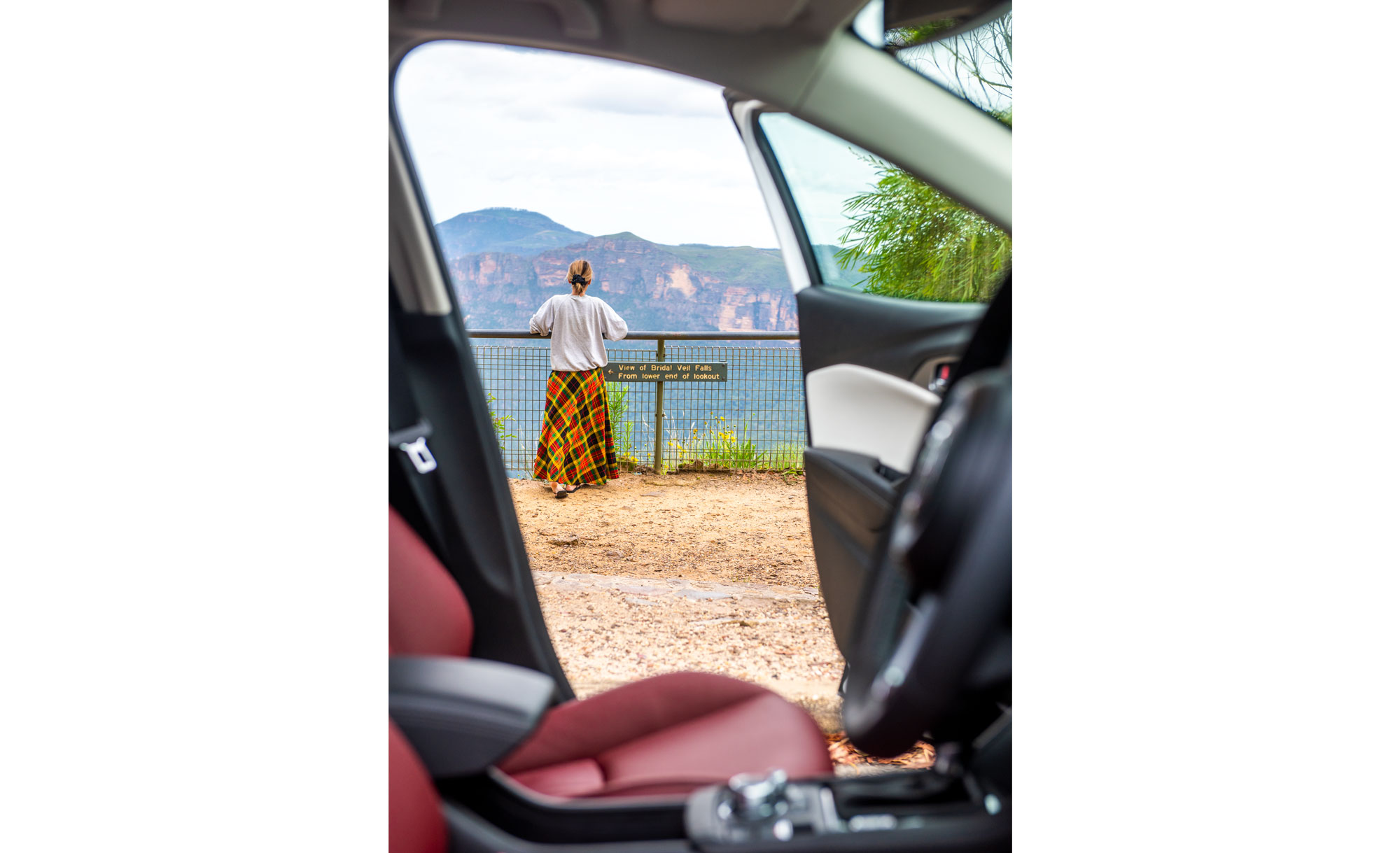 The views at Echo Point lookout are spectacular.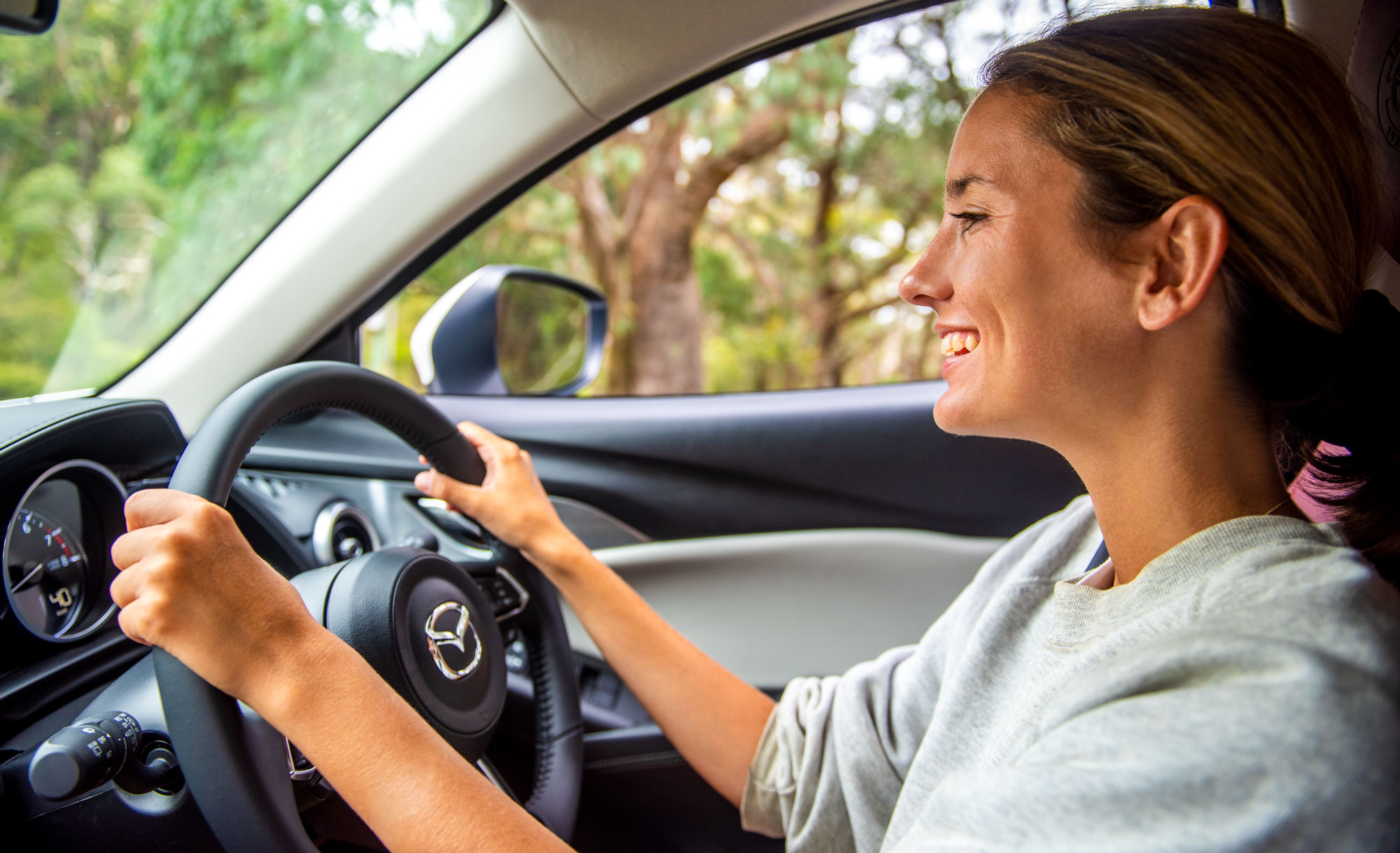 Tall forests line the roads of the Blue Mountains.
---
"The vertiginous world of the Blue Mountains, a mere 90-minute drive from the city, has some of the most beautiful peaks on the planet."
---
Back on the road, we wind our way up the Great Western Highway. The CX-3 cruises effortlessly along, and we barely notice the city falling behind us. We snake past pretty towns, Wentworth Falls and Leura, to Katoomba, where we drive straight to Echo Point lookout. This plateau offers spectacular views across to the Three Sisters, a trio of giant rock formations eroded by wind and weather out of the side of sheer cliffs. Here, at this deeply significant Aboriginal Dreamtime site, my knees start to wobble as we descend the steep stairs carved out of the mountain, with nothing but green-cloaked valleys 3,000 feet below. We're both in awe, suddenly aware that this vertiginous world of the Blue Mountains, a mere 90-minute drive from the city, has some of the most beautiful peaks on the planet.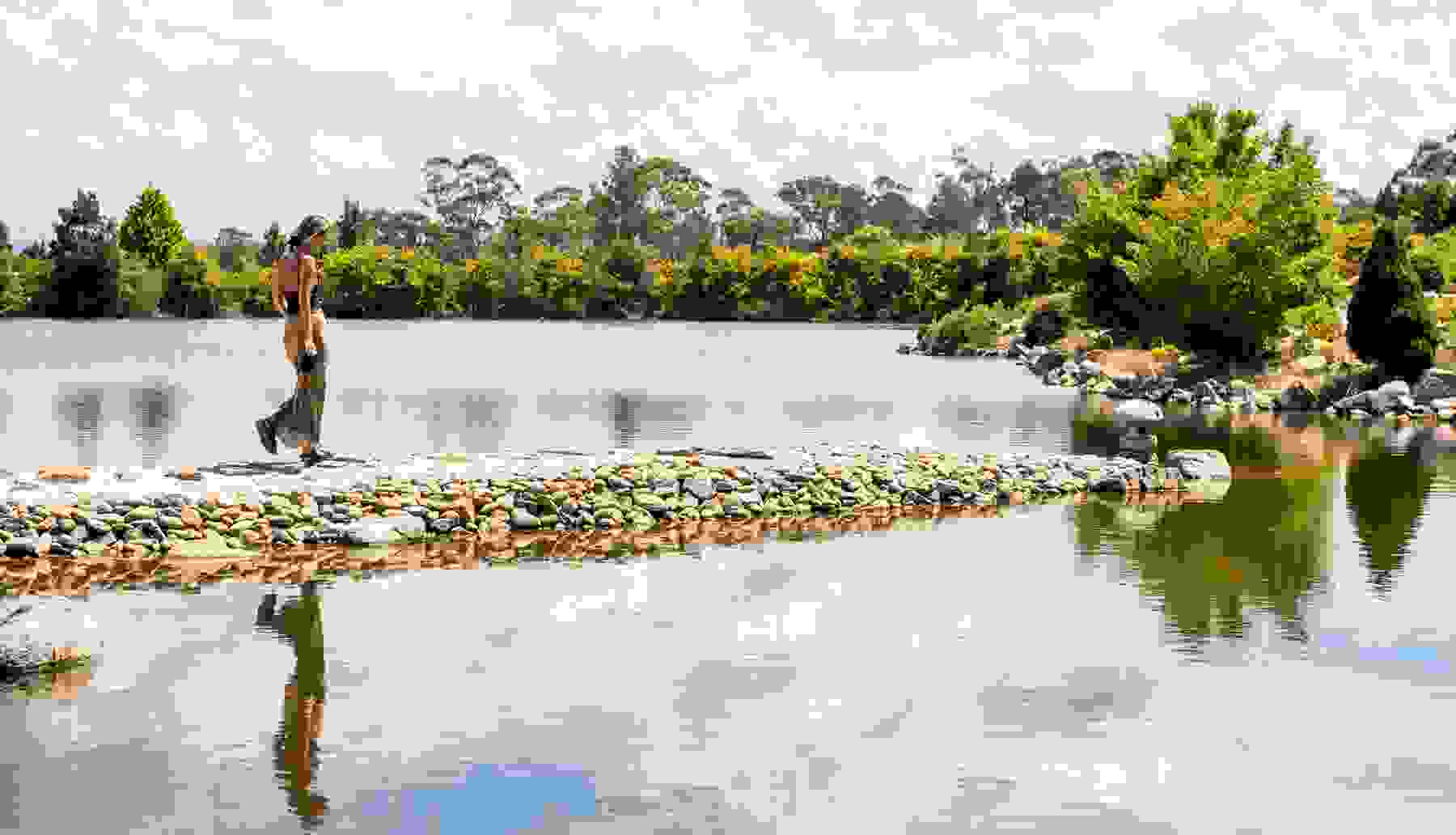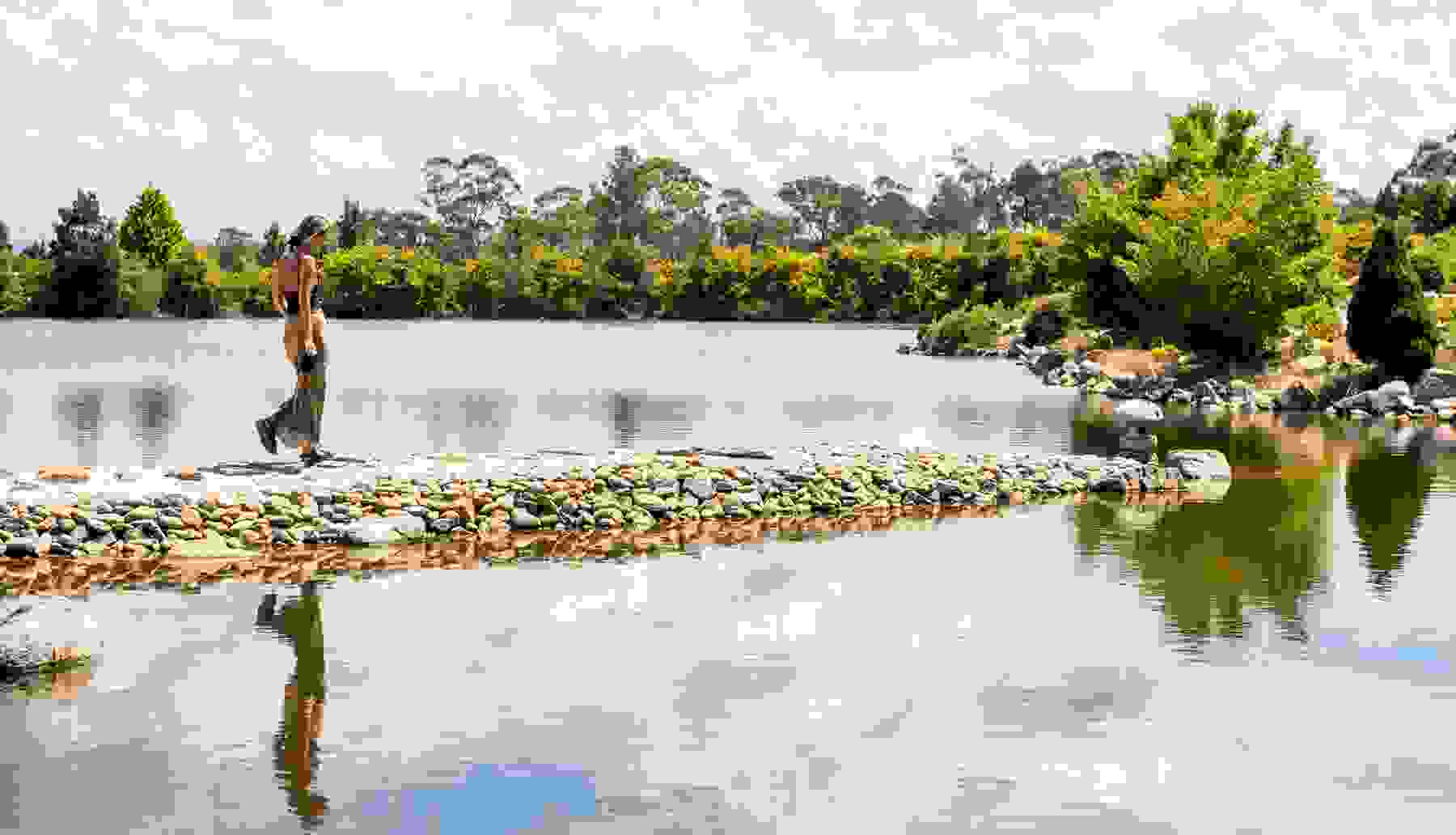 Maples, conifers, pines and white gravel combine in harmony at the Gory'u Japanese Gardens.

As the midday sun hits, we get back into our CX-3 and head to our next destination, the Gory'u Japanese Gardens and Maple Springs Nursery. Here we meet Margaret Jackson, the green-thumbed co-owner, who takes us around the remarkable manicured grounds, created as a place for contemplation. We wander the Buddhist, Taoist, Confucian and Shinto gardens as Margaret talks to us about the different psychology of each intricate garden – dry landscapes, white gravel, and pines – and the ideas and individual teachings of harmony. The gardens all surround Margaret and her husband Alan's version of Lake Shojiko (one of the Fuji Five Lakes), from which a viewing platform gives you a straight shot to Mount Sugarloaf, or, as Margaret calls it, "our Mount Fuji".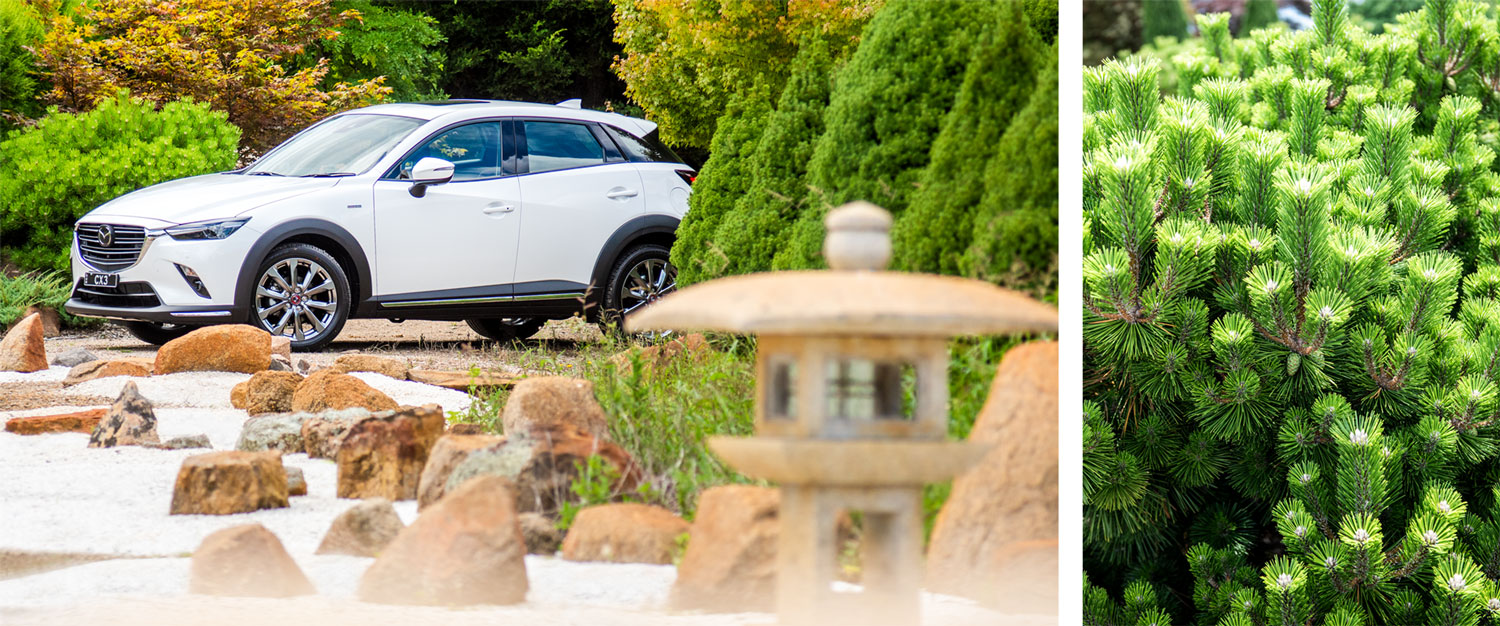 ---
"It's hard to believe that this level of horticultural intricacy exists outside Japan. It's a spellbinding lesson in hard work, grit and passion that is, indeed, worthy of a pause."
---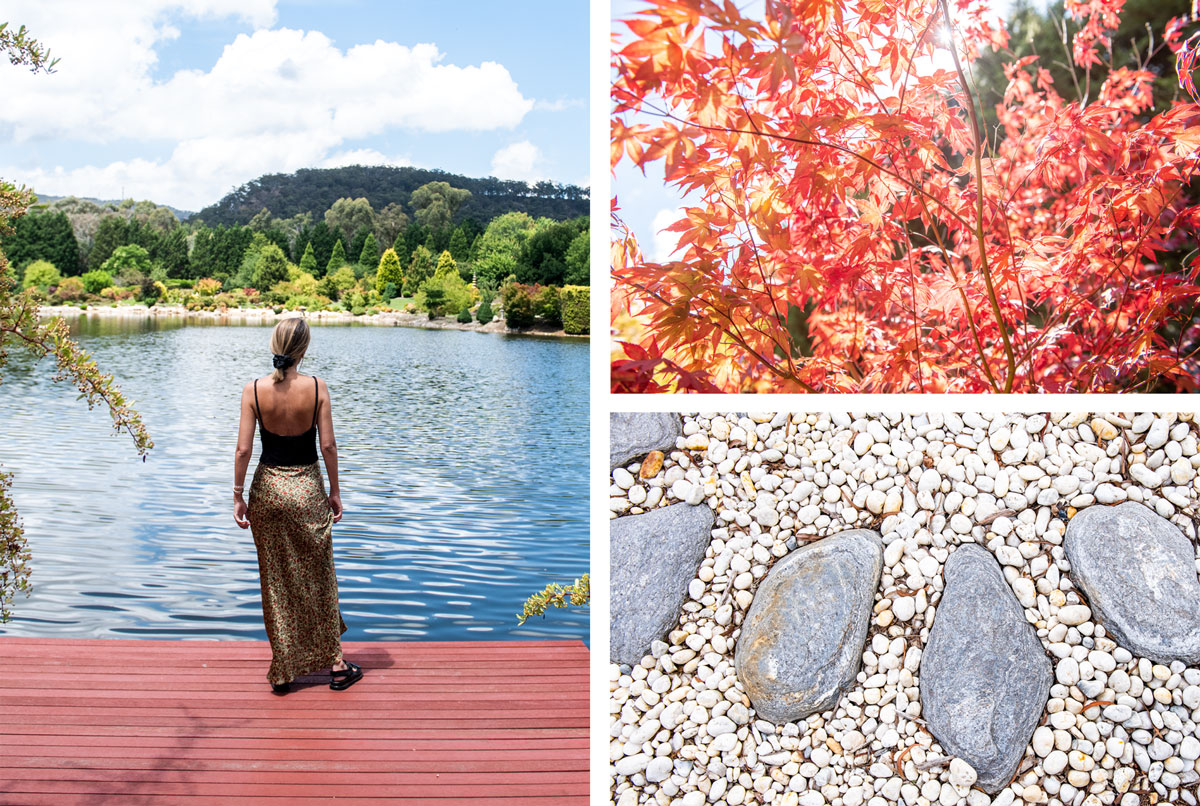 Lake Shojiko, near Mount Fuji, recreated in Australia's Blue Mountains.

The couple's deep passion for Japanese culture and particularly horticulture is longstanding. Alan studied Japanese gardens many years ago, and creating his own has been a lifelong dream, one that came to fruition 12 years ago.
No details have been overlooked, from the endless maples and conifers to the stone sculptures and water bowls. There is even a suikinkutsu ("water piano cave"), an upside-down pot that tinkles a soft, soothing melody when water drips into it. It's hard to believe that this level of horticultural intricacy exists outside Japan, let alone that it is managed by just one couple. It's a spellbinding lesson in hard work, grit and passion that is, indeed, worthy of a pause.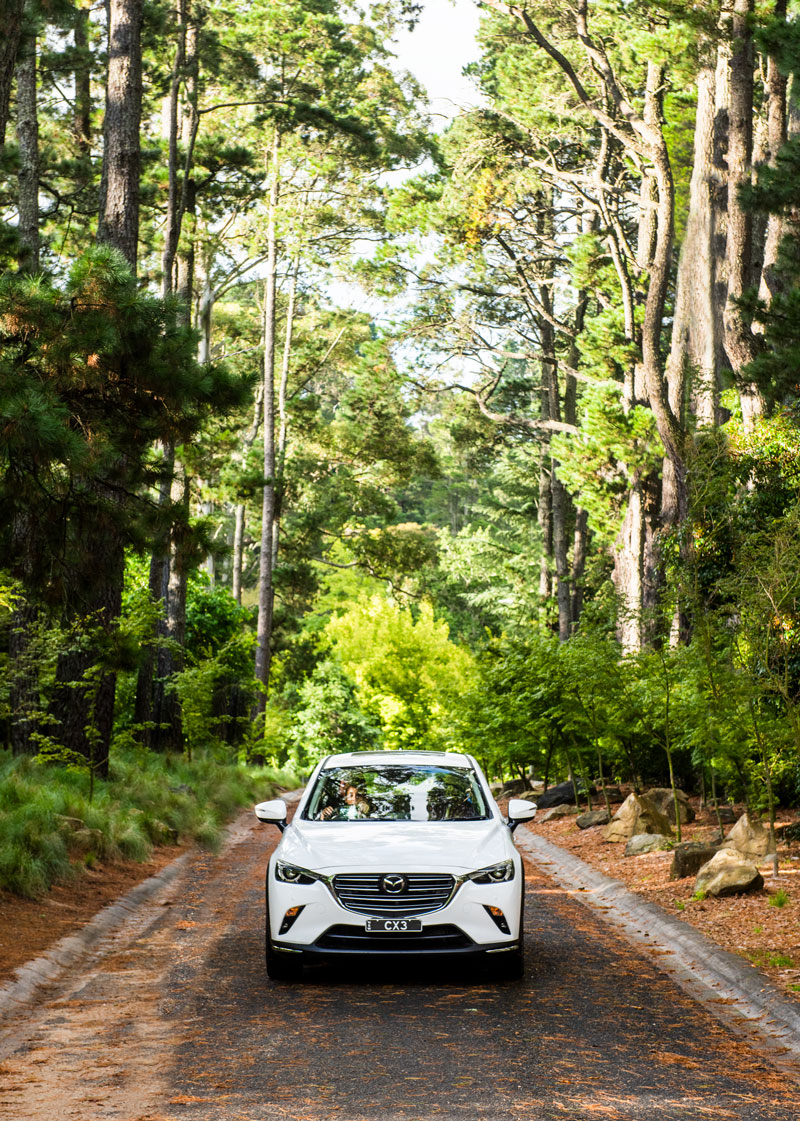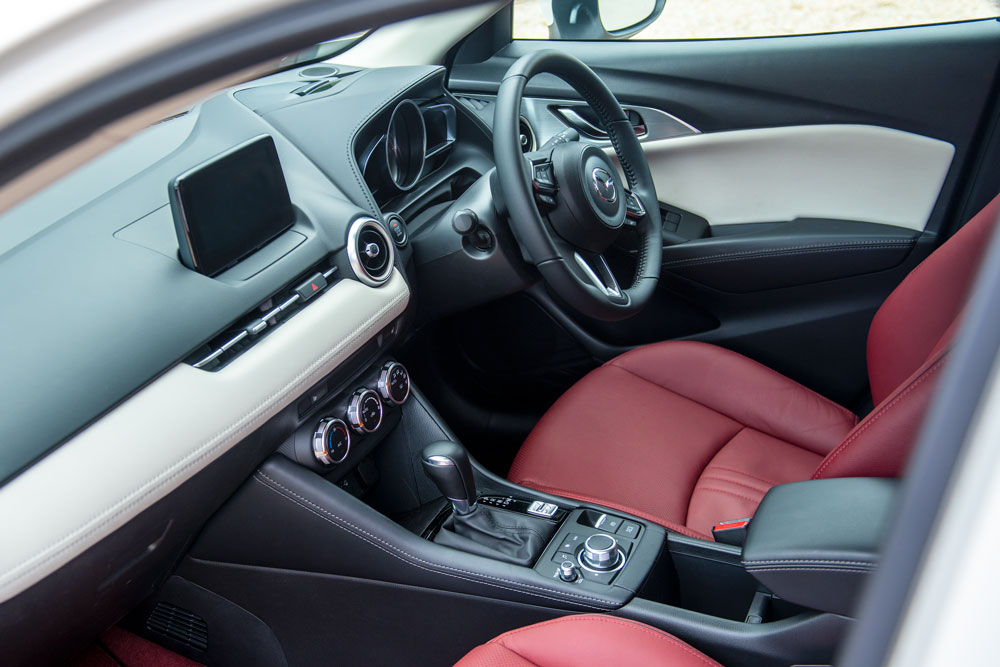 Driving out of Sydney and into the wilds of the Blue Mountains, the Mazda CX-3 proved a versatile companion. Our vehicle may have featured the 100th Anniversary Edition paint scheme, interior and detailing, but the engaging drive and punchy 2.0 Skyactiv-G engine are representative of the whole CX-3 range.
Having grazed the surface of Nippon values, our next stop is full immersion at the Japanese Bath House. A short and smooth 20-minute drive later, we're kimono-clad and walking through what feels like a Japanese film set. There are rows of trees that have been Edward-Scissorhanded into giant mushrooms, caves that look as though they belong in the prehistoric era, and a bamboo maze.
The Bath House was opened 27 years ago as part of a cultural exchange run by Dr Okuzawan, a now-retired Director of the Onsen Association in Kyoto. While the program is no more, the Bath House is ever evolving, adding extra rooms and spas in 2016, and there's more to come, explains Helen Choy, the Operations Manager.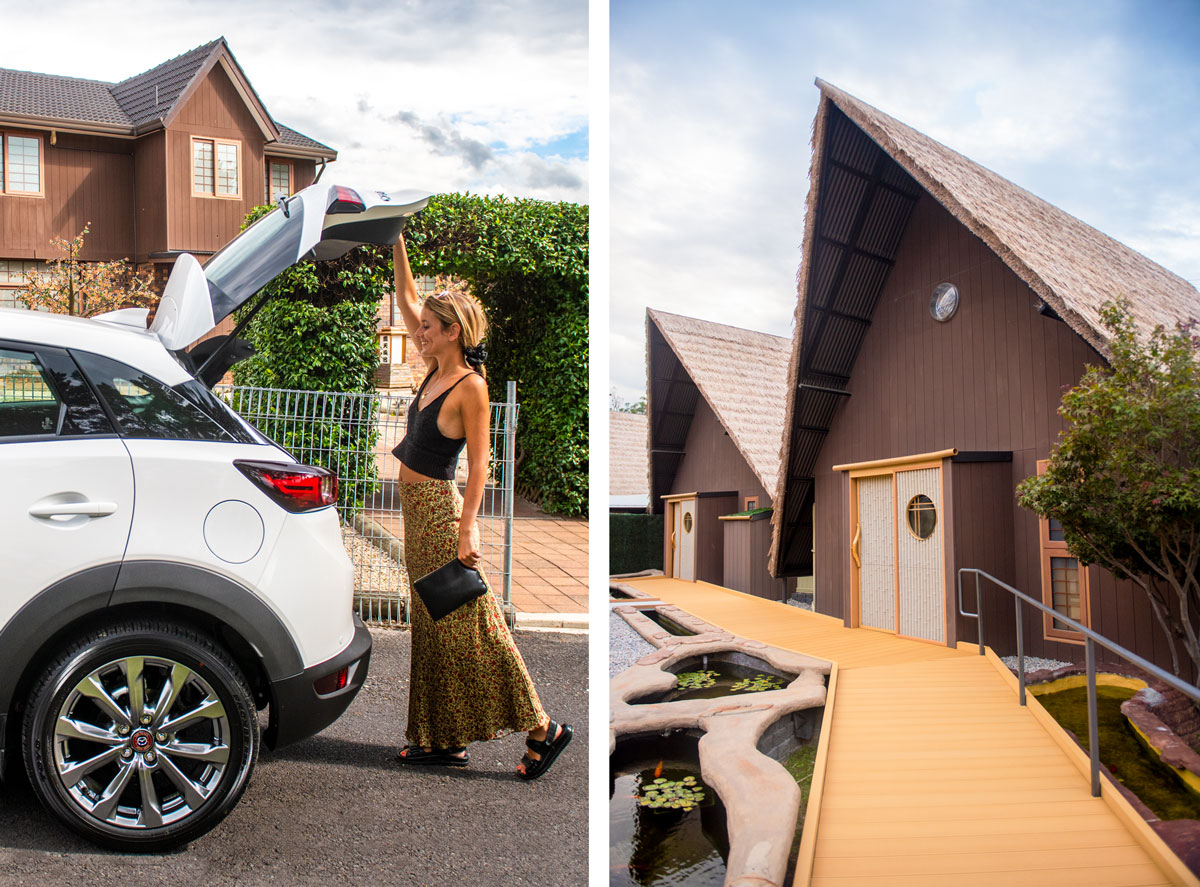 The Japanese Bath House feels like a Japanese film set.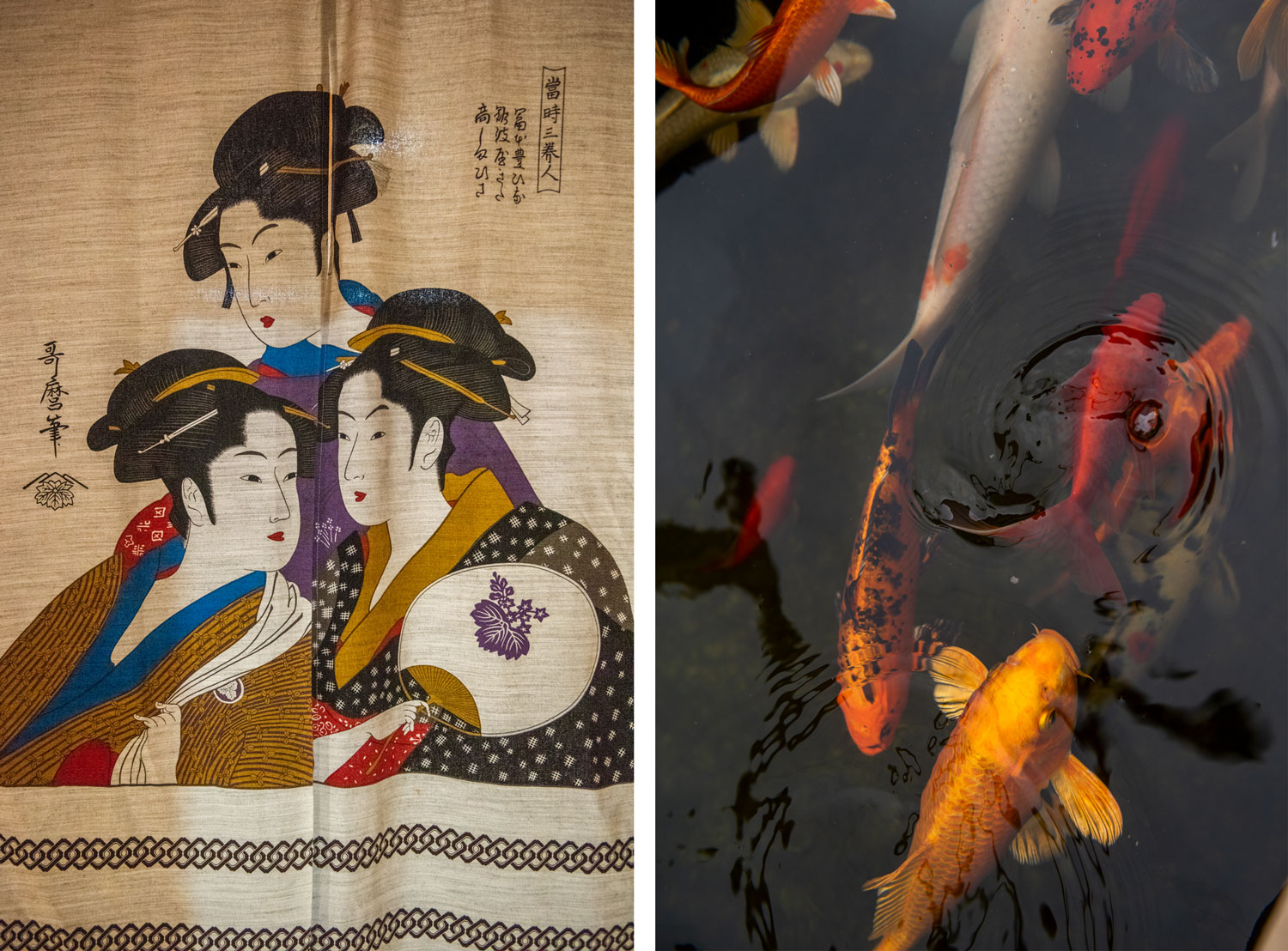 Japanese memorabilia and ornamental fish add to the ambience.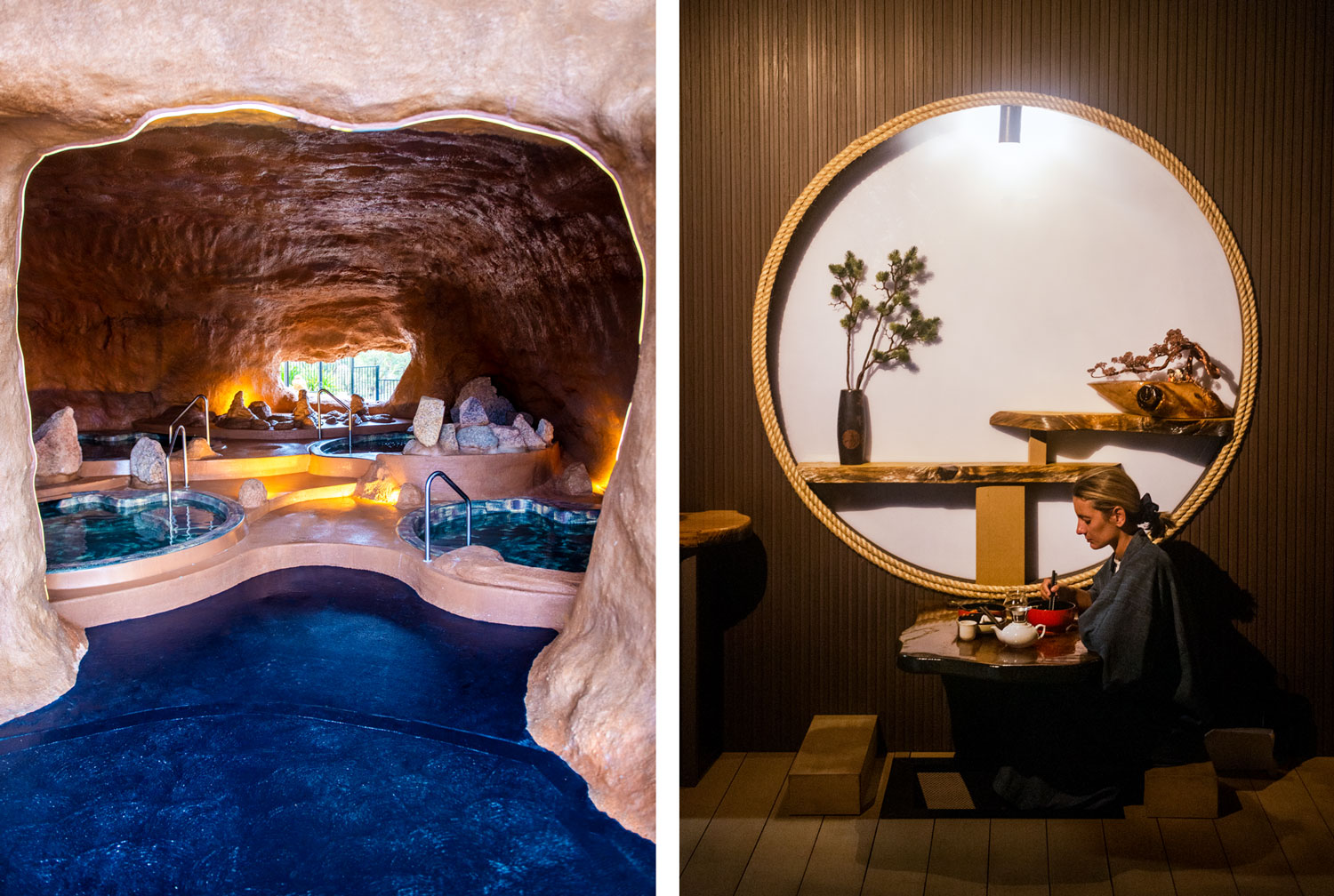 The indoor pools and tearoom at the Japanese Bath House.

The next few hours are spent soaking in the multiple onsens and other baths – cold, hot, super-hot, indoor, outdoor, and most with sweeping vistas of Lake Lyell. We're pummelled with deep-tissue shiatsu-style massages. We chill in relaxation rooms. Afterwards, we sit in the dimly lit, monastic tearoom, sipping on herbal infusions and nibbling on light Japanese bites.
My night ends in my sparse ryokan room. My bed is on the tatami floor and it feels as though the spa has had the desired effect. I go straight to sleep. No phone. No social media. No emails.
The next day we get back in the Mazda and it purrs through the mountains as we head home. The CX-3 feels at ease winding around cloud-grazing summits. It almost feels like a form of meditation in itself to concentrate on nothing but the road, with mountains rearing from the side. And I realise it is the serenity of the journey that has helped in finding this new-found tranquillity.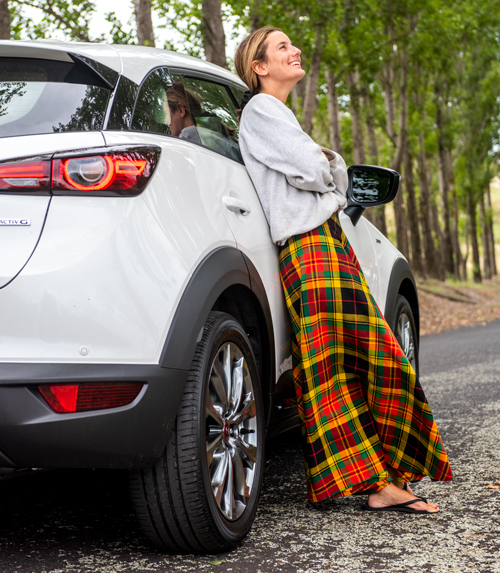 ---
Find out more
Discover the Mazda CX-3
Mazda reveals a unique 100th Anniversary Edition