MAZDA 100TH ANNIVERSARY
WHAT DOES MAZDA MEAN TO YOU?
MAZDA 100TH ANNIVERSARY
WHAT DOES MAZDA MEAN TO YOU?
There are few car manufacturers that inspire such devotion and passion as Mazda. As it celebrates its centenary, we meet some of the owners, collectors, employees, and fans from around the world to find out what makes Mazda so special.
Interviews Helene Dancer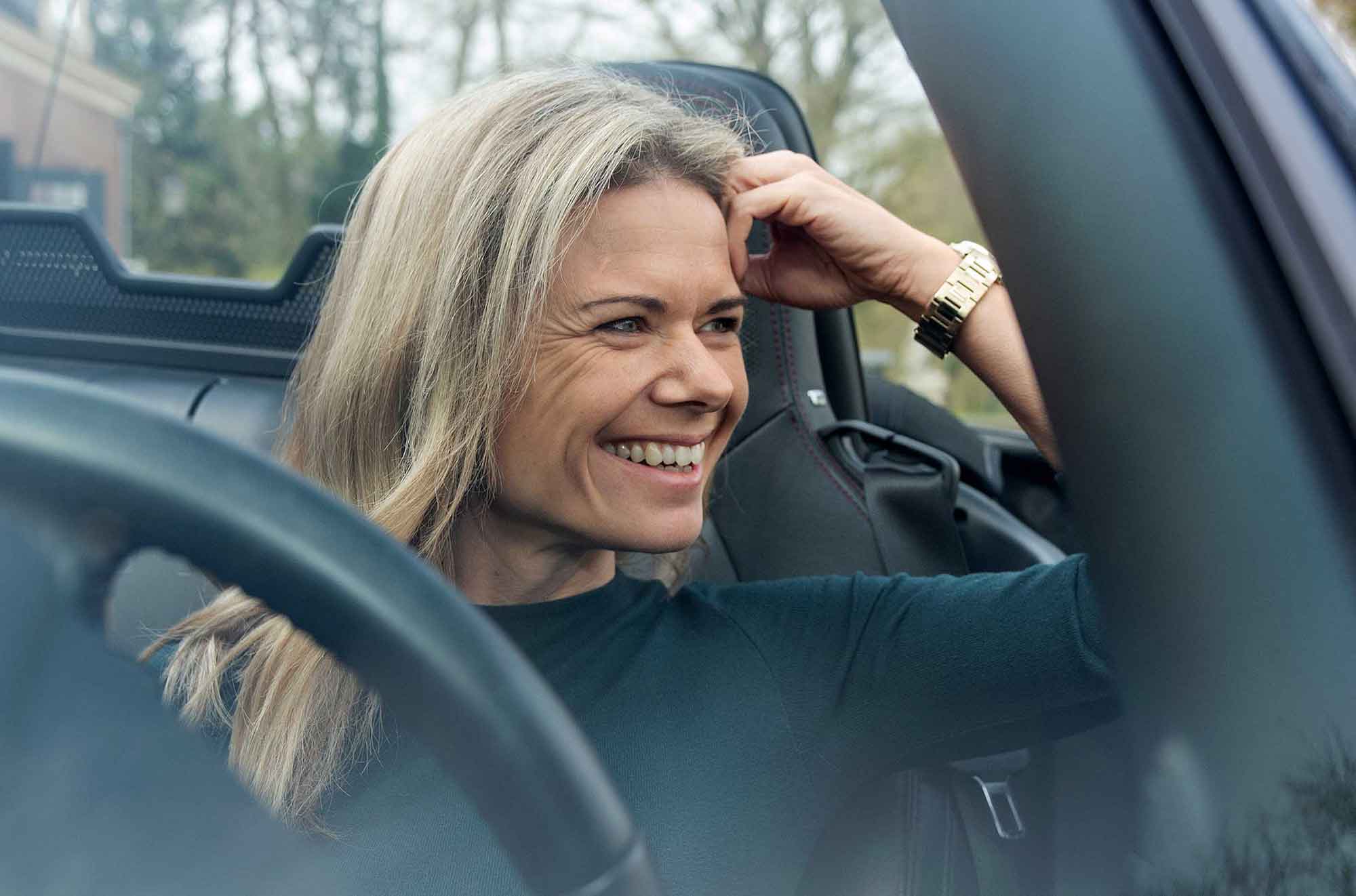 "NOT MANY CAR BRANDS LAST AS LONG AS 100 YEARS. MAZDA JUST KEEPS GETTING BETTER AND BETTER"
Odiel Mennink, Dutch journalist and a Women's World Car of the Year judge

"Mazda has a special meaning for me. I got my racing licence in a Mazda MX-5 in 2014, and I drive a jet-black fourth-generation MX-5. I call it my Batmobile.
I love how it feels to drive a roadster – it's so light and agile. The MX-5 is also rear-wheel drive, which is important for a petrolhead. It's an affordable sports car and unique in its class. For me, Mazda means quality, design, functionality and progressiveness. You know what you get with Mazda. And Mazda takes you into account as a driver. You feel like the car is made for you.
My brother restores cars and looks after my MX-5 for me. He's very happy when he looks inside the car, because it's clearly made by engineers for engineers.
I've been a judge for the Women's World Car of the Year award for four years now. This year, the Mazda3 was the winner. I think the car is really well balanced. It combines simple lines with a bold appearance, and the powertrains and safety features are good, too. And it's just a joy to drive. You get a lot of car for the price.
Not many car brands last as long as 100 years, and Mazda just keeps getting better and better."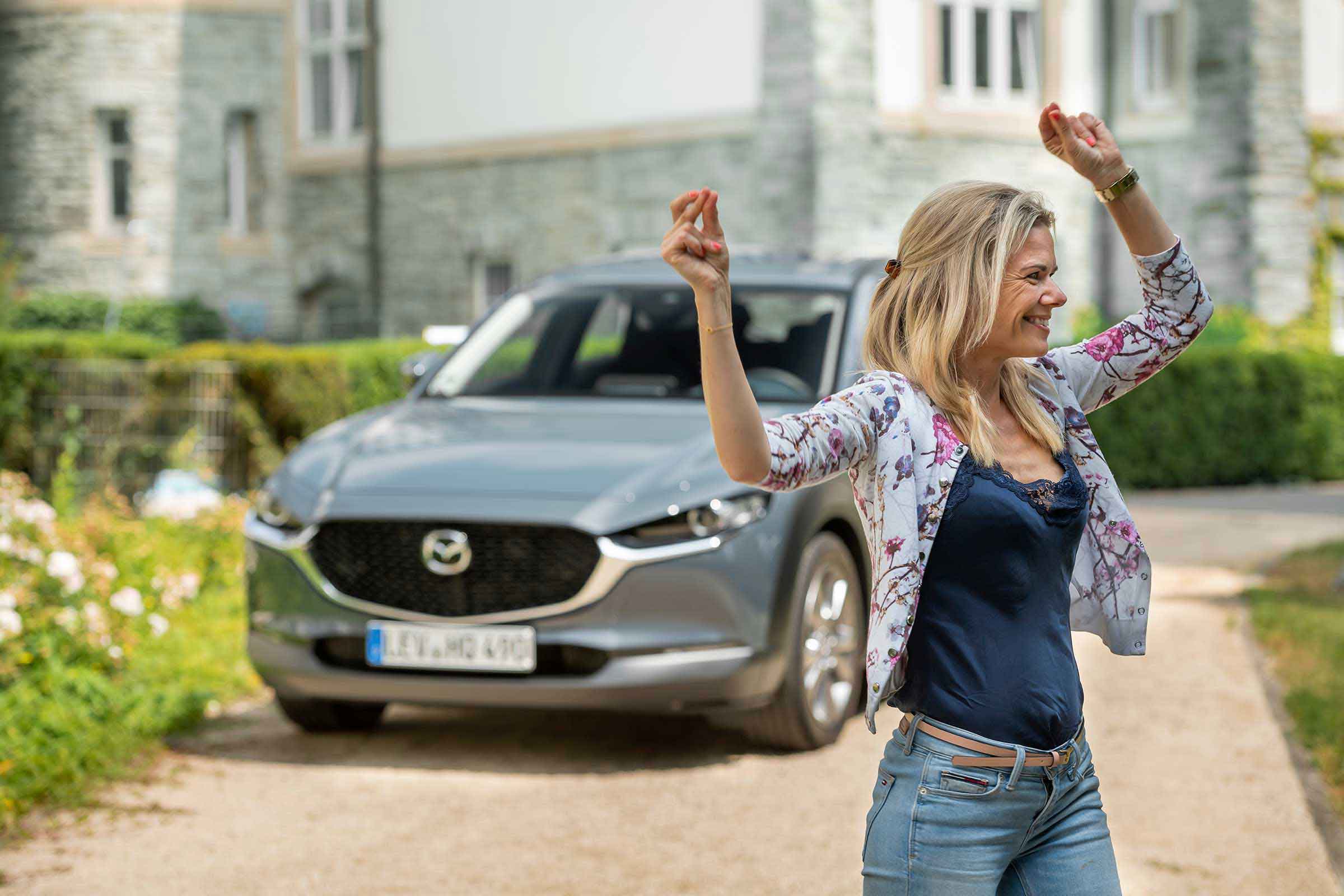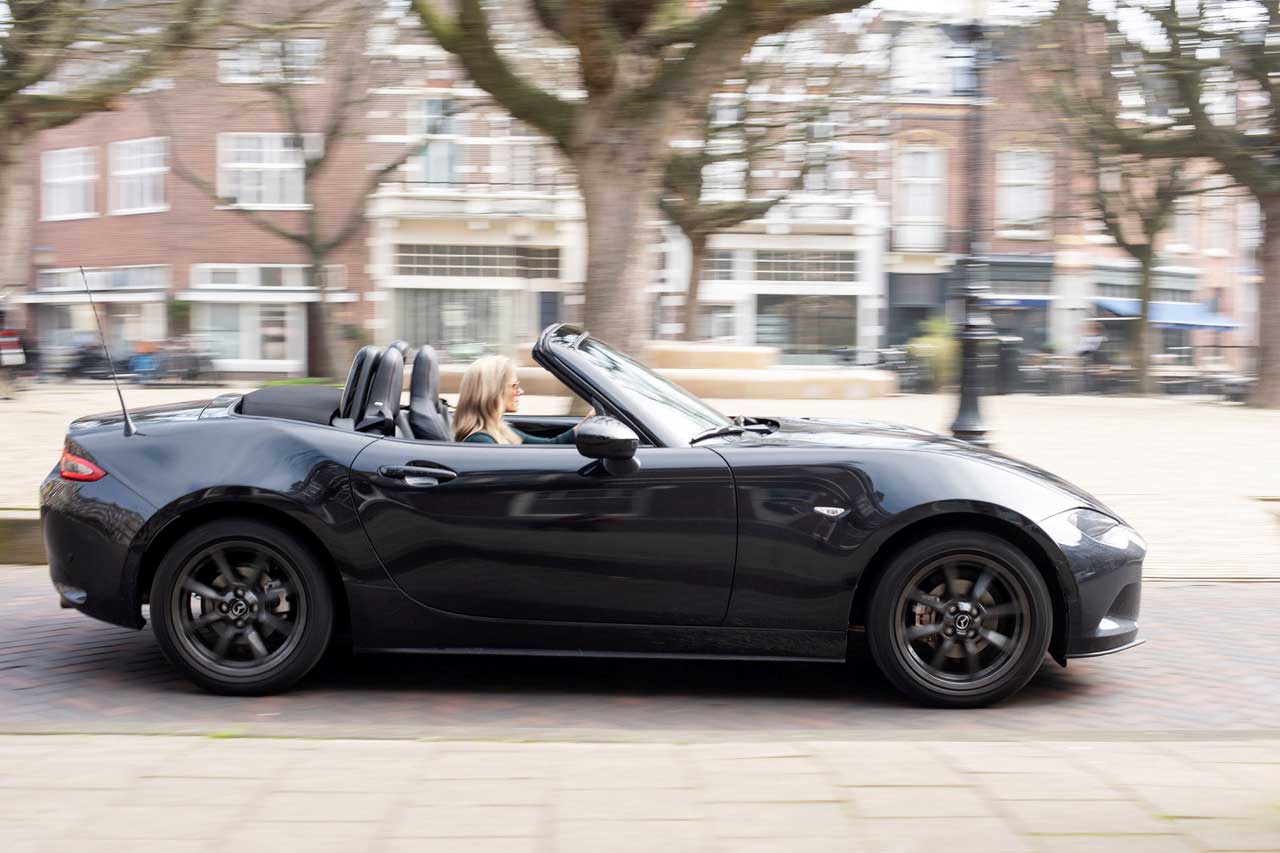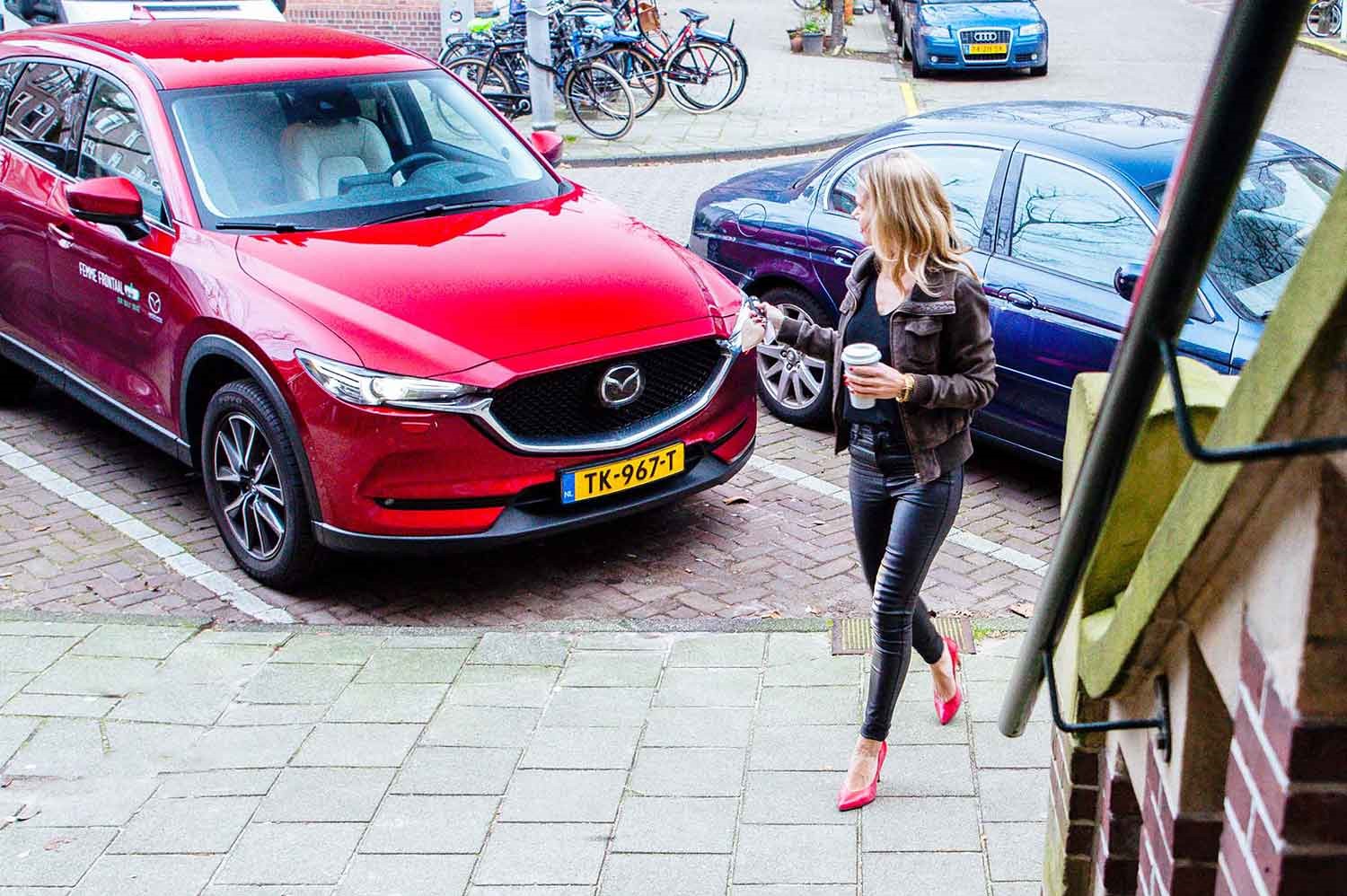 Odiel's line of work has brought her into contact with many Mazdas over the years, and resulted in the purchase of a fourth-generation black MX-5 she calls her 'Batmobile'
---
Photography: Stephan van Leiden

"MY LOVE FOR MAZDA STARTED WITH THE ROTARY ENGINE BUT NOW IT'S DEFINITELY ABOUT THE COMPANY'S APPROACH TO DESIGN"
Danny Irvine, an automotive enthusiast from Brisbane who owns 29 Mazdas, including an R360
"Mazda's R360 was its first passenger car – a kei car [the smallest road-legal Japanese car]. It was released in 1960 and ran until 1966. The one I have is a 1966 model, and I've had it for nine years.
The R360 was revolutionary at the time because Mazda took a different approach to its competitors. Most of the cars of that era and size utilised a two-stroke engine but Mazda built a four-stroke engine, which made it a lot quieter. Mazda also focused on using lightweight materials in the manufacturing – much like Skyactiv Technology today – because horsepower was quite limited. The engine was 356cc, so the only way to improve the car's performance was to make it lighter.
The engine was made from aluminium, when a lot of the competitors used cast iron, and the rear window was plastic instead of real glass. The R360 was an incredibly successful car – it became a class leader. Mazda also offered an automatic version, the first time a manufacturer had done so in a kei car.
I have 29 Mazdas in my collection – five are kei cars and the rest are predominantly rotary-powered models.
My love for Mazda started with the rotary engine but now it's definitely about the company's approach to design. I love the consistency – you can see a common DNA in all its cars."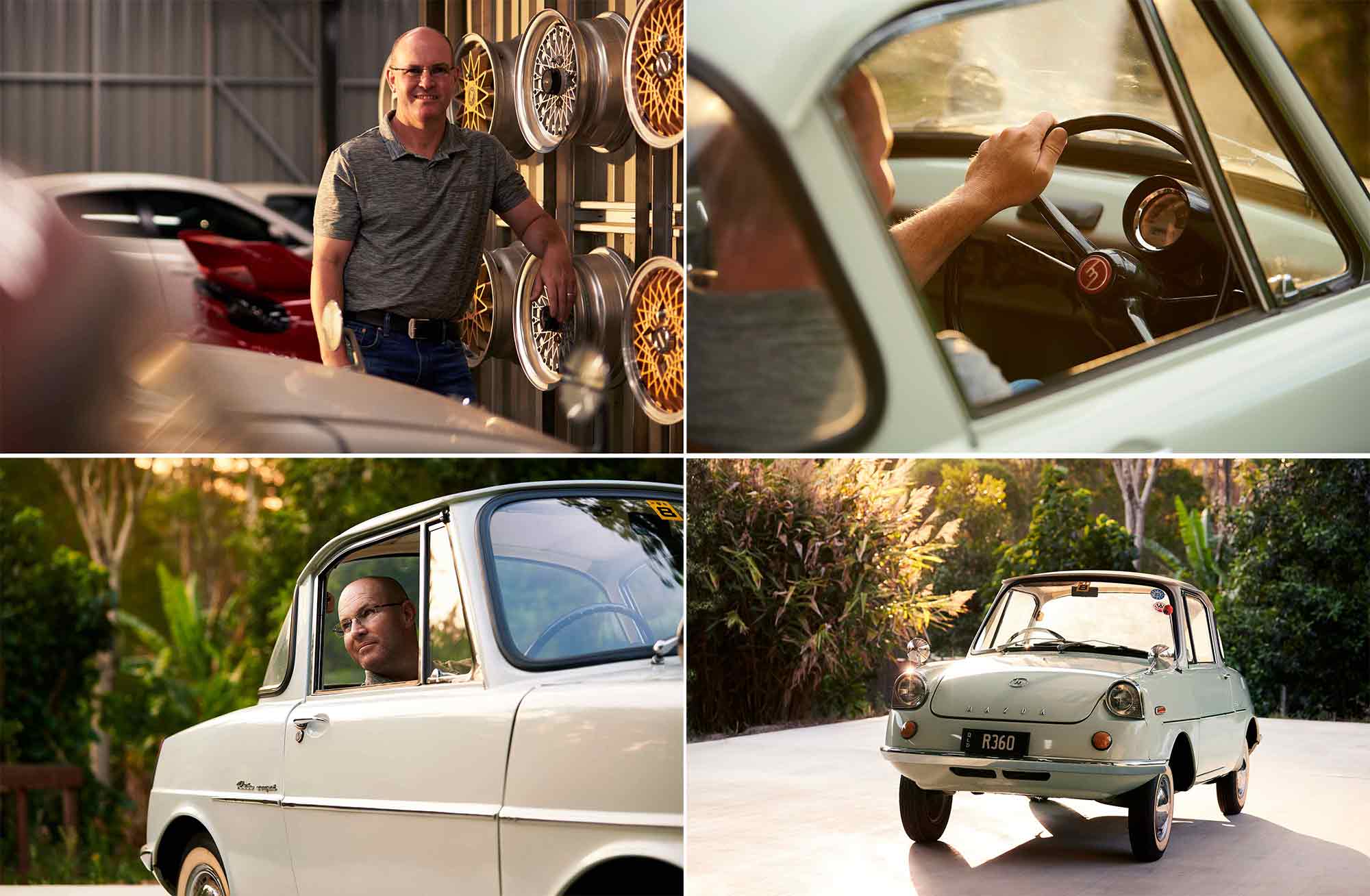 The R360 was Mazda's first four-seat passenger vehicle, and celebrates its 60th anniversary in 2020
---
Photography: Joe Wigdahl


"WE MADE SURE OUR LE MANS RACING CARS WERE DESIGNED FOR THE DRIVERS"
Yojiro Terada, legendary Japanese Le Mans racer and development driver
"I learned to drive when I was 16 in a local driving school's three-wheeler Mazda truck. And the very first car I owned was the Mazda R360 – a two-door, four-seater kei car. I loved it so much that I drove it every day. It was so much fun!
But, my biggest moment with Mazda was when it won the 24 Hours of Le Mans in 1991 with the 787B (above). I had worked on the development of the car and I even competed in the same race, finishing eighth. I entered the competition for the first time in 1974, and raced back to back from 1981 to 2008, often for Mazda, which led to me being nicknamed 'Mr Le Mans' in Japan.
In the early 1990s, all the racing teams, including Mazda, started adopting new technologies. It was obvious that the cutting-edge computer tech would bring all kinds of benefits. However, we reminded ourselves to keep the cars human-centric regardless of how advanced they could be. After all, it's the drivers who would be racing them on the circuit."
Mazda's pioneering rotary-powered 787B would make it the first Japanese manufacturer to win Le Mans. See (and hear!) the car in action in the video above
---
Photography: Dan Froude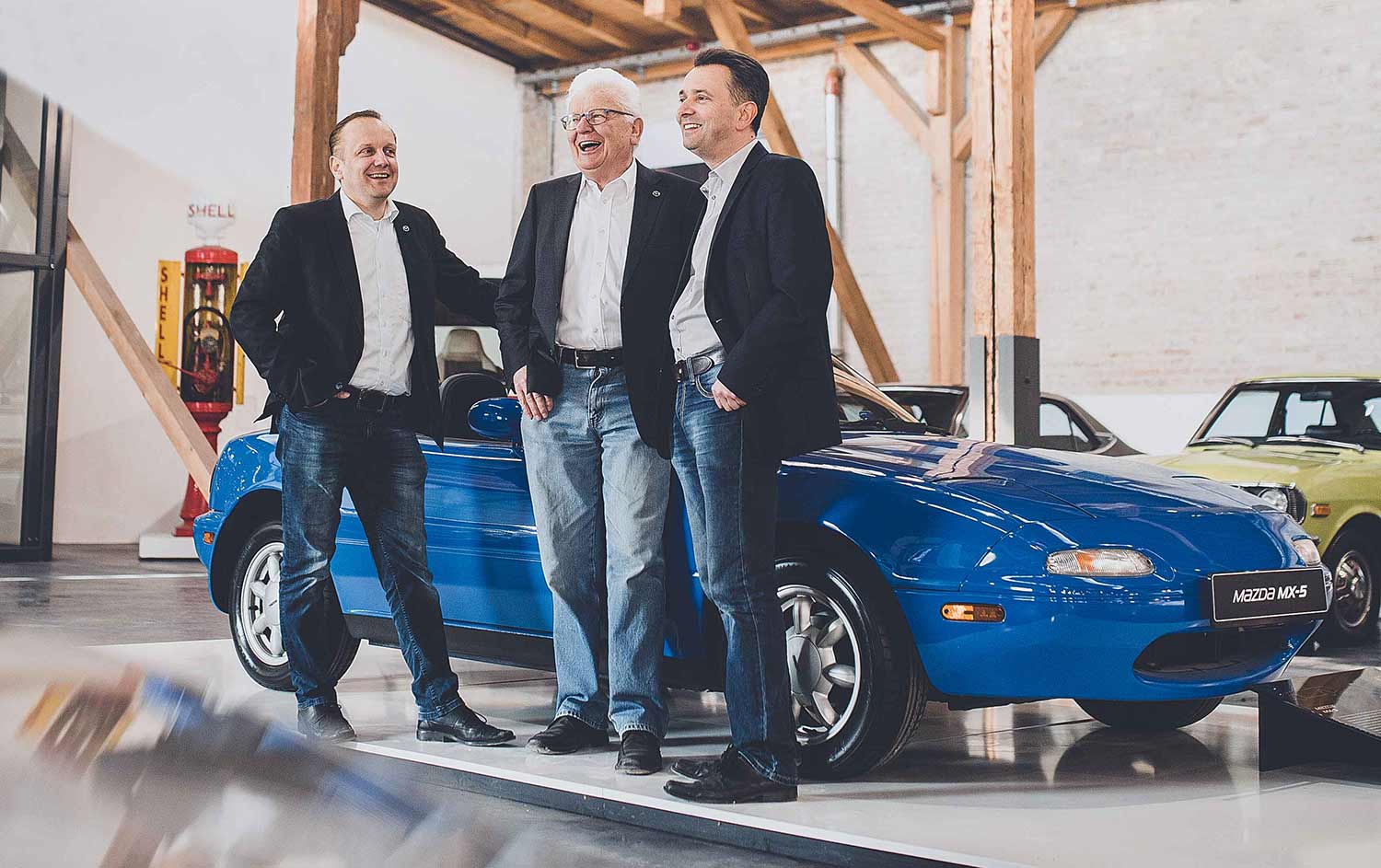 "My father started his Mazda dealership over 40 years ago, and now has three in Augsburg"
Markus Frey and his father Walter and brother Joachim (left, centre and right respectively) own Frey's Mazda Classic Car Museum in Augsburg, Germany
"The Mazda-Go was the first car Mazda ever made. It came out in 1931 and, at the time, it was special to have a car powered by petrol. People also used it to help repair Hiroshima after World War Two.
It spawned other three-wheelers and we have a 1950 Type-GB in our museum, which is more compact and stronger than the earlier ones. It's the oldest Mazda in the museum – we start our sightseeing tours with it.
We got the car about eight years ago. It was so special that my brother, my father and I completely restored it together. We also did a colour test with the Mazda-Go in the Mazda museum in Hiroshima because we wanted ours to be the same blue.
My father started his Mazda dealership over 40 years ago, and now has three in Augsburg. He said he liked Mazda because it was different from the other motor companies.
My brother and I grew up with Mazda, and have followed in our father's footsteps. Our dream was to make a museum and, after collecting cars for over 30 years, we now have them all in one place. People come from all over the world to see our collection. We have nearly every Mazda ever built, apart from some prototypes that are impossible to get."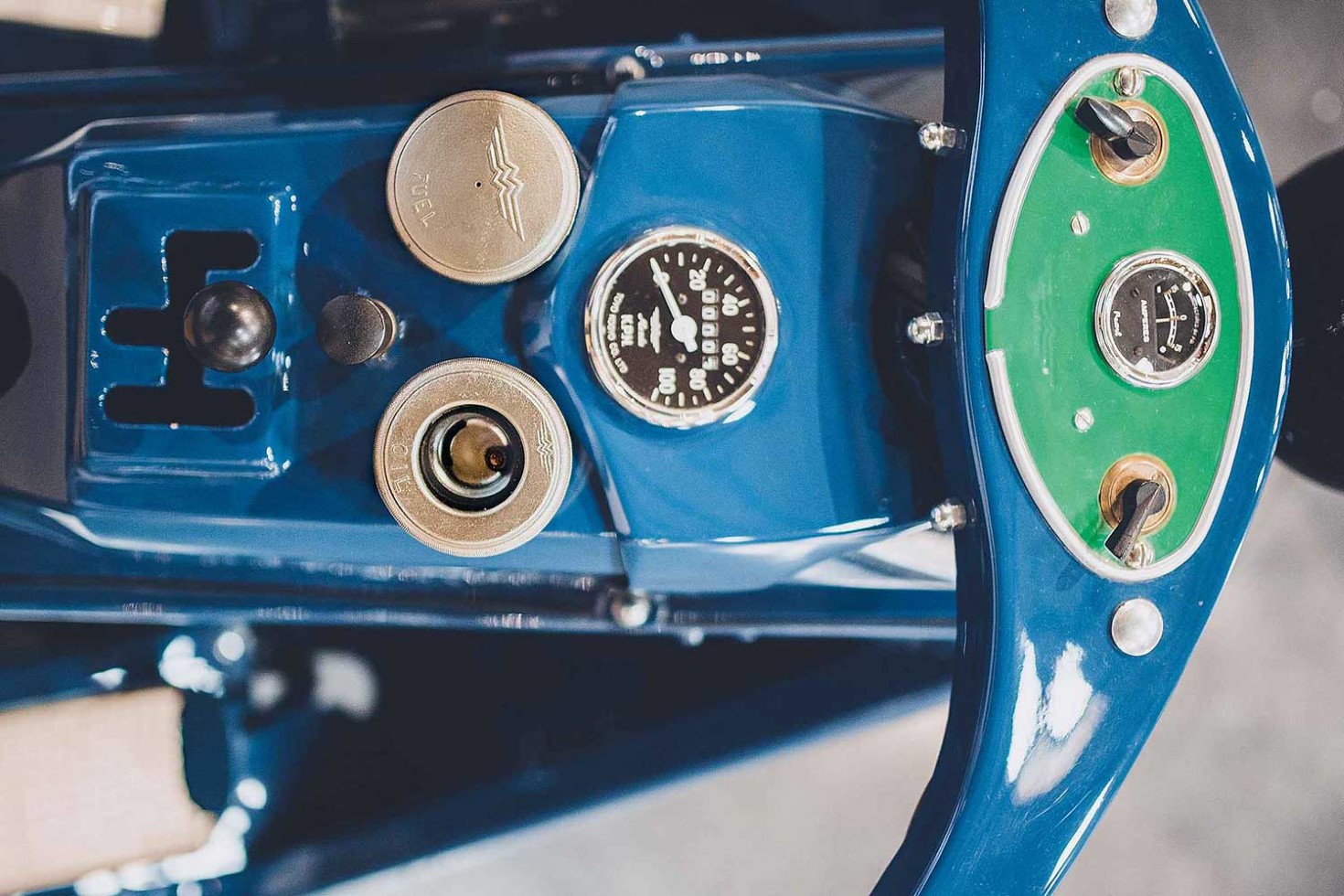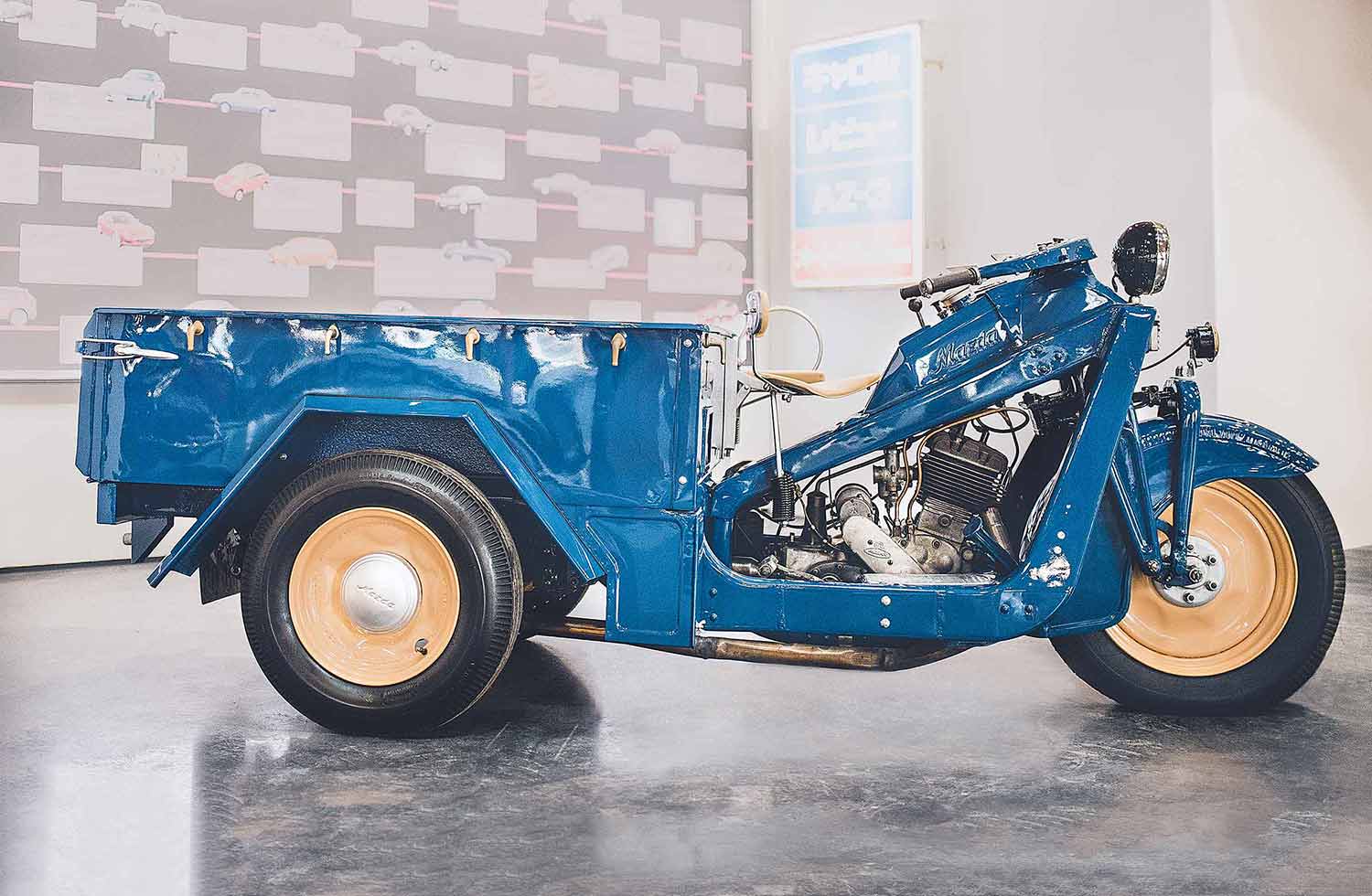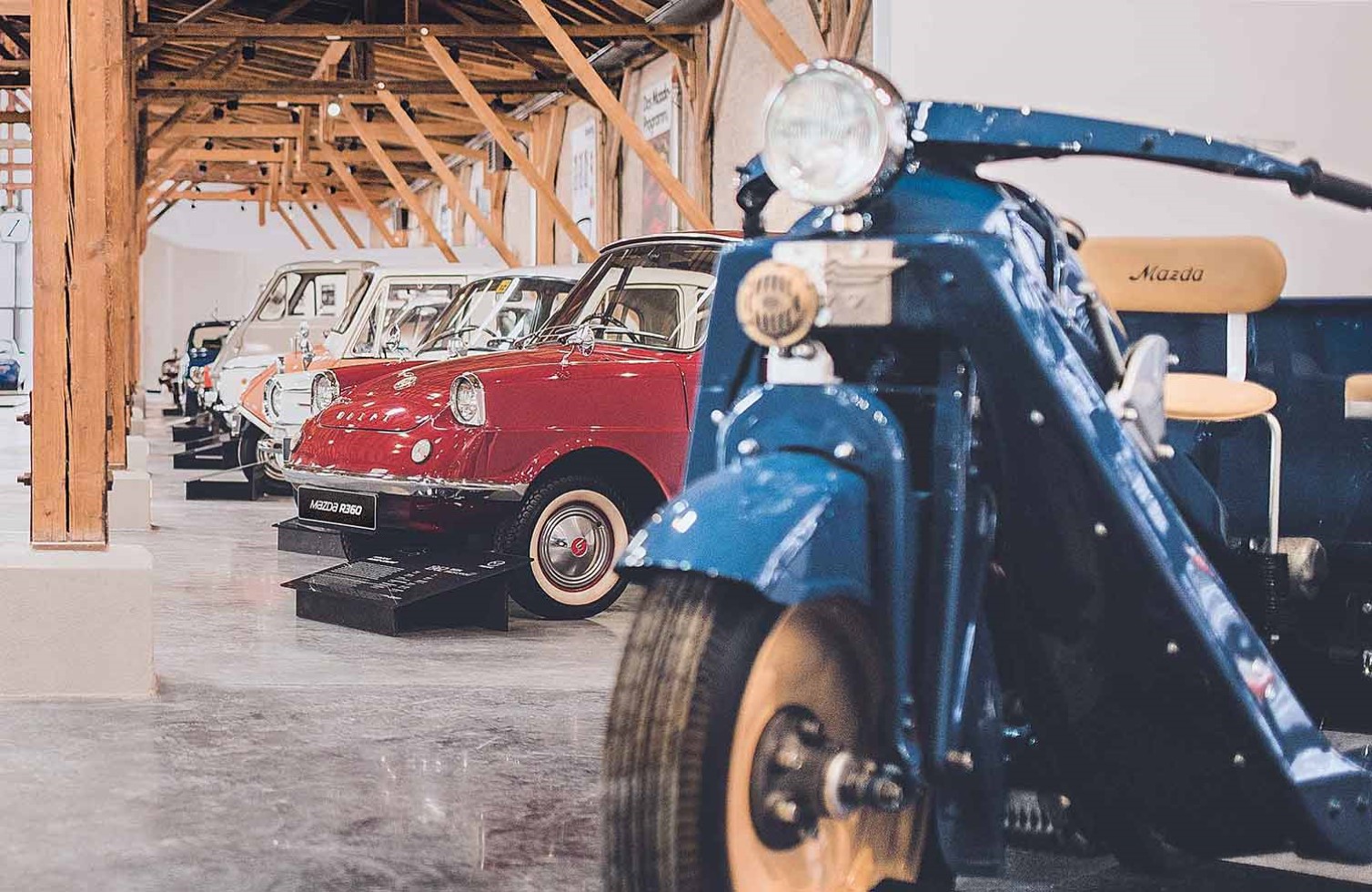 The Freys' museum is the only one to be offically recognised by Mazda outside Japan
---
Photography: Amy Shore

"I'D LOVE OUR SON TO GROW UP WITH THIS CAR AND SHARE THIS HISTORY WITH HIM"
Luis and Sarah Chaidez help organise US rotary-engine festival SevenStock and are RX-7 fans
"I've had a number of Mazda RX-7s throughout my life but now I own two – a 1986 RX-7, which is the first one I ever purchased, and a 1980 RX-7, which I'd wanted for a long time.
My wife Sarah is also into the automotive scene and is part of the SevenStock committee. She helps design banners and graphics and has been a heavy influence and huge support.
I've had the 1980 RX-7 for a year now and want it to be as immaculate and original as possible. I'd love for our son, Elliot, to grow up with this car – to share this history with my kid so he can appreciate it when he comes of age.
The RX-7 belonged to a lady called Linda. She was getting outrageous offers for it, but she didn't want people gutting it and taking it down the drag strip. I sent her a message saying I'd love to buy the car. "You look like the kind of guy who will take good care of it, and this is my college car," she told me. I bought it without even looking at it; I trusted her and just wired the money! I've invited Linda to our SevenStock event this year. She's ecstatic about seeing the car come back to life.
The RX-7 definitely set Mazda apart from other manufacturers. It had the spirit of never giving up, which continues with the innovation in its new designs. Mazda has always been true to itself. The RX-7 has that sporty, timeless design, and the car's nimbleness is unique."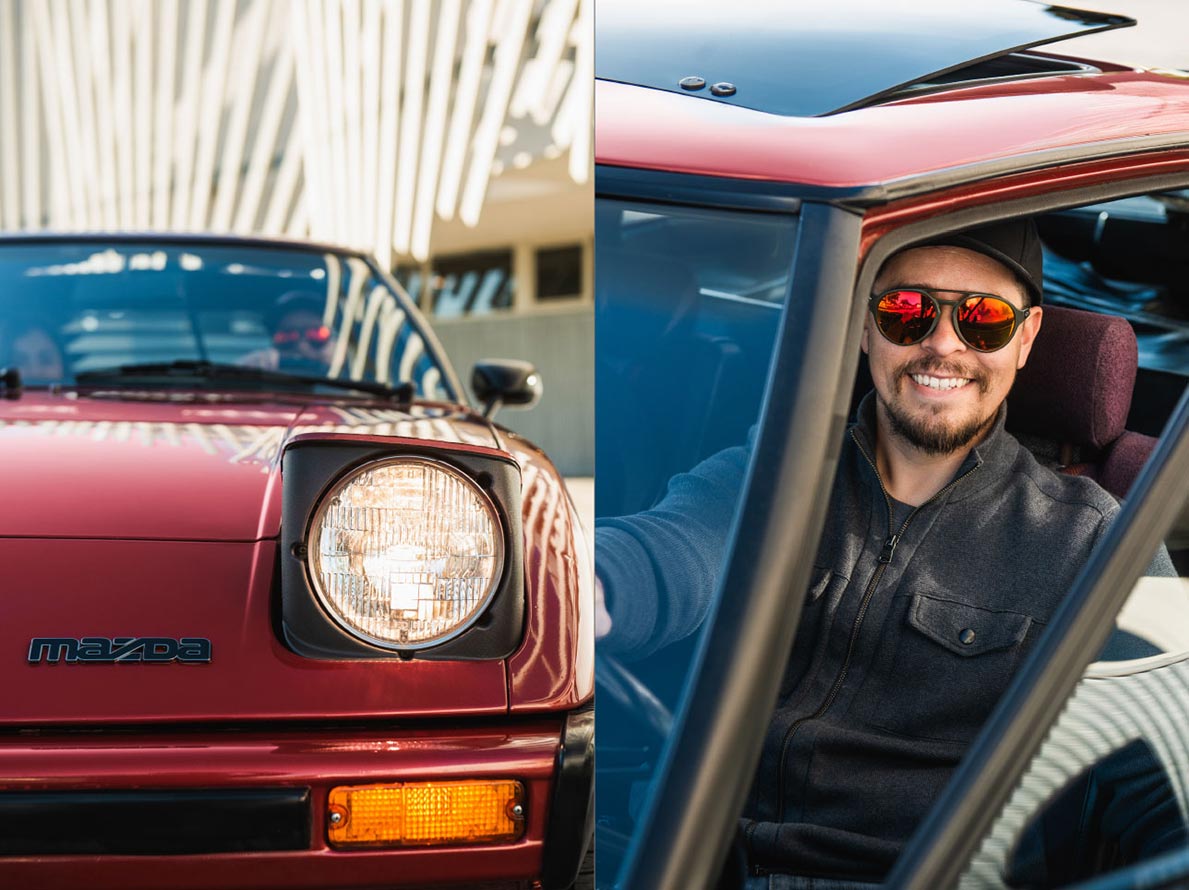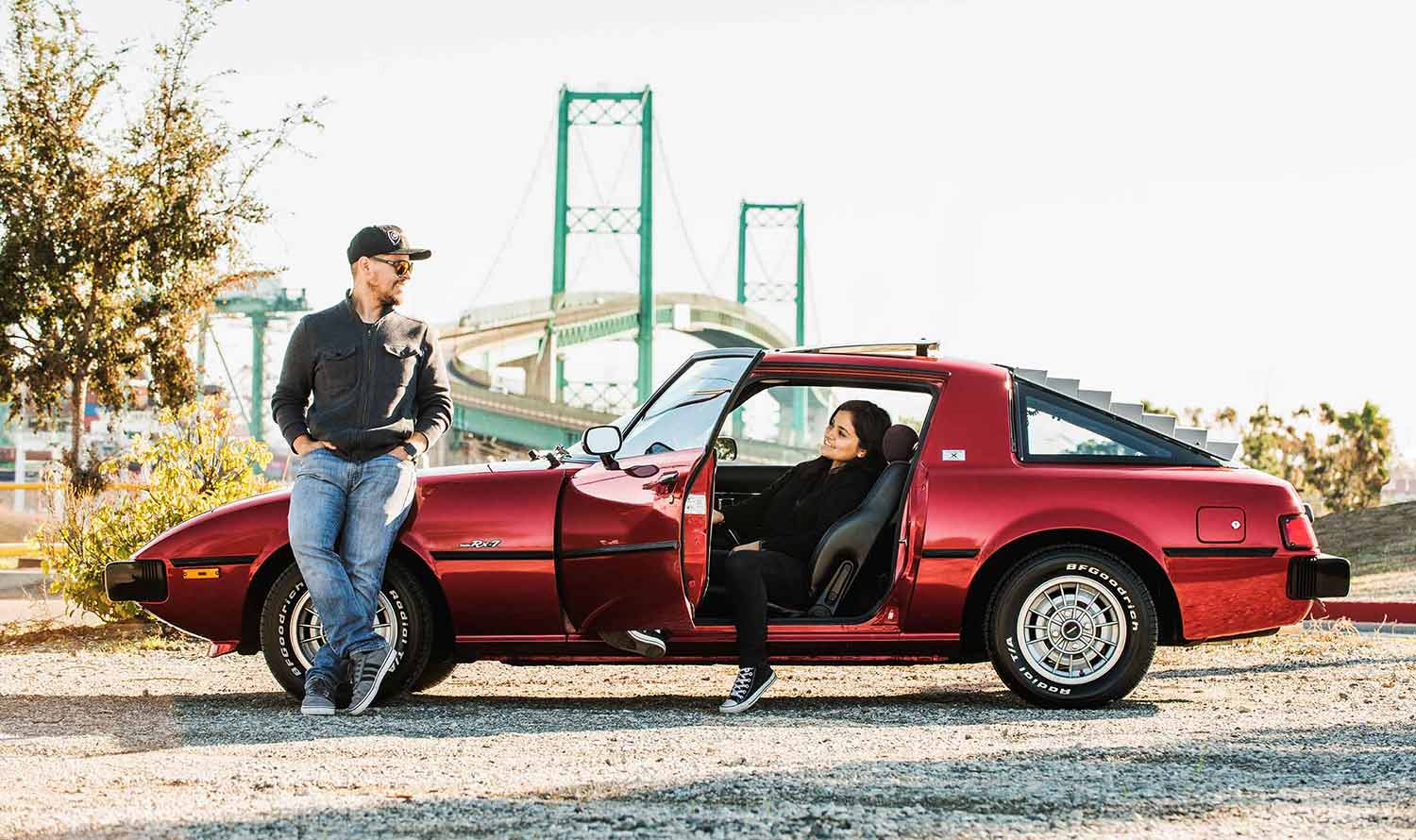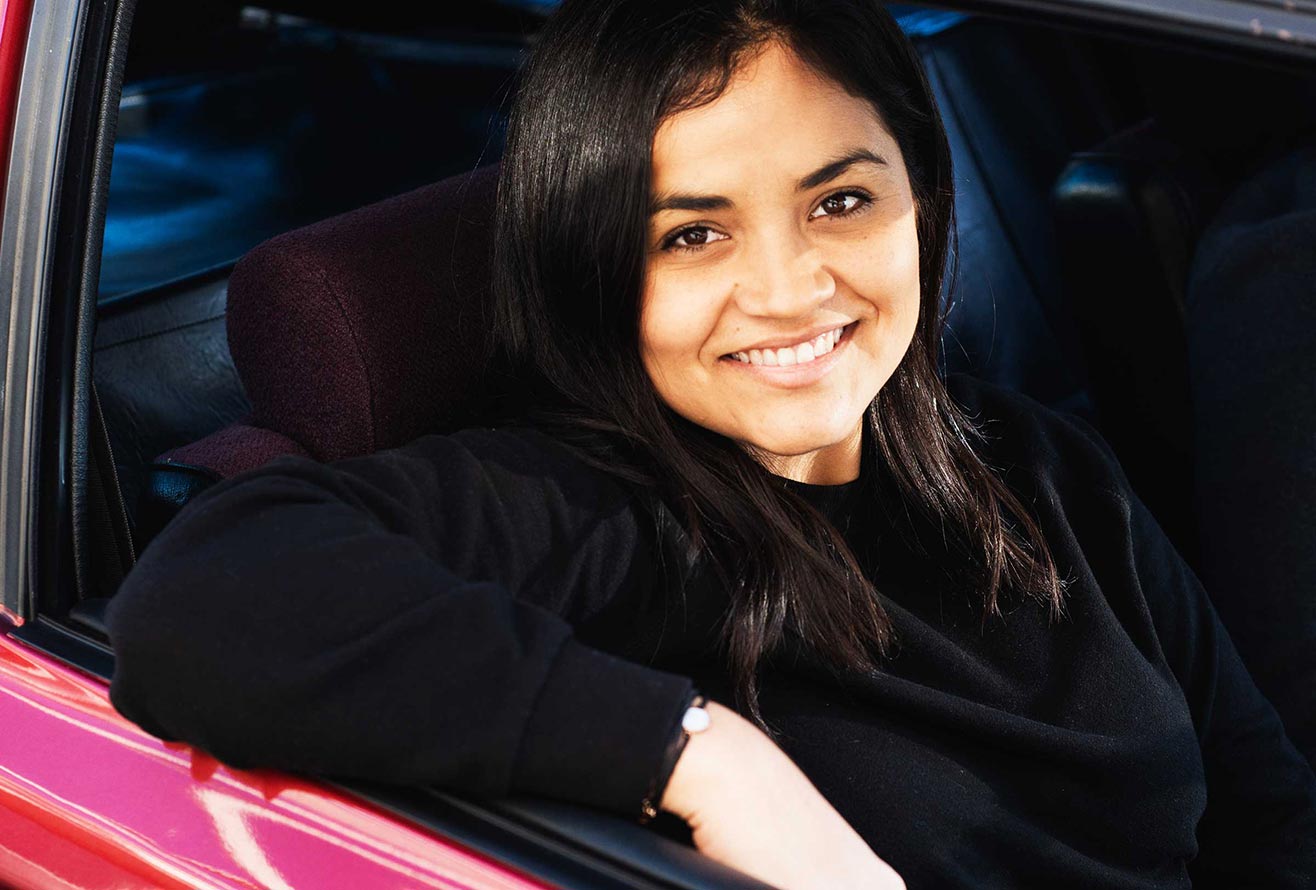 There have been three generations of RX-7. The first of these made its debut in 1978, and the final generation was replaced by the Mazda RX-8 in 2003
---
Photography: Mark Skovorodko

"IF YOU LOVE DRIVING, IT IS THE BEST"
Andrea Mancini, owner of Miataland, a holiday resort in Umbria, Italy, that celebrates the Mazda MX-5
"I have many MX-5s, but the collection is always growing. I bought my first one in 1998 – a first-generation black soft-top – but sold it to buy my second Mazda MX-5 in 2000. After that, I promised never to sell an MX-5 again!
The design and driving experience make it special, plus it's a simple car that delivers more than you expect. I raced a lot when I was younger and, honestly, you really do feel like you're driving a sports car in the MX-5. Each one is special to me, but I think the first-generation model is really cool. If you love driving, it is the best.
I opened Miataland nearly two years ago. The idea is that each guest can drive an MX-5 in the Italian countryside, with beautiful scenery and places to visit. All this love for the car is reflected inside the resort. Each room is named after a special colour of the MX-5 and we have features like a bed made in the structure of the MX-5 chassis. We have the same philosophy as Mazda: simple but beautiful.
I own a lot of other Mazdas, too. When you drive each of them, the handling and the way they drive feels similar – and really special."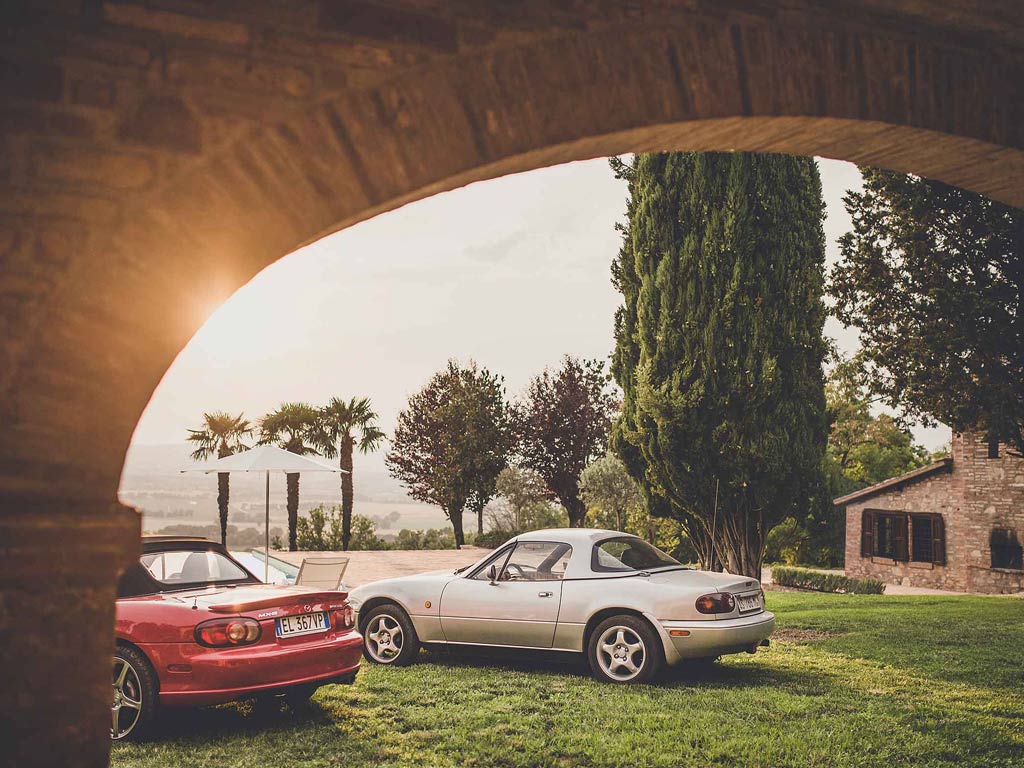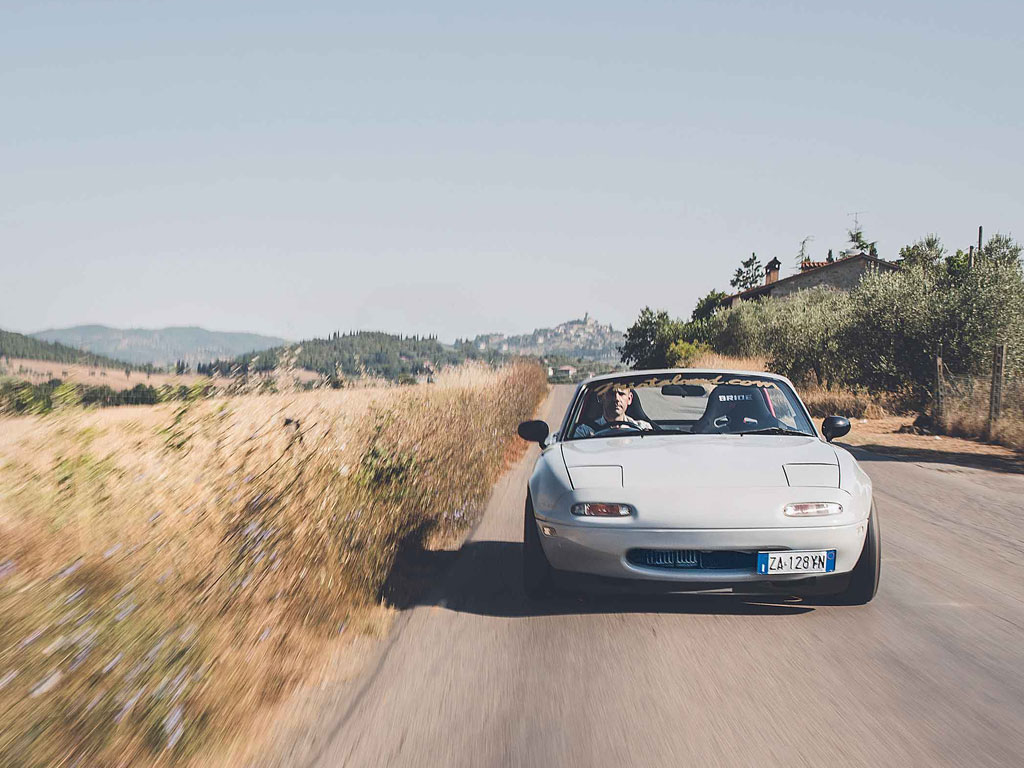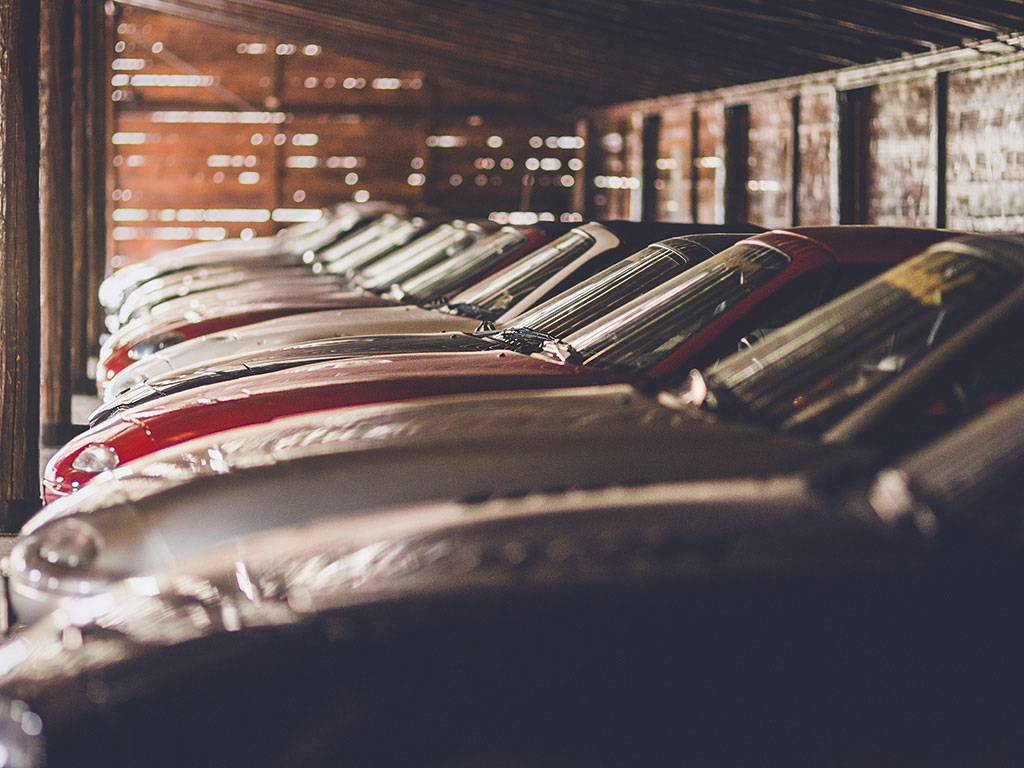 Andrea Mancini isn't alone in his enthusiasm for the MX-5, and in 2000 Guinness World Records recognised the MX-5 as the best-selling two-seater sports car in history
---
Photography: Amy Shore


"Mazda is always innovative and looking to the future"
Andrew McKendry owner of McKendry Mazda, one of the first Mazda dealerships in New Zealand
"My father, Leo, started the business in 1967 and then took up the Mazda dealership in 1972.
We're a farming community here in Blenheim, so it's very important to have access to a utility vehicle. At the time Mazda had the B1500, and there was nothing else like that on the market. Mazda has always been a leader and not a follower.
Mazda is also like a family. If there's a crisis in Japan – an earthquake or flood – it's there helping the community. And it's the same here in New Zealand. Mazda believes in the importance of people and gets involved in the community through the Mazda Foundation. It's just one big happy family and it cares about you rather than just the product it's selling.
And the product is so exciting. Mazda doesn't stand still. It is always being innovative, looking to the future, and getting the best out of the petrol engine. I took over the dealership from my brother, Paul, ten years ago, and it's great. After 48 years, I'm definitely sticking with Mazda."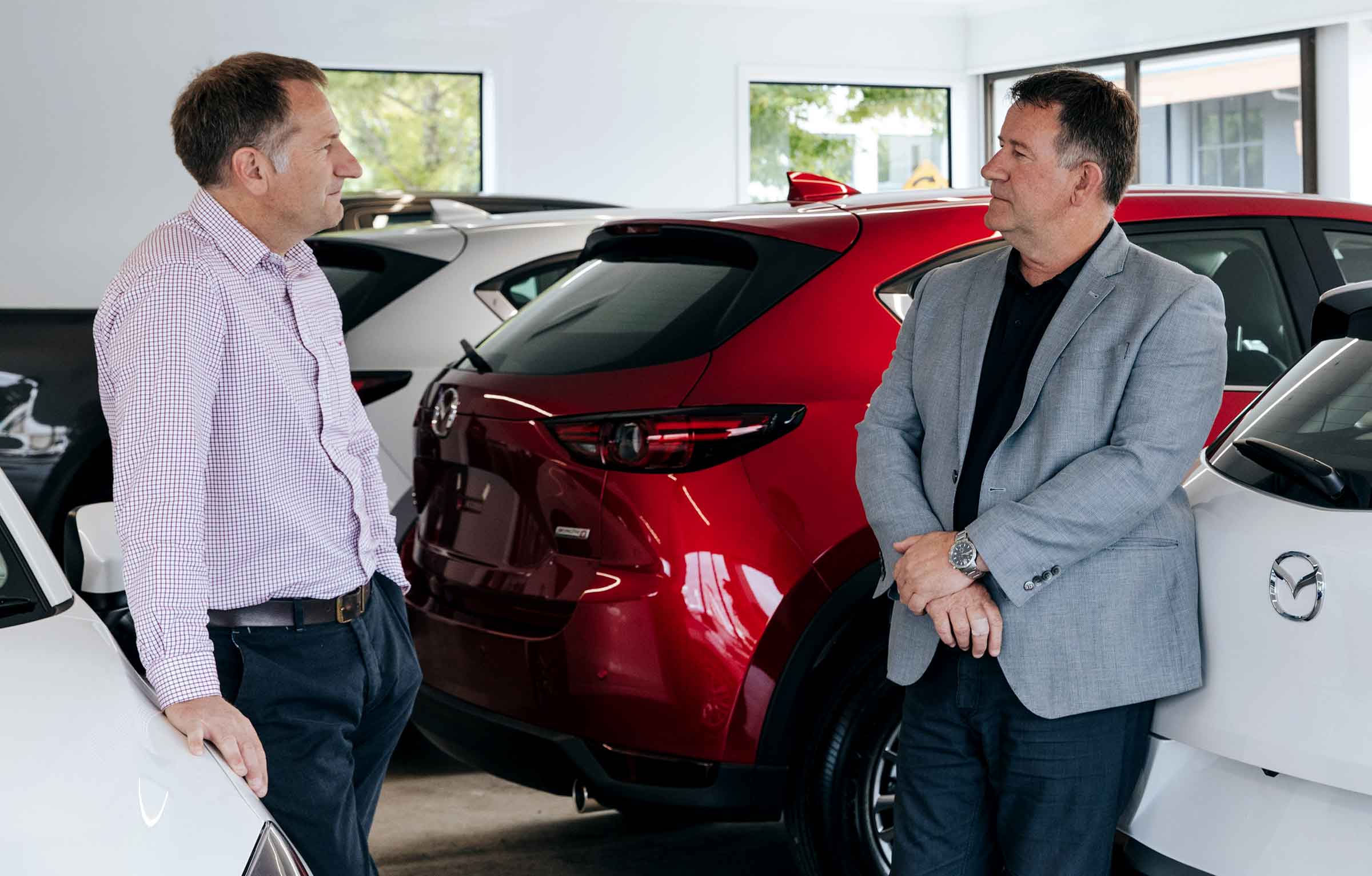 Andrew (left) took over the family dealership – which has been active for 48 years – from his brother Paul a decade ago
---
Photography: Nancy Zhou

"MAZDA IS A SMALLER COMPANY THAN SOME OF THE OTHERS, SO IT HAS MORE SOUL"
Phil Blake is the British owner of more than 35 rotary-powered cars, including the Mazda Cosmo
"My interest in the Cosmo is the rotary engine. I like the smoothness, the sound, the power delivery… I got into rotary-engined cars when I was 15 and the Cosmo is certainly one of the rarest. It was launched in 1967 and was the one I dreamed of having.
I like innovation – things that stand out from the norm, where manufacturers try to be a bit brave. The first rotary engines could be quite problematic, but Mazda stuck with it and overcame the early problems.
That's now in the blood of the company – every car it produced with a rotary engine has been special. The Mazda RX-8 was a stunning car that still stands out. My wife has an RX-8 (and an MX-5). I bought my first Cosmo in 1989, but it was beyond what I could ever have considered restoring. It was a Cosmo, though, which I never thought I'd be able to own. Then, in 2000, I bit the bullet and bought this one, which is partially restored. I currently have about 35 rotary-powered cars.
Mazda is a smaller company than some of the others, so it has more soul."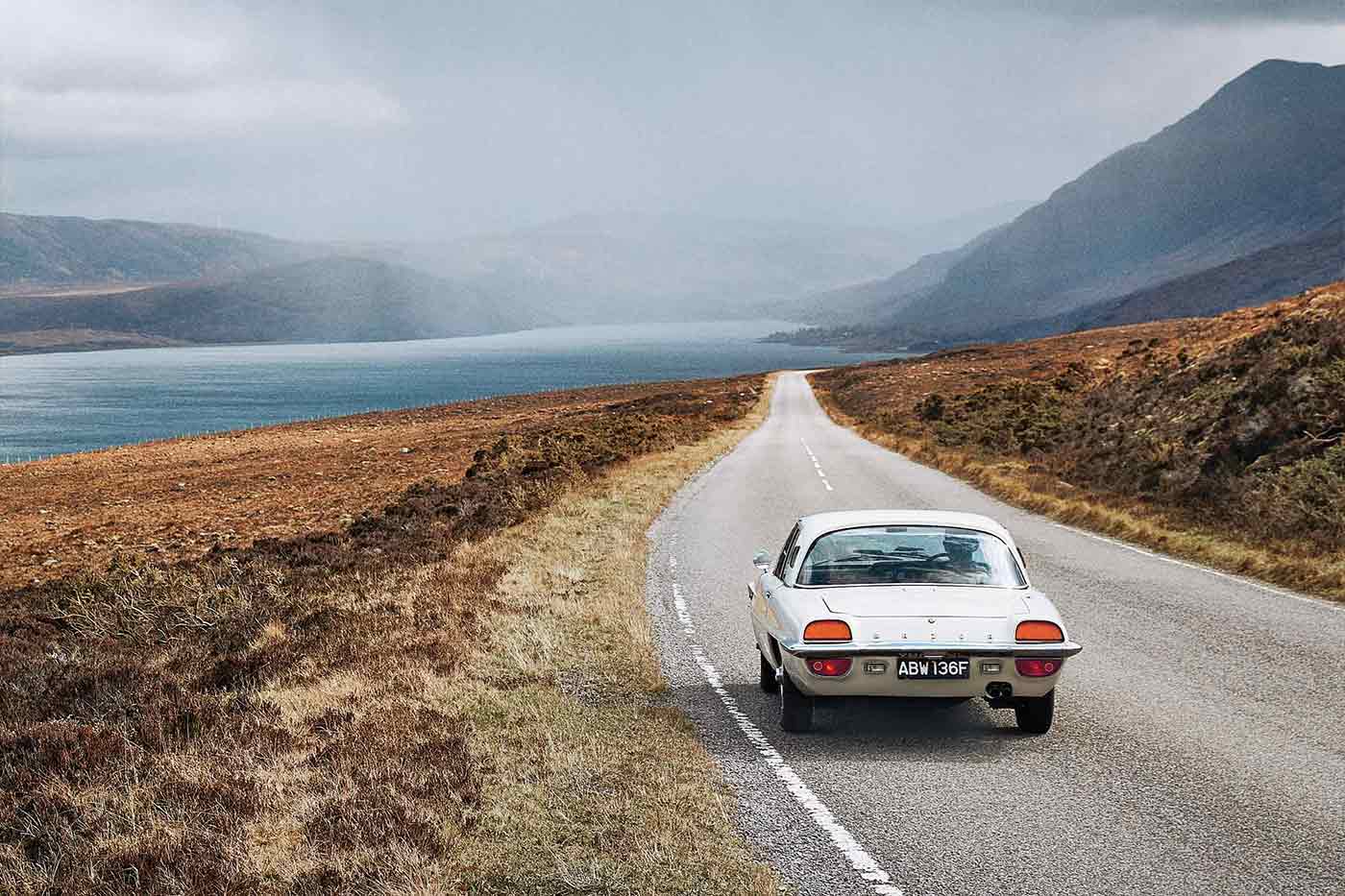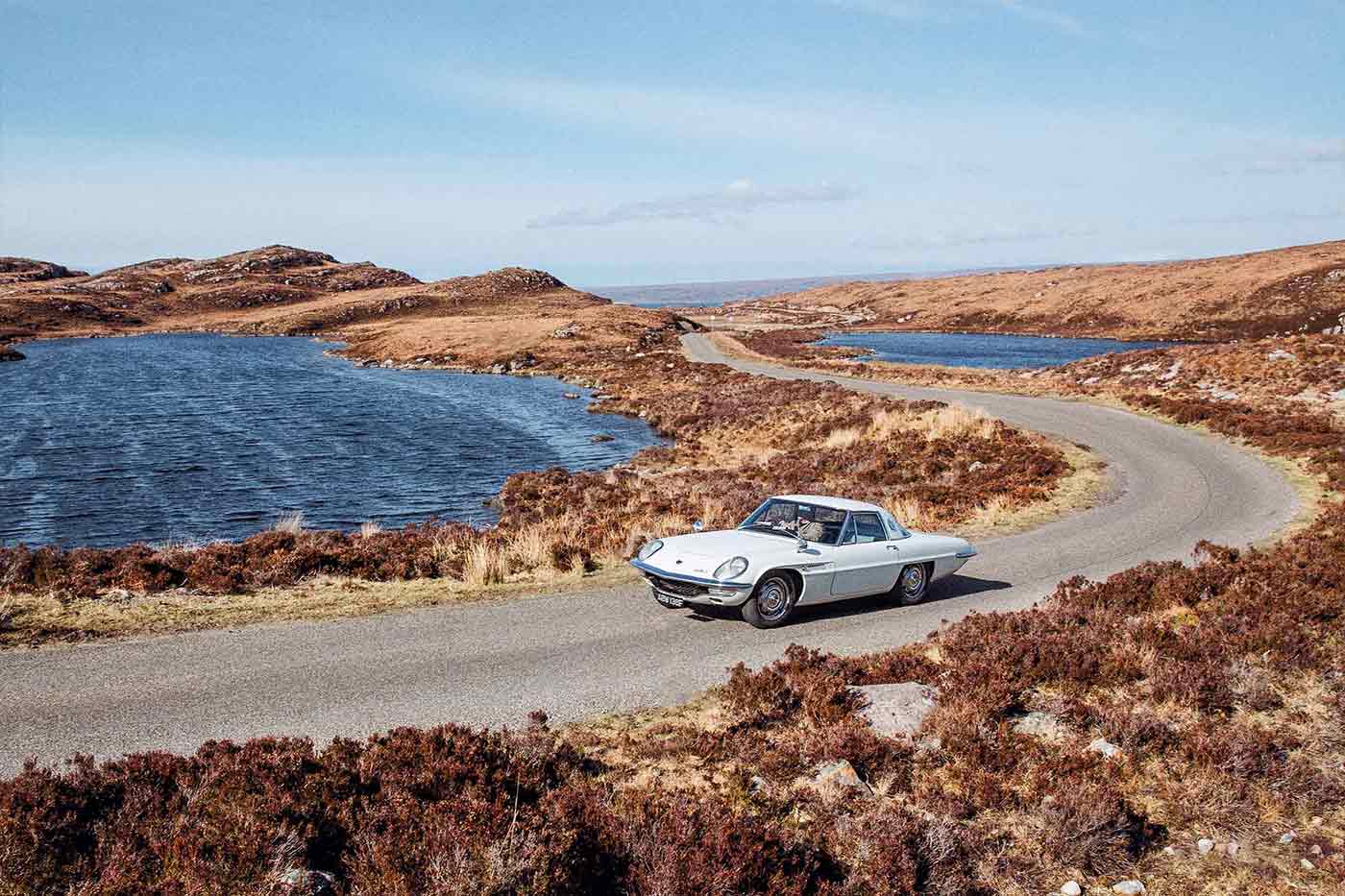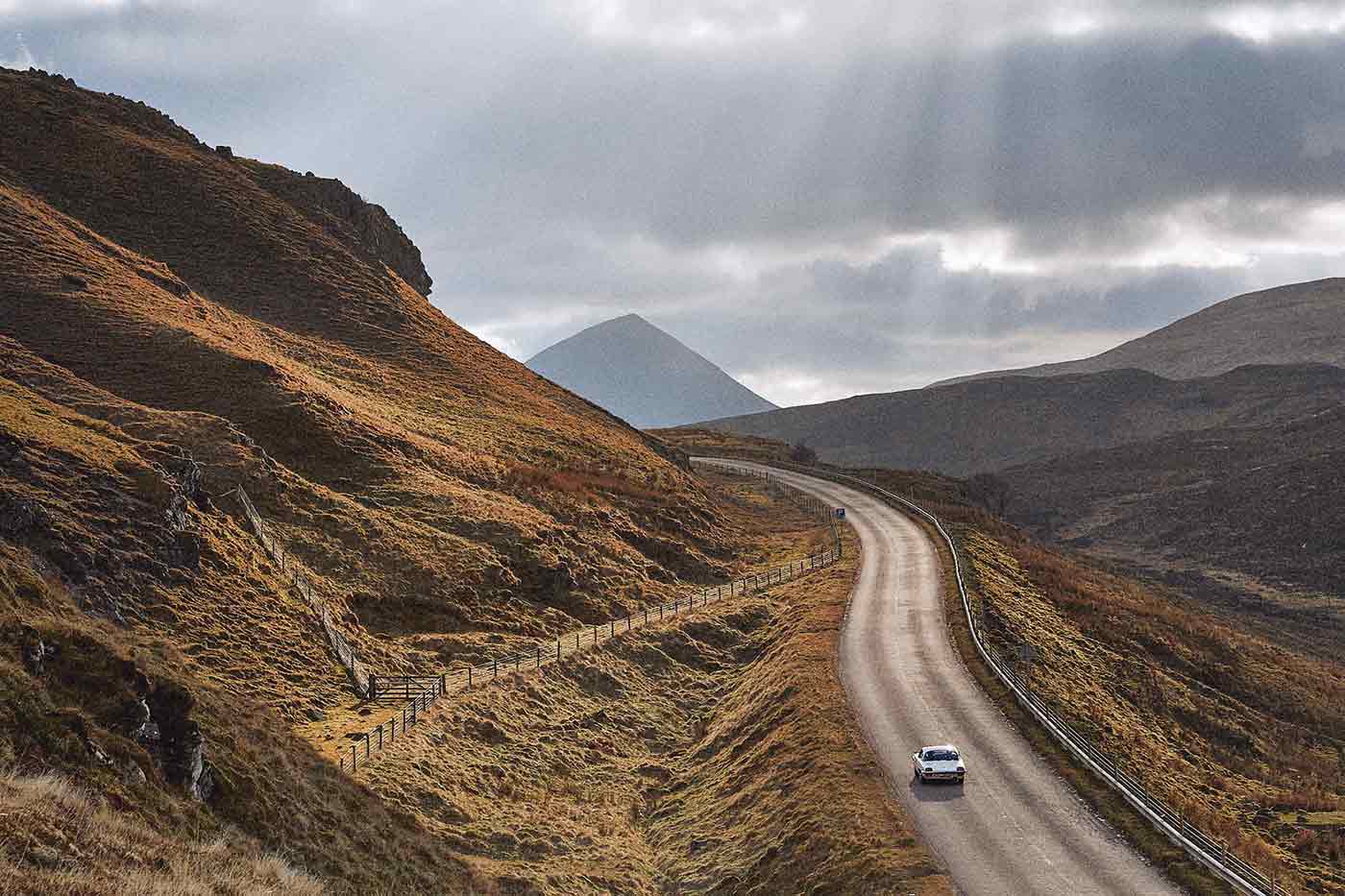 The Mazda Cosmo 110S is a very rare car, and looked the part when Zoom-Zoom drove it along Scotland's North Coast 500 route in 2016
---
Photography: Finn Beales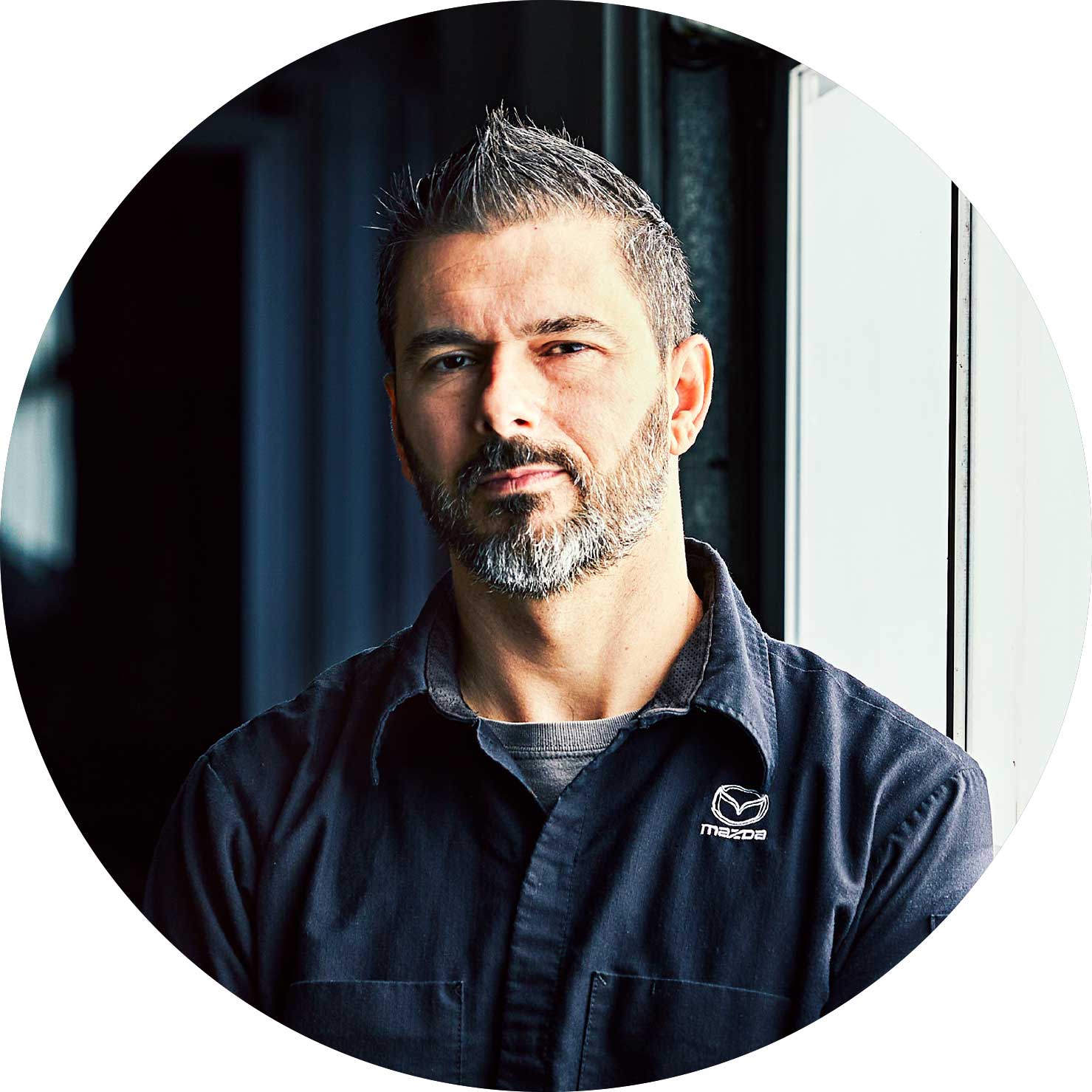 "MY PASSION FOR MAZDA'S VEHICLES INSPIRED ME TO START A CAREER AS A MECHANIC"
Yanick Morin, Canadian Mazda Technician for 25 years
"I've been working at Sittelle Mazda in Saint-Georges, Quebec, since March 1995. When I started I was washing cars, but my passion for the vehicles inspired me to start a career as a mechanic.
My first Mazda was a 1990 MX-5, which I bought when I was 17 or 18 years old. I immediately fell in love with driving that car. I'm now 43, and I've kept it in excellent condition over the years. I replaced the engine about ten years ago with a 1.8-litre version from the 2000 MX-5. She has found her youth again!
I have a real passion for Mazdas – I've owned 17, and my latest is a magnificent Mazda6 2018 GS-L Turbo in black. Among the others I have owned are a 1992 MX-3 Precidia; 1992, 2000 and 2002 Protegés; a 2001 Protegé MP3; a 2005 Mazda6 V6 manual; and three Mazda3s.
I love cars and I'm always researching unique vehicles. Driving a Mazda is a special experience compared to all the other cars I've driven during my career."
A passion for Mazdas inspired Yanick Morin to a career as Master Technician for Mazda Canada
---
Photography: Sylvie Li


"WORKING FOR MAZDA, I FEEL LIKE I'M LIVING MY DREAM"
Kouta Beppu, General Manager in Brand Strategy Department, Hiroshima, Japan
"When I was at university, I thought I'd land a job at a media or finance-related firm after graduation. I was a poor student, after all, and these were some of the highest paying companies at the time.
But then I met someone from Mazda. They told me the company had a unique corporate culture where its employees could realise whatever it was they wanted to do in their professional careers, which sounded very appealing. Around this time, I caught a glimpse of a blue Mazda roadster, roof open, speeding past me and immediately fell in love with the car. I saw this as a sign, so I decided to join Mazda.
For my first job I was assigned to a department that dealt with sales, but I was more interested in engineering or marketing. I don't have an engineering background, so I studied it in my spare time and waited for the opportunity to present itself. The moment finally came when I was appointed program manager of the new Mazda3. It was thrilling, to say the least, but daunting as the task ahead was huge. It was definitely a dream come true for me and I still feel like I'm living my dream!"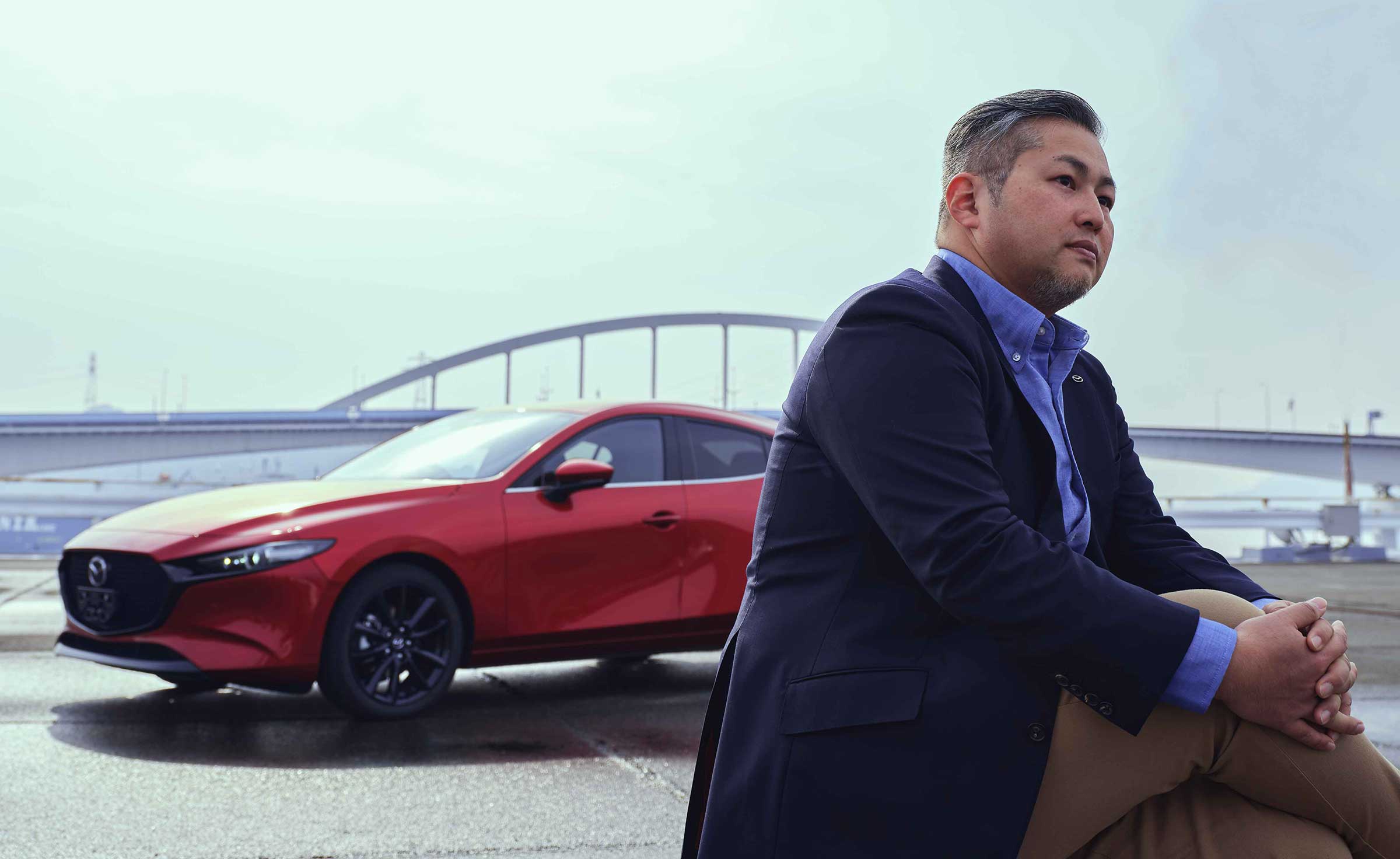 Kouta Beppu was the program manager on the 2020 Mazda3. The car won the highly prestigious 2019 Red Dot: Best of the Best design award
---
Photography: Eric Micotto