Mazda Recalls
To see if your vehicle is affected by a recall, please enter your VIN below.
HAS MY MAZDA BEEN RECALLED?
Where is my VIN located?
The Vehicle Identification Number [VIN] is a unique number that identifies your vehicle. Please refer to the Specifications section of your owner's manual for the exact location of this number.
FREQUENTLY ASKED QUESTIONS

What is a vehicle recall?

A vehicle recall occurs when Mazda Australia determines that one of our models has a safety-related defect or does not comply with a federal safety standard.
- Stop driving your car immediately
- This safety recall could KILL or seriously injure you and your passengers
- All repairs are FREE and completed in under an hour
- Due to the urgent nature of this recall Mazda can provide a loan vehicle, towing services and remote repairs on a case by case basis.
- If you require language assistance please contact Mazda on 1800 931 024

What is the reason for this recall?
The Recall has been launched as part of a global Takata air bag recall campaign involving multiple manufacturers, the air bag inflator/inflators may have been exposed to moisture absorption over time, causing degradation of the inflator propellant. In the event of a collision, the inflator may rupture and cause the air bag to deploy abnormally, increasing the risk of injury to the occupant.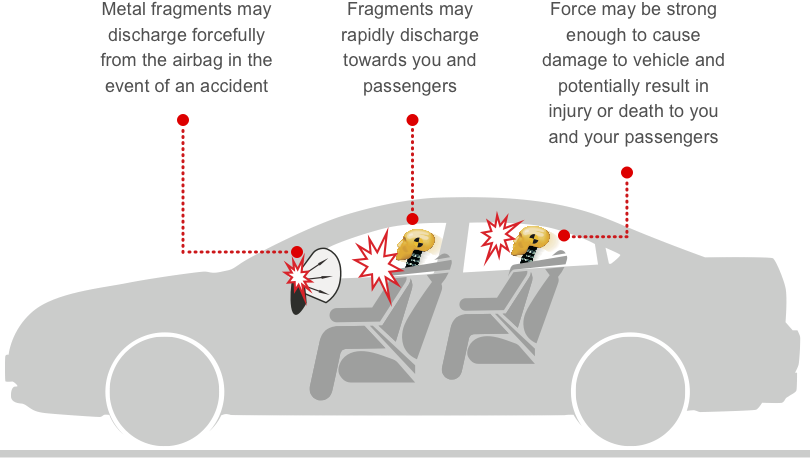 How will vehicles be rectified?
The inflator inside the air bag assembly will be replaced by an Authorised Mazda Dealer at no cost to the customer.
How will customers that purchased a second-hand vehicle be notified of this Recall?
Mazda Australia gathers information from its own database and a national database from the Road Traffic Authorities around Australia. Second-hand vehicles are included in the notification process and the repairs are also completed free of charge for these owners.
What is the brand of the air bag that is being fitted to my vehicle?
The brand of replacement component depends on the vehicle model.
How will customers be notified if their vehicle is affected by an air bag recall?
Customers will be notified by Mazda Australia.
How do I find further information?
Customers can contact Mazda Australia on 1800 931 024 between 8:30 am and 7:00 pm (AEST) or visit the Product Safety Australia Website https://www.productsafety.gov.au/news/takata-airbag-recalls-affecting-australian-consumers
If you are hearing or speech impaired and need assistance, please visit www.relayservice.gov.au/
How do I find out if my vehicle is affected?
If you're concerned your vehicle has been affected, we recommend contacting Mazda Australia on 1800 931 024 between 8:30 am and 7:00 pm (AEST) to find out more. Alternatively, you can visit Product Safety Australia or enter your VIN above.